Jacksonville, AL – Piedmont gets fast start, leads wire to wire in rematch with Anniston to reach Calhoun County semifinals; Jacksonville up next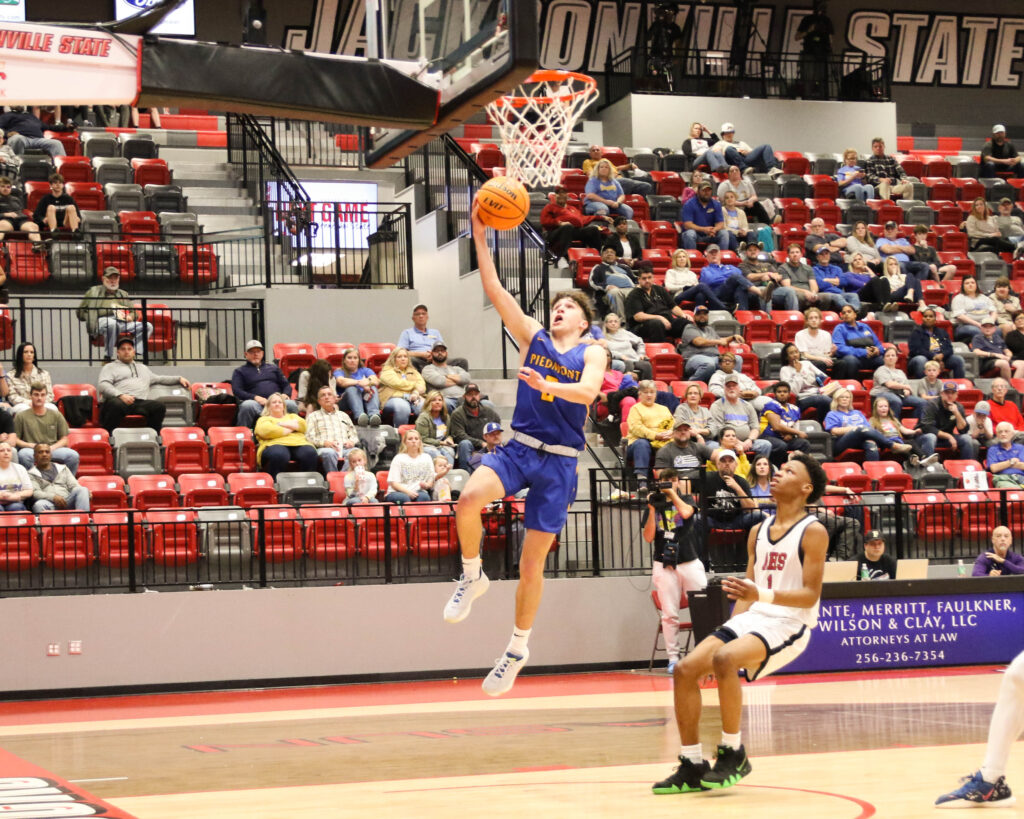 By Joe Medley

Piedmont is on the board in this school year's high-profile sports Battles of the Bulldogs, and Piedmont's brand did it on Calhoun County's biggest stage for basketball Wednesday. Early hot shooting helped Piedmont get out to a big lead, and the Bulldogs answered every Anniston uprising to win 66-53 during their county quarterfinal in Pete Mathews Coliseum.
Piedmont (16-3) advanced to the county semifinals for the first time in four years and hopes to make its first final since 2010. All the Class 3A and tourney No. 5 seeded Bulldogs have to do now is beat top seed and defending Class 4A state champion Jacksonville on Thursday at 7:30 p.m. "This is huge," Piedmont senior guard and Jacksonville State University signee Alex Odam said. "This school is more of a football school, so taking deep in the county in basketball is going to be big."
Anniston and Piedmont played one of the county's best games of the 2022 football season, with Anniston holding off a Piedmont's fourth-quarter comeback to win 30-28. Anniston's beat Piedmont 68-63 in boys' basketball on Dec. 17, but Piedmont flipped the script in the county tournament. The difference this time? "I think the first quarter," Anniston coach Torry Brown said.
Piedmont, playing its second game in the tournament, got out to a 14-3 lead and led 25-11 at the quarter break. A top-four seed gave Anniston a bye into the quarterfinals. "They came out hot, and a little bit of it had something to do with them playing the other day," Brown said. "Their guys were more familiar, and we have pretty much all new guys. "The first quarter, everyone was a little shell shocked, and they came out and shot it well." [read more …]