Jacksonville, AL – Jacksonville names new boys, girls basketball coaches following Monday's decision to relieve state championship coach Shane Morrow of his duties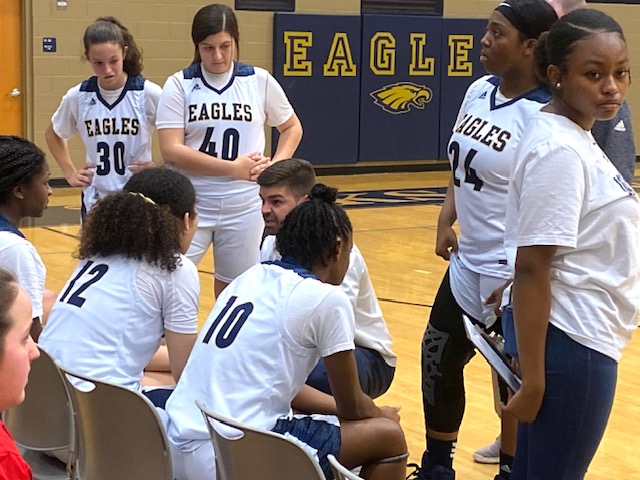 By Al Muskewitz
Tres Buzan knows all about the expectations he's stepping into and he's ready to embrace them.
You might think it'd be a little intimidating to be handed the reins of a reigning state champion with expectations of a repeat so unexpectedly, but Buzan is ready to step in and face them head-on.
Buzan, Jacksonville's girls basketball coach for the past seven seasons, was given the keys to the Golden Eagles' basketball kingdom Tuesday following the sudden removal of Shane Morrow the night before. To fill his vacancy, the Golden Eagles have installed former boys assistant Corey Mize as the new girls coach.
The school also announced the hiring of Jessica Oliver as the new softball coach.
Buzan, 33, isn't stepping into any ol' basketball job. The Golden Eagles are coming off a Class 4A state championship – the first boys basketball state title in school history – and have the bulk of that team returning with every intention of repeating this year.
The case could be made the new coach has even more pressure on him than the old coach. Last year, Morrow's team felt the expectation to win the state title at every turn. Now that they have delivered, the Golden Eagles expect to do it again. The players said was much after walking off the Legacy Arena floor with their blue map last March.
"I don't know if I can put it into words exactly what I'm stepping into," Buzan said. "I know I'm stepping into a job with high expectations and some really phenomenal athletes on my hands and a great program that obviously had a ton of success.
"I don't think I can worry about that kind of stuff. I'm more a put your head down and go to work kind of guy. I'm not worrying about things I can't control. I'm just going to take the group we have and put the best product I can put on the court and try to teach them how to be successful."
The product the Golden Eagles put on the floor last year was as deeply talented as any team in the state in any classification. Led by guard John Broom and 6-9 transfer Cade Phillips, they went 28-5 and routed Escambia County in the Class 4A final.
The bulk of that team is back, including every starter but Phillips, who has since transferred to a Missouri prep school after committing to the University of Tennessee.
Morrow's approach then was to embrace the expectations. Buzan wants them to do that now..
"That team last year, man, was just an unbelievable group, individuals and how they played as a team," Buzan said. "I know we lost some crucial pieces, but I'll you there's a ton of returning talent and some of the best players I've seen in the high schools whether it was back when I was in school or I've been coaching there. I think we have a lot of talent and a tremendous chance to be really good again.
"We're not going to shy away from the expectations that are put on us from last year. We're definitely not going to shy away from any kind of expectations and we're going to try to rise to the challenge."
Buzan cut his coaching teeth with the boys B-team before getting the girls head coaching job and always had faith that if he kept working and doing the right things another shot with the boys would come his way. He had six straight winning seasons with the girls.
"I'm just excited," he said. "It's always been a goal of mine. It's the school I graduated from and the community I live in. I'm just excited to be a part of a great program and continue down that road."
Buzan moved over to the boys job after Morrow was relieved of his duties following an annual review of the program. He still has his teaching job at the school.
Morrow also was the football team's defensive coordinator. That post will now go back to Marcus Albright, the Golden Eagles' DC from 2012-19 and architect of the defense that helped them finish second in the state in 2019.
It has been less than 24 hours since the news of basketball shakeup broke and Morrow is still searching for answers.
"I don't know what to say because I was kind of blindsided by it all," he told East Alabama Sports Today Tuesday morning. "I was not given a reason other than 'we just feel like we need to go in a different direction.' Truthfully, I don't know anything other than that.
"I don't really have anything else to say; I've been blindsided by it all. That's kind of where I'm at right now, just trying to figure it out because it's so late in the year."
Sources have told EA Sports Today there was nothing nefarious that led to Morrow's removal and it was more "some things administratively" that weren't handled to satisfaction. The Golden Eagles last week were recognized as an AHSAA Sportsmanship School for the first time for having no fines or ejections during the school year and those cover eligibility and documentation issues.
"I sleep well at night," Morrow said. "I didn't do anything wrong. I haven't done anything wrong. I don't know what more possibly I could have done. Am I perfect? No. I'm not sitting here telling you I'm perfect by any stretch or I'm Mike Krzyzewski, no, but I didn't do anything wrong. I did everything I possibly could. I've been blindsided by it all, just trying to figure out what to do."
Buzan called the whirlwind that eventually landed him on the boys teams "just the wildest 24 hours" and Mize agreed.
Mize, 29, was the interim boys coach before the Golden Eagles hired Morrow and held the program together during the early portion of off-season workouts. He went into this past season as the boys' head JV coach and varsity assistant.
He began his coaching career as their boys middle school coach when this current crop of seniors was seventh- and eighth-graders. The next year he took the junior high team to the county title.
He wasn't going to coach at all this year as he and wife Chelsea, the Weaver volleyball coach, prepare for the birth of their second daughter in January. But he got a call Tuesday morning to meet with school administrators and just that quickly he was back in the game.
"I'm excited for the opportunity I've been presented and can't wait to get started with this group of girls," Mize said. "Excited about the opportunity to do what I want with the program and be in charge and build off what Buzan has already created.
"My wife and I have had conversations about if I would be willing to coach girls ever. Because I have a daughter now and a daughter on the way, it's interesting this opportunity came up and I'm excited moving forward with it." [*** read more]