Gadsden, AL – Recent work on his swing leads to big day for former White Plains High golfer at Gadsden City Championship, leads by two strokes
By Joe Medley

Dustin Travis was a Calhoun County champion and third-place state finisher at White Plains High School, that that kind of success felt good. He'd like to feel it again.
Bearing down and work on his swing put him in the lead of the 2023 season's second Calhoun County Golf Tour event.
Travis shot a 4-under-par 68 Saturday to lead Brennan Clay by two strokes after one round of the Gadsden City Championship at Twin Bridges Golf Club.
Kevin Daugherty stands three strokes back at 71. Ty Cole, Gary Wigington and Zack Pruitt shot 73.
Corey Ray, the 2022 Gadsden City Championship winner, shot a 78 Saturday but told tournament organizers he's considering withdrawing because of a thumb issue. He has a 9:30 a.m. tee time.
Wigington finished second in 2022.
In the senior division, Jerry Fraiser shot the day's second-best round at 69.
For Travis, a 2015 White Plains graduate who played two years for the University of Montevallo, his first-round 68 marks a breakthrough. In fact, it marked such a breakthrough that pressure bit him with a bogey on No. 18.
"I got a little nervous," he said. "I haven't played a round like this in a tournament in a long time."
It was one of only two bogeys for Travis, who birdied Nos. 2, 3 and 4 and rebounded from a bogey on 8 to birdie 9. He also birdied 15 and 16.
His big round came after a week of work on his swing.
"I was just trying to find a couple of swing thoughts, that I could keep in my head that I haven't had in a really long time," he said. "Recently, I've just gotten to where, because I don't play as much as I used to, that I just try to go out there and just hit the ball and put it where it's supposed to go.
"I guess this week, I just really tried to find a swing thought to put in my head for the whole round. I tried to get the club extended and outside on the way back and swinging low and left on the way down."
Travis called his Saturday round "just one of those days where everything clicked." It's a feeling he last remembered happening in high school, when he won the county title and finished third at state as a senior.
Another such day Sunday might garner him his first county-tour victory.
"In the championship flight, this would be my lowest round on the tour," he said. "I think I've played in the last group maybe one time? At Anniston Country Club years ago.
"This is my first year that I'm actually going to be playing more on the tour and taking it a little more seriously," he said. "I tried it last year. I played the first three events, I think, and didn't play in any more of them."
Clay, who finished second on the tour in 2022, said his Saturday 70 "wasn't very special." He hit a 40-foot putt on 3, a 20-footer on 4 and a chip-in on 7.
"There were a lot of short putts that didn't go in, that were good putts," he said. "That's kind of been my problem through the U.S. Open qualifier to Silver Lakes and now. …
"I rolled it better today. It just didn't go in. Those two long ones went in, strange, but nothing inside 10 foot for birdie went in."
Perhaps the day's biggest drama surrounded whether tour ironman Jeremy McGatha, who's never missed a tour event since the tour started in 2007, a span covering 264 rounds, might miss part of all of Sunday's second round. Daughter Kayleigh's baccalaureate is scheduled for 2:30 p.m.
McCatha shot a 74 Saturday and made the championship flight. At his request, he got an 8:30 a.m. tee time.
"I wasn't going to not play," McCatha said before knowing his Sunday tee time. "Even if he don't let me go early, I'll W-D (withdraw). I'll get five points and drop it, but I'll still have a consecutive start."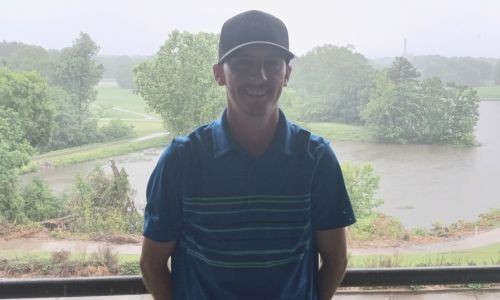 Calhoun County Golf Tour
GADSDEN CITY CHAMPIONSHIP
First-round scores
Saturday
Twin Bridges Golf Club
CHAMPIONSHIP FLIGHT
Dustin Travis 68
Brennan Clay 70
Kevin Daugherty 71
Ty Cole 73
Gary Wigington 73
Zack Pruitt 73
Jeremy McGatha 74
Caleb Morrow 74
Chad Calvert 75
Chase Hollingsworth 75
Scott Smith 76
Tanner Wells 76
CHAMPIONSHIP B FLIGHT
Andrew Betts 77
Hunter Carr 77
Morgan Cunningham 77
Chance Harris 77
Chris Leonhardt 77
Vance Lewis 77
J.D. Berndt 78
Cain Hollingsworth 78
Gage Ledbetter 78
Corey Ray 78
Timmy Woodard 78
CHAMPIONSHIP C FLIGHT
Norman Clifton 79
Chris Cox 79
Brad Landin 79
Ott Chandler 80
Mason Dennis 80
Chad Hare 80
Casey Harmon 80
Drey Reeves 80
Daily Thomas 80
Houston Black 81
John Hagan 81
Bumper Jones 81
Chris Messer 81
FIRST FLIGHT
Clayton Chandler 82
Dre Davenport 82
Aaron Jackson 82
Carl Stanley 82
Chase Thomas 82
Derek Jenkins 83
Scotty McFry 83
Jonathan Gibson 84
Graham Morrow 84
Kolby Slick 84
Matt Greer 86
Mark Gaines 87
Nathan Protz 88
SECOND FLIGHT
Shane Roney 89
Carson Chandler 90
Josh Ghavassi 90
Nathan Williams 91
Tyrel Tucker 92
Alex Burnham 93
Jason Payne 93
Tyler Rich 93
Justin Pickard 94
Stephen Jenkins 97
Scott Jimmerson 99
Adam Benefiel 104
Bobby Hunt 105
SENIOR A FLIGHT
Jerry Fraiser 69
David Sanders 71
Mark Moates 75
Scott Moates 76
Dominick Margentina 77
Greg Schultz 77
Mike Lett 79
SENIOR B FLIGHT
Bob Eaton 80
Trey Stone 80
Clay Calkins 81
Ted Heim 84
Ron McClellan 85
Jerry Ingle 87
Everette Protz 90
Keith Hutcheson 95
Sunday tee times
7:30 a.m.: Ron McClellan, Jerry Ingle, Everette Protz, Keith Hutcheson.
7:38 a.m.: Bob Eaton, Trey Stone, Clay Calkins, Ted Heim.
7:45 a.m.: Dominick Margentina, Greg Schultz, Mike Lett.
7:52 a.m.: Jerry Fraiser, David Sanders, Mark Moates, Scott Moates.
8 a.m.: Scott Jimmerson, Adam Benefiel, Bobby Hunt.
8:07 a.m.: Tyler Rich, Justin Pickard, Stephen Jenkins.
8:15 a.m.: Tyrel Tucker, Alex Burnham, Jason Payne.
8:22 a.m.: Shane Roney, Carson Chandler, Josh Ghavassi, Nathan Williams.
8:30 a.m.: Matt Greer, Mark Gaines, Nathan Protz, Jeremy McGatha*.
8:37 a.m.: Jonathan Gibson, Graham Morrow, Kolby Slick.
8:45 a.m.: Chase Thomas, Derek Jenkins, Scott McFry.
8:52 a.m.: Clayton Chandler, Dre Davenport, Aaron Jackson, Carl Stanley.
9 a.m.: Houston Black, John Hagan, Bumper Jones, Chris Messer.
9:07 a.m.: Casey Harmon, Drey Reeves, Daily Thomas.
9:15 a.m.: Ott Chandler, Mason Dennis, Chad Hare.
9:22 a.m.: Norman Clifton, Chris Cox, Brad Landin.
9:30 a.m.: Gage Ledbetter, Corey Ray, Timmy Woodard.
9:37 a.m.: Chris Leonhardt, Vance Lewis, J.D. Berndt, Cain Hollingswoth.
9:45 a.m.: Andrew Betts, Hunter Carr, Morgan Cunningham, Chance Harris.
9:52 a.m.: Chad Calvert, Chase Hollingsworth, Scott Smith, Tanner Wells.
10 a.m.: Gary Wigington, Zack Pruitt, Caleb Morrow.
10:07 a.m.: Dustin Travis, Brennan Clay, Kevin Daugherty, Ty Cole.
*-Family commitment.