Calhoun County, AL – Richardson's three TD catches key Oxford's victory at McAdory. Garrett runs Ranburne to victory. JCA's Lee throws for five TDs. Weaver opens with victory in Cofer's debut. Cherokee County rolls.
This week's scores
Thursday, Aug. 24
Ohatchee 32, Saks 8
Friday, Aug. 25
Cherokee County 48, Alexandria 14
Anniston 38, Wellborn 22
Weaver 40, Donoho 13
Handley 22, Valley 8
Jacksonville 43, Boaz 21
Jacksonville Christian 48, Tuscaloosa Christian 32
Lincoln 31, Talladega 7
Childersburg 28, Munford 22
Oxford 33, McAdory 23
Ranburne 31, White Plains 28
Guntersville 14, Southside 10
Spring Garden 48, Sand Rock 22
Wadley 35, Horseshoe Bend 7
Westbrook Christian 42, St. John Paul II 27
Woodland 38, Victory Christian 7
Central-Clay 21, Cleburne County 7 (Jamboree)
Pisgah 33, Glencoe 21 (Jamboree)
Piedmont 14, Fyffe 14 (Jamboree)
Randolph County 34, Fayetteville 0 (Jamboree)
Collinsville 7, Pleasant Valley 6 (Jamboree)
Hokes Bluff 7, Pleasant Valley 0 (Jamboree)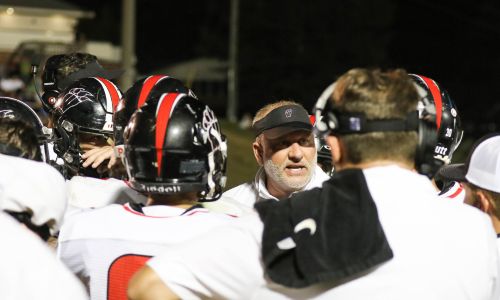 MCCALLA — Nick Richardson made a habit of getting on base as leadoff hitter for Oxford's state-championship baseball team in spring, and he made a habit of getting in the end zone Friday.
Richardson and quarterback Mason Mims connected on three touchdown passes to key Oxford's 33-23 victory at McAdory in Friday's season-opener for both teams.
The victory avenges Oxford's 35-21 loss to McAdory this time a year ago, on Lamar Field.
Richardson's 74-yard catch-and-run touchdown put Oxford up 30-23 at 9:31 of the fourth quarter, after McAdory rallied from a 23-10 hole to tie the game.
Mims' 5-yard touchdown pass to Richardson put Oxford up 23-10 as Oxford converted an interception into points.
Richardson's catch-and-run touchdown put the Yellow Jackets up 10-3 at 11:34 of the second quarter.
Oxford also got a touchdown run from Jaydon Thomas and blocked an extra point.
RANBURNE 31, WHITE PLAINS 28: Kaide Garrett rushed for 107 yards and four touchdowns as Raburne built a 17-7 halftime lead and held off White Plains.
He also hit on 10 of 15 passes for 138 yards.
Ty Bowling had two catches for 57 yards, and Logan Crook caught three passes for 38 yards.
Jacob Alewine led Ranburne's defense with 10 tackles. Nate Merrill and Bowling had five tackes apiece, with Merrill accounting for a fumble recovery and Bowling an interception.
White Plains took a 7-0 lead on Dylan Barksdale's 11-yard pass to Phileepae Holloway, but Ranburne scored the next 17 points on Garrett touchdown runs of five and six yards and Brylee Cash's 37-yard field goal.
Crew Martin hit a 25-yard touchdown pass to Holloway to bring the Wildcats within 17-14, but Garrett answered with a 1-yard touchdown run.
Holloway's 6-yard touchdown rush cut it to 24-21, but Garrett's 2-yard run opened up a 31-21 lead in the fourth quarter.
Barksdale's 66-yard touchdown pass to Holloway provided the final margin.
Barksdale passed for 119 yards and two scores and rushed for 97 yards. Holloway rushed for caught three passes for 102 yards and three touchdowns and rushed for 16 yards.
CHEROKEE COUNTY 48, ALEXANDRIA 14: Jacob Cornejo rushed for 150 yards and two touchdowns, and Cherokee County scored its first victory over Alexandria since 2013.
The defending Class 4A runner-up Warriors built a 48-0 lead en route to their biggest victory by margin over Alexandria in 42 meetings. The Valley Cubs still hold a 28-14 overall series lead, dating back to 1925.
Eighth grade backup quarterback Monqrea Morris Jr. got Alexandria on the board with a 1-yard run with 10
minutes to go. Junior backup running back Aiden Christopher added an 8-yard touchdown run with 3:15 to go for the game's final touchdown.
Christopher led Alexandria with 56 yards on nine carries and a score.
WEAVER 40, DONOHO 13: Kaden Gooden's night included a kickoff return for a touchdown, and Weaver built a 40-0 lead en route to avenging last season's loss to Donoho. The victory marked the Bearcats' first in a season-opener since beating Cleburne County 49-35 to open the 2018 season.
Weaver also won in first-year head coach Ken Cofer's debut.
JACKSONVILLE CHRISTIAN 48, TUSCALOOSA 32: Noah Lee completed 16 of 21 passes for 270 and five touchdowns and rushed for a score as JCA improved to 3-0.
Travis Barnhill caught five passes for 126 yards and three touchdowns and rushed for 149 and a touchdown. He also had 13 tackles.
Jesse Gannaway caught eight passes for 141 yards and two touchdowns.
Caleb Stallings rushed for 73 yards.
WESTBROOK CHRISTIAN 42, ST. JOHN PAUL II 27: Greyson Carroll completed 5 of 10 passes for 140 yards and three touchdowns and rushed for 177 yards and two scores as Westbrook Christian won in Steve Smith's debut as the Warriors head coach.
Drew Whitmore rushed for 77 yards and a touchdown, and Lamycal Mitchell added 63 yards on three carries. Cooper Greer caught three passes for 104 yards and three touchdowns.
Jamborees
PIEDMONT 14, FYFFE 14: At Fyffe, Piedmont's Cole Wilson threw touchdown passes of 70 yards to Ishmael Bethel and 15 yards to Rollie Pinto.
Piedmont hit on five of 12 passes for 149 yards and two scores and rushed for 43 yards.
Fyffe rushed for 195 of its 256 yards and two touchdowns.
PLEASANT VALLEY DROPS TWO: The Raiders played in a three-team jamboree at Collinsville, losing 7-6 to Collinsville and 7-0 to Hokes Bluff. Both games lasted a half.
Quarterback Braxton Salster accounted for Pleasant Valley's score against Collinsville, set up by Holt Bentley's 60-yard run.