Calhoun County, AL – Oxford's Keur, George lead their respective fields in the inaugural Munford Invitational, a race with a dramatic run through a cornfield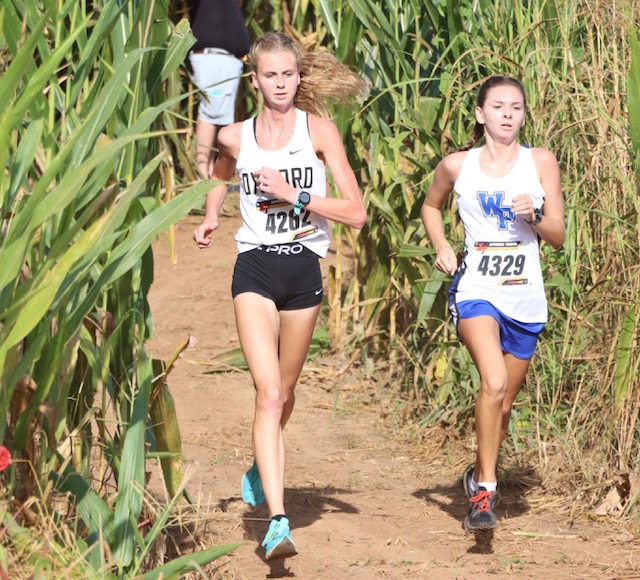 Katie Keur and Maddyn Conn flipped the script from a week ago and Oxford's Noah George was the fastest boys runner for the second week in a row to lead the finishers in the Munford Invitational. The new course, designed by former White Plains coach John Moore, features a stretch that takes the runners through a nearby cornfield. White Plains' Conn and Oxford's Keur finished 1-2 in last week's Waffle House/Yellow Jacket Invitational at Choccolocco Park, but Keur posted another PR (19:30.47) and edged her running buddy by more than 30 seconds for the win.
George made it two in a row when came in first in the boys race at 16:21.15, more than 20 seconds ahead of Southside's Evan Christopher. Munford's Dakota Frank finished third overall and won the 1A-4A breakout. Southside swept the 5A-7A team titles. Glencoe won the 1A-4A girls title and LAMP won the 1A-4A boys crown. With this being the first race on the course, both overall winning times are course records.
Munford Invitational
1A-4A Girls: Glencoe 34, Horseshoe Bend 71, LAMP 80, White Plains 97, Ashville 114, Handley 140, Munford 168.
1A-4A Boys: LAMP 51, Ashville 72, White Plains 79, Glencoe 81, Faith Christian 117, Donoho 122, Handley 148.
5A-7A Girls: Southside-Gadsden 46, Springville 58, Alexandria 65, Clay Central 82, Lincoln 100.
5A-7A Boys: Southside-Gadsden 41, Oxford 54, Lincoln 57, Springville 75, Alexandria 134, Clay Central 145.
| | | | |
| --- | --- | --- | --- |
| BOYS TOP 10 | | GIRLS TOP 10 | |
| Noah George, Oxford (5A-7A) | 16:21.15 | Katie Keur, Oxford (5A-7A) | 19:30.47 |
| Evan Christopher, SS-Gad (5A-7A) | 16:42.69 | Maddyn Conn, White Plains (1A-4A) | 20:06.02 |
| Dakota Frank, Munford (1A-4A) | 16:50.00 | Carmen McMaster, Oxford (5A-7A) | 20:42.62 |
| Joe Stevens, Ashville (1A-4A) | 17:04.91 | Emerson Maniscalco, Oxford (5A-7A) | 20:43.50 |
| Landon Perdue, LAMP (1A-4A) | 17:16.75 | Avery Daniels, Springville (5A-7A) | 22:00.99 |
| Jackson Griggs, SS-Gad (5A-7A) | 17:24.38 | Sarah Burger, Southside (5A-7A) | 22:11.80 |
| David Robles, Springville (5A-7A) | 17:36.00 | Taylor Knight, Ashville (1A-4A) | 22:15.45 |
| David Layfield, Hrsh Bend (1A-4A) | 17:50.48 | Michaela Moore, Alexandria (5A-7A) | 22:42.00 |
| Evan Somers, Oxford (5A-7A) | 17:56.44 | Katie Giles, Glencoe (1A-4A) | 22:43.99 |
| Agustin Lemur, LAMP (1A-4A) | 17:58.36 | Sarah Ponder, Glencoe (1A-4A) | 22:51.14 |