Lady Jackets hit first shot, then go cold, fall to undefeated Hazel Green in 6A girls final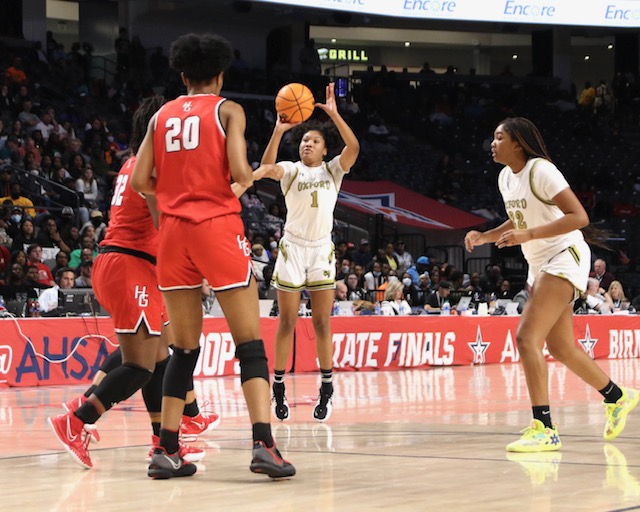 By Al Muskewitz

BIRMINGHAM – LaMya McGrue hit a 3-pointer from the left side 38 seconds into the game and it looked like things were going to be OK for the Oxford Lady Jackets in their first ever Class 6A state championship game.
Then somebody pulled a cruel trick. They closed the basket.
As hot as the Lady Jackets were starting their state semifinals game against Pelham, they were just as cold Saturday. They missed 16 straight shots after McGrue's 3 and just couldn't recover from it in a 55-38 loss to Hazel Green.
It was Hazel Green's fifth consecutive state title, the ninth all-time for coach Tim Miller and completed an undefeated season (35-0) against what Miller called one of the tougher schedules his team has had to go through "in a long time." The Lady Trojans haven't lost to a team from Alabama in two years.
"I told the girls we're getting decent shots, we just can't one to go down," Oxford coach Melissa Bennett said. "I said they'll start falling. They never did."
After McGrue's 3 put Oxford ahead, the Lady Jackets didn't hit from the field again until Leah Taylor's 3-pointer with 3:37 left in the half. By then, the Lady Trojans had a 19-4 lead.
After Taylor broke the ice, the Lady Jackets hit two more shots for three in row. Still, they finished the half shooting 4-for-24 from the field although it didn't appear the scorers counted a Kaylen Kenney shot that led to a held ball on a rebound or Oxford's heave at the basket at the halftime horn.
At least five of the shots were of the in-and-out variety. The Lady Jackets' first three field goals were all from behind the arc.
"We were so close so many times to getting that momentum going, trying to shift the momentum back to us to get that energy swing," Bennett said. "Every time it was halfway down and it popped out, I don't know about them, but I felt like I got punched in the gut because you're fighting so hard for something good and we just couldn't get one to go down.
"Sometimes, as the girls say, it be like that sometimes. It's really unfortunate when it be like that because it makes it hard on them, it makes it hard of us because we're trying to keep them up. The point of basketball is to put the ball in the hole. If you can't do it, especially off some of the looks we were getting … It's just like the lid wouldn't get off the rim."
The Lady Jackets (27-5) trailed at halftime, but were outscored only 28-26 in the second half. They finished shooting 13-of-46 (.283) in the game.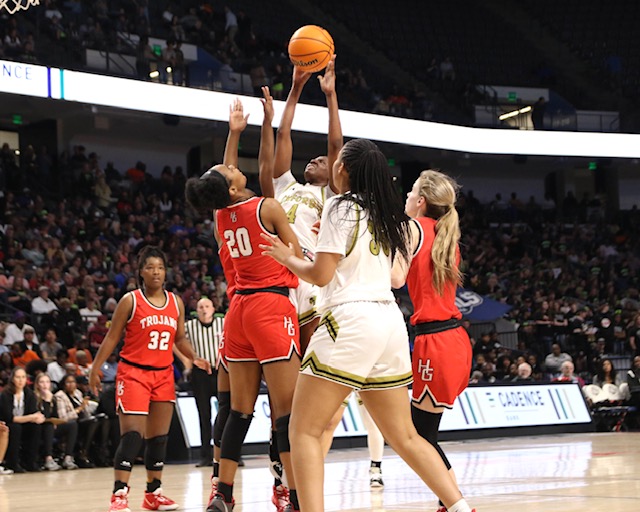 It didn't help that the Lady Trojans were rebounding just about everything as well. Their size was evidenced on their first possession of the game. After McGrue's basket, they had four offensive rebounds on the possession that produced their first basket of the game. They out-rebounded Oxford 36-18.
"I guess they studied us really well; they knew how to defend us so it was difficult to find counters for that especially early," Taylor said.
Had Hazel Green been more proficient the halftime margin would have been a lot wider. But the Lady Trojans only shot 4-of-10 from the field in the first quarter, scored only 10 points (which impressed Bennett) and had eight turnovers in the half.
But with the Lady Jackets not scoring, they couldn't press and that limited their effectiveness.
"We didn't get frustrated," Lady Trojans senior Samiya Steele said. "We knew defensively, even though we're not scoring, they're not going to score either, so it was a matter of time when we started knocking down our shots too."
Xai Whitfield did all she could to help Oxford get back in the game in the second half. She scored 14 of her team-high 17 points in the second quarter and made the all-tournament team.
The Lady Jackets got within 13 points twice in the second half, but could never get closer.
The difference between her first and second halves, Whitfield said, was "the ball was going in."
"I'm super proud of the fight," Bennett said. "Especially after shooting that poorly it was really easy to just hang your head and throw the towel in … but we never gave up and kept fighting. We always said that: Regardless of the scoreboard you've got to play your tail off."
Steele was named MVP after winning her fourth consecutive state title, although teammate Leah Brooks had 20 points and 15 rebounds in the final.
CLASS 6A FINAL FOUR
Girls championship
Hazel Green 55, Oxford 38
HAZEL GREEN (35-0) – Sydney Steward 1-4 2-2 2, Leah Brooks 6-9 8-12 20, Amiya Redus 3-5 1-1 7, Samiya Steele 6-12 4-5 16, Nyla Collier 3-5 1-2 7, Ijah Drake 0-0 0-0 0, Addison Cantrell 0-0 0-0 0, Jaden Toney 0-0 0-0 0, Reagan Baeder 0-0 0-0 0, Cevyn Crutcher 0-1 1-2 1, Brett Douglas 0-0 0-0 0. Totals 19-35 17-24 55.
OXFORD (27-5) – Justice Woods 2-11 1-2 6, Xai Whitfield 6-17 3-5 17, Lauren Ellard 0-1 0-0 0, LaMya McGrue 2-5 2-4 7, Kaleah Taylor 3-9 0-0 8, JaMea Gaston 0-0 0-0 0, Keziah Mickler 0-1 0-0 0, Kaylen Kenney 0-2 0-0 0, Jaslyn Montgomery 0-0 0-0 0. Totals 13=46 6=11 38.
Hazel Green        10   17    9   19   –  55
Oxford                    3     9    9   17   –  38
3-point goals: Hazel Green 0-5 (Steward 0-3, Redus 0-1, Steele 0-1); Oxford 6-17 (Woods 1-4, Whitfield 2-5, Ellard 0-1, McGrue 1-2, Taylor 2-4, Mickler 0-1). Rebounds: Hazel Green 36 (Brooks 15, Steele 9); Oxford 18 (Whitfield 3). Fouled out: Montgomery. Total fouls: Hazel Green 11, Oxford 17. [*** read more]