Faith Christian's Richerzhagen signs to play basketball at LaGrange, fulfilling a destiny he'd known of since third grade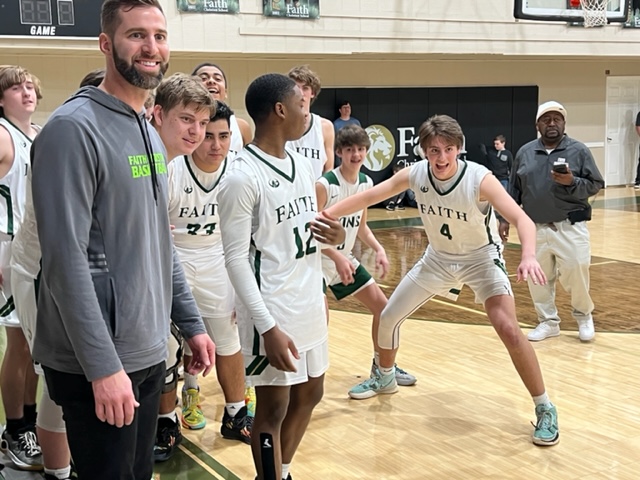 By Al Muskewitz

Faith Christian basketball coach Cory Hughes stood next to the table where Ethan Richerzhagen was about to sign with his college of choice and praised his senior guard's work ethic. It was a message that was right on time.
Just a couple hours earlier Richerzhagen received his summer workout schedule from his new coach. The document might have been an eye-opener to some, but Richerzhagen didn't flinch.
LaGrange coach Kendal Wallace wanted his newest signee — all his signees — to put up 10,000 shots this summer before he arrived on campus in August to begin his college basketball career.
Richerzhagen, as is his way, plans to take it a step further. He's going for 10,000 mkes.
"He just put 'shots,' but I'm probably going to do makes," Richerzhagen said. "That's a lot, but it shows coach Wallace's expectations for the team."
Ten thousand shots come out to about 115 a day from various spots on the floor. The way Richerzhagen shoots it, that number of makes will probably come on 30-35,000 shots.
"Ten thousand is a big number, but once you break it down and not look at just 10,000, just think about what you did today, it's not that big of a number," he said. "Anybody would say that's a lot, but once you break it down, it's like Cory says, it's 114 shots a day.
"My goal is to make 10,000. I promise you, there are a lot of kids who are getting recruiting won't do that. They'll just shoot 10,000 because it says to. I want to make 10,000."
The regimen allows him to miss one day, but in his mind that's just a suggestion. Hughes has come to expect nothing less, especially after a conversation they had right before playing in the Glencoe Thanksgiving Classic. He called Richerzhagen "a massive part of the reason" the Lions got to the Elite Eight in Hughes' first season as a head coach.
"Ethan did exactly what he was told all year long and made our team excellent," Hughes said. "The work ethic he has on the court. Putting in shots every day, doing what he's told even if he doesn't understand it and working his tail off. He should be an example to the rest of you guys and girls who want to play possibly at the next level.
"It's fantastic to have an anchor like that. We were 0-3 and I told Ethan then we can be a decent team if you strut your stuff and play, but we can be a really good team if you can get these other guys involve and we're aa team of five that can run over people. He took the challenge and did it."
That meant taking fewer shots than he has in previous year, but he still wound up averaging 22.9 points (second best in the county), 7.9 rebounds and made the fourth most 3-pointers in the county. He also had 58 steals and 64 assists.
This signing day has been on Richerzhagen's radar a long time. He remembers telling his mother in the third grade he was going to play college basketball and then go to the NBA. The conversation got more serious when he got to the seventh grade.
"She laughed," the player said. "Any mom would. She was like, 'Is there a Plan B?' I said no, that's my plan. She stuck by me. Mom and Dad did."  [*** read more]