Calhoun County, AL – Calhoun County, Alabama, bids a fond farewell to one of its most dedicated public servants, Reggie Stewart, as he wraps up his tenure as the County's Code Enforcement Officer on September 15th, 2023. Reggie has been a familiar face in the community, known for his unwavering dedication and ever-present smile, even in the face of the often challenging responsibilities that come with his role.
County Administrator Mark Tyner expressed his sentiments, saying, "We will miss Reggie and wish him all the best in his future endeavors."
Reggie Stewart's journey as a public servant has been marked by a deep-seated commitment to helping others. His passion for service was cultivated through his military and volunteer experiences, which have had a positive impact on people around the world. An Anniston native and a 2007 graduate of Jacksonville State University, Reggie decided to bring that same passion back home to Calhoun County.
Reflecting on his time as the Environmental Enforcement Officer, Reggie remarked, "Helping other people has always been a priority for me. I am grateful for my military and volunteer experiences that have had a positive impact on people around the world. I wanted to bring that same passion home."
During his tenure, Reggie covered over 600 miles throughout the county and initiated more than 800 public nuisance cases. One of his most cherished aspects of the job was receiving positive feedback from residents after resolving issues in their neighborhoods. He understood that residents wanted problems addressed promptly, and he appreciated their patience during the sometimes lengthy legal process for public nuisance cases.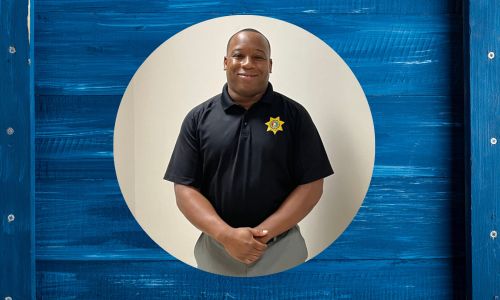 Reggie shared, "When I received 'thank you' phone calls, emails, or simply a hug or a handshake, it was a sigh of joy and relief because all parties understood what each other had to go through to achieve that goal."
Reggie Stewart began his role as Code Enforcement Officer on February 20, 2019, and quickly gained the respect and admiration of colleagues and county officials. Commissioner Howell, who has worked closely with Reggie since taking office, praised his approach to code enforcement, saying, "It's been a pleasure working with Reggie Stewart. He always tried to resolve the situation without escalating to extreme measures."
Commissioner Lee Patterson echoed the sentiment, acknowledging the challenging nature of Reggie's role but emphasizing the impact he made, saying, "Reggie didn't have an easy job, but it was a pivotal role for the county. There will be a big hole to fill with his leaving, and he will be sorely missed."
During a public meeting, Commissioner Shears thanked Mr. Stewart for his work and dedication, emphasizing how much he would be missed. Commissioner Henderson added, "I will certainly miss Reggie. There has never been a time that I have ever called him to go out to property that he has done it properly and in good taste and with respect. I don't know how we can replace him, but we certainly will try."
As Reggie Stewart embarks on a new chapter in his life, his legacy of service, respect, and kindness will continue to resonate within the Calhoun County community. His departure leaves a void that will be challenging to fill, but the impact of his work will be felt for years to come.