Oxford, AL – Runners like new, faster Waffle House course; Oxford's George, White Plains' Conn win individual races; Alexandria girls win in Odenville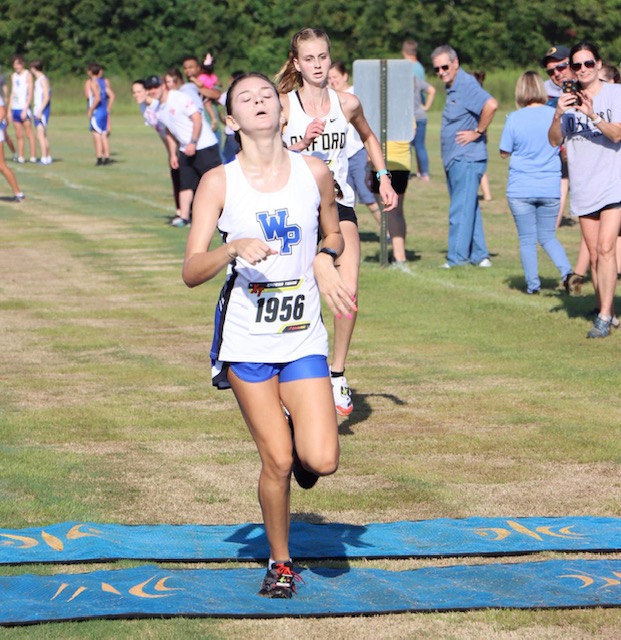 By Al Muskewitz


They took the snake out of the grass and everybody had a fast race. The runners in Oxford's Waffle House/Yellow Jacket Invitational ran a new routing for the course at Choccolocco Park Saturday and almost to a man said it was a faster and more enjoyable run than they ever had in the old configuration.
In a design created by Jacksonville State for its college meets last year, the course basically took out the multiple switchbacks in the middle portion of the race for a smoother transition to the finish. The 2021 Waffle House had already been run when JSU changed the course, so this was the first time the race had been run on this layout.
"We could have run it the old way," said Oxford coach Landon Delozier, whose team ran the new route in last year's JSU Foothills Invitational high school race. "I let the kids have a lot of input in a lot of the things that we do and this is especially one of those. "I asked the kids today was last year's course better or this year's course and they thought that this year's course was faster. If you think it's faster then that's what you're going to run better on anyway, so that's what we rolled with."
Oxford teammates Noah George (16:39.13) and Evan Somers (17:36.76) finished 1-2 in the boys race. White Plains' Maddyn Conn won the girls race (19:31.58) with Oxford training partner Katie Keur right on her heels (19:32.81). George won last year's race on the old configuration in 16:58.92. Catherine Aaron of Catholic-Montgomery won last year's girls race is 20:44.85. In fact, this year's winning times were faster than all but one of the boys races since the Waffle House moved to Choccolocco Park in 2018 and all but two of the girls races in that span.
"They made a faster course," Delozier said. "You take (out) that second grass loop, you make that immediate U-turn and you go back and U-turn again, you take a U-turn out and allow them to go straight down and make a 90-degree turn, that's huge. That second turn-around is pretty major and pretty sharp. (Getting ride of it) allows you to really open up that stride and really be fast."  [*** read more]