Jacksonville, AL – Players from the first Calhoun County tournaments for boys, girls get one more time to shine in pregame recognitions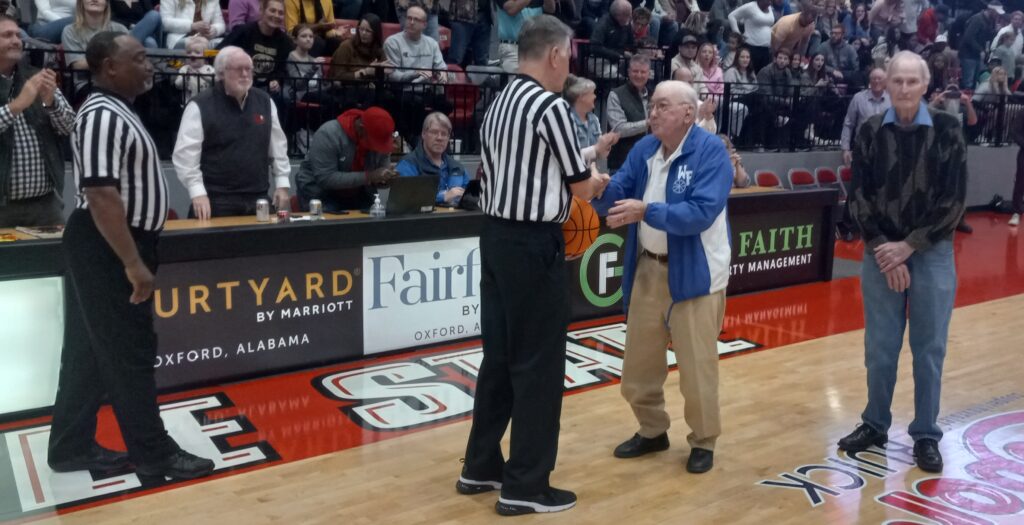 By Joe Medley
East Alabama Sports Today
It was 43 years ago, long enough that only the memories that came stamped with emotion remain vivid. The first sensations of the first girls' Calhoun County basketball tournament remain fresh for Laura Gunnels Gilmour. A team that might play before 10 people during afternoon matinee games in their home gym at Anniston High walked onto a college court, at Pete Mathews Coliseum, for the first time in 1979. They saw cheerleaders. They saw more than 10 fans. "It was so much fun to play in a bigger place with lots of people screaming and yelling and cheerleaders," Gilmour said. "The cheerleaders came out for us for the first time, and that's what was so exciting."
Gilmour and four of her Anniston teammates were among seven county-tournament pioneers recognized before Friday's championship games. She and Katrina Dorsey, Stephanie McBride, Michelle Oliver and Ceclia Whatley presented officials the game ball before the girls' final between top seed Oxford and No. 2 Anniston. They were part of Anniston teams that won the first three county girls' tournaments, in 1979, 1980 and 1981. Charles Thornburg and Alvin Robertson, members of the 1951-52 White Plains team that played Anniston in the first-ever county tourney, presented the game ball before the boys' final between top seed Jacksonville and No. 2 Oxford. All seven former players were part of organizers' efforts to recognize "Legends of the Game."
The first boys' tournament was played at Saks. "It was quite a thrill, to get to have a county tournament," the 88-year-old Thornberg said. "That was the first tournament that I remember. It was something different than just going out and playing a game." Robertson, 89, has endeavored to find former players from that first boys' tournament. "I was trying to find all of the players that are still living," he said. "As far as I can find out, Piedmont doesn't have any. Jacksonville has got one. I cannot find out about Anniston and Ohatchee. I've called about everybody I know. "There's not but about six or eight left."
Seeing the former Anniston girls' players recognized brought back memories for long-time coach Eddie Bullock, who coached Anniston's girls to their first-ever state title in 2020 and 12 of their 21 county titles. He graduated with Gilmour, who was a freshman in 1978-79. He played pick-up games with members of the girls' team. "They were tough, all of them girls," he said. "They could play. They were probably a little bit tougher and a little bit bigger then these girls (today's players). Skill wise, it's hard to say, because these players are pretty skilled." The first girls' county tournament came seven years after Title IX. [read more …]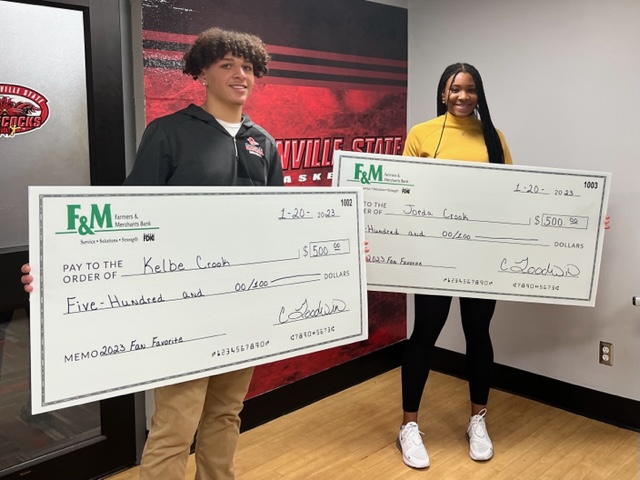 Gave it a shot
Ohatchee senior Jorda Crook was a little nervous when she took the floor for her mid-court shot for $10,000 as the top vote-getter in F&M Bank's Fan Favorite poll for the Calhoun County Tournament. And she gave it a valiant effort, although her shot was a bit strong, banking off the backboard and the rim before falling away. "I knew it was off, but I was a little bit nervous, so it's OK," she said.
Jorda practiced the shot a little before coming back to Pete Mathews Coliseum and even hit one in practice Tuesday. But there was no such luck Friday, when the shot counted for $10,000 to be split between the school and the player. She hit the the square near the back of the iron, briefly rolled along the right side of the rim and fell to the floor. "I did not want an air ball," she said. Still, she and cousin Kelbe Crook each walked away with a $500 scholarship for being the top male and female vote-getters in their respective polls. – Al Muskewitz
Ticket sales
The Calhoun County Tournament sold approximately 1,800 for the championship round, bringing the total ticket sales to more than 6,500 for the week.