Calhoun County, AL – Jacksonville rolls at Ohatchee. Central-Clay rises to 6-0. Oxford, Pleasant Valley fall from unbeaten ranks. Glencoe, Handley, Weaver, Wellborn and Westbrook Christian victorious.
Scoreboard
THURSDAY, Sept. 28
Anniston 14, Piedmont 9, FINAL
Cherokee County 56, Munford 10, FINAL
FRIDAY, Sept. 29
Central-Clay 48, Alexandria 13, FINAL
Reeltown 68, Cleburne County 3, FINAL
Glencoe 49, Holly Pond 18, FINAL
Handley 42, Lanett 27, FINAL
Hokes Bluff 42, White Plains 14, FINAL
Jacksonville 51, Ohatchee 6, FINAL
Hartselle 22, Oxford 21, FINAL
Ragland 39, Pleasant Valley 6, FINAL
Randolph County 49, Wadley 6, FINAL
B.B. Comer 42, Saks 6, FINAL
Southside 48, Boaz 45, FINAL
Cedar Bluff 7, Spring Garden 6, FINAL
Wellborn 40, Talladega 7, FINAL
Weaver 55, Asbury 7, FINAL
Open: Donoho, Jacksonville Christian, Lincoln, Ranburne, Woodland.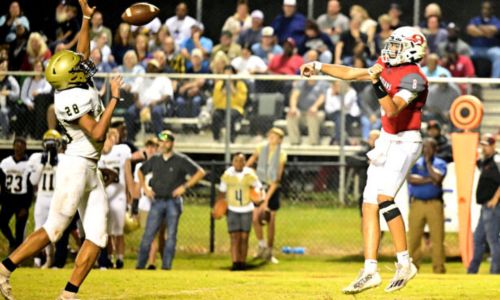 OHATCHEE — Zae English rushed for 185 yards and three touchdowns, and Jacksonville beat Ohatchee 51-6 in a midseason non-region game on the Creekbank.
English's touchdown runs covered 49, nine and 61 yards.
Jacksonville (5-1) got the usual production in the air. Jim Ogle completed 18 of 22 passes for 230 yards and three touchdowns.
Ky'dric Fisher had a team-high 140 yards on eight catches, including touchdown receptions of eight and 40 yards. Damonte Sinclair caught nine passes for 73 yards with a 4-yard touchdown reception.
Ohatchee (4-2) got an 80-yard touchdown run from Jesse Baswell.
HARTSELLE 22, OXFORD 21: Class 6A No. 6 Hartselle rallied from a 21-7 deficit with two fourth-quarter touchdowns and a two-point conversion to hand No. 8 Oxford (5-1) its first loss of the season.
Noah Lee's touchdown pass to Markus Tapscott made it 21-14, and Ri Fletcher's touchdown run brought Hartselle (5-1) within 21-20 with 3:52 to play. An offsides penalty on Oxford shortened the point after touchdown to a yard and a half, and Lee ran for the decisive two-point conversion.
Oxford built its 21-7 lead on two Mason Mims touchdown passes — 49 yards to Nick Richardson and one yard to Camare Hampton — and Jaydon Thomas' 2-yard touchdown run.
RAGLAND 39, PLEASANT VALLEY 6: Antwan Byers' two touchdown passes to Brayden Collins, one just before halftime and other to cap the opening drive of the third quarter, gave Ragland a 19-6 lead, and the Purple Devils (3-3) went on to dominate the second half.
Byers' connections to Collins included an 11-yard screen to make it 13-6 with 23.5 seconds left in the second quarter. Collins broke wide open for a 21-yard touchdown catch in the third quarter.
Ragland also got touchdown runs of five yards from Aron Lee, 25 yards from Brett Sisson and three yards from Ethan Courtney.
"We were definitely a lot more physical in the second half than we were in the first," Ragland coach Wes Tidwell said. "You always want to finish stronger than you start, and I felt like we did that."
The highlight of the night for Pleasant Valley (4-1) was a 15-play, 67-yard drive that included two fourth-down conversions in the second quarter. It ended with Braxton Salster's 3-yard touchdown keeper to bring the Raiders within 7-6 at 6:37.
The loss on homecoming ended Pleasant Valley's first 4-0 start and longest winning streak in school history. The Raiders had won six consecutive games, dating back to the 2022 season.
Pleasant Valley went without seven injured starters. They've lost their entire defensive line since the jamboree game in August.
"We have not made one excuse about it," Pleasant Valley coach Jonathan Nix said. "It's one of those things where each week, a new player has stepped up.
"It really come down to, up front, it was a mismatch. We wasn't as physical as we like to be. We've got to go on the film, and don't state a problem unless you've got a solution. You've got to grade yourself, and no excuses, and you've got to do it in love and go on with the next week and learn from this."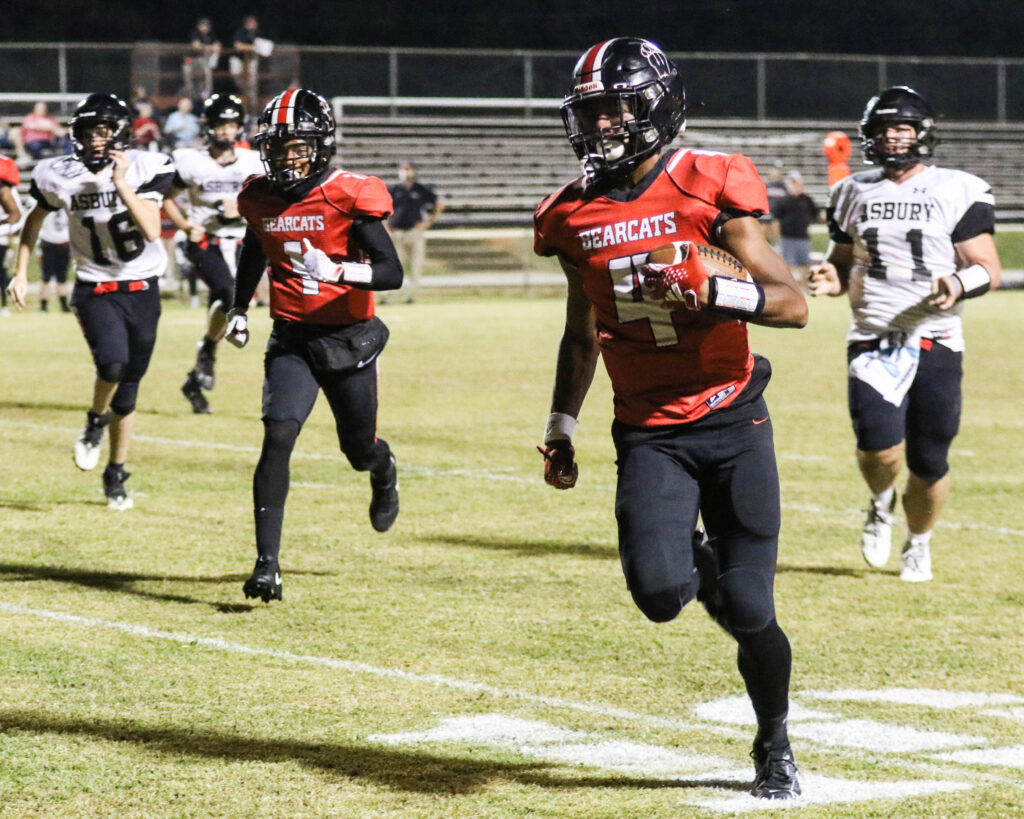 WEAVER 55, ASBURY 7: Weaver got two punt-return touchdowns and a pick-6 on the way to its second victory of the season.
The Bearcats (2-4) got punt-return touchdowns from KeShawn Allen and Kaden Gooden, an Caden Thornton returned an interception for a score.
On a night of big plays, Junior Allen also has a 65-yard touchdown reception.
The victory snaps a four-game skid for Weaver, which lost two one-score games.
"Asbury is a fairly new program, and those coaches are doing a good job with what they have," first-year Weaver coach Ken Cofer said. "I thought their kids played hard. We just had more dudes than they did.
"It was nice to get a win after so many close, hard-fought ballgames. We need the open week next week to get over some injuries and get some folks back on the field."
GLENCOE 49, HOLLY POND 18: Led by Aaron Mann with two, the Yellow Jackets (2-3) snapped a three-game skid with five rushing touchdowns from four different players.
Brady Kitchens, Wade Segrest and Seth Jenne each ran for a score.
Kitchens threw two touchdowns passes to Connor Montgomery, and Montgomery delivered five extra points.
On defense, Glencoe got an interception from Aiden Johnson and long fumble return from Cooper Gomez to set up Jenne's touchdown.
"We played hard," Glencoe coach Scott Martin said. "Holly Pond ran a compressed offensive formation most of the night and outnumbered us in plays more than 2-1. Our defense played a lot of snaps. I'm proud of their effort."
WELLBORN 40, TALLADEGA 7: Wellborn (3-2) won its third game in a row on a night that featured a pick-6 plus the Panthers' usual dose of big runs.
Touchdown runs on the night included Jaxon Newton from 53 yards, C.J. Hubbard from 34 yards and Noah Screws from seven. Hubbard also had a pick-6.
Newton led Wellborn with 80 yards rushing, and Jabari Williams added 65 yards rushing.
Talladega (0-5) got a 5-yard touchdown run from X'Zavier Lyles after Wellborn built a 4-0 lead.
CENTRAL-CLAY 48, ALEXANDRIA 13: Damion Cosby rushed for 126 yards and two touchdowns, and LaDamion Boyd added 110 yards and a touchdown as Class 5A No. 3 Central-Clay improved to 6-0 against winless Alexandria.
Cosby's touchdown runs covered 25 and three yards, and Boyd's touchdown run covered 55 yards. Boyd also caught a 20-yard touchdown pass from Darren Harris, who had a 1-yard touchdown run.
Alexandria quarterback Cole Wheeler had a 1-yard touchdown run, and Elijah Hunter had a 5-yard touchdown run. Hunter finished with 101 yards on 25 carries.
WESTBROOK CHRISTIAN 56, SECTION 12: A week ahead of Steve Smith's return to Piedmont, his new team rolled to victory to improve to 3-2.
Greyson Carroll passed for two touchdowns and accounted for 101 total yards, and Drew Whitmore rushed for a team-high 95 of the Warriors' 319 rushing yards with a touchdown.
Westbrook Christian also got rushing touchdowns from Maximus Jones and Hunter Arnold. Lamycal Mitchell and Cooper Greer each caught a touchdown pass.
Westbrook Christian will return to Class 3A, Region 6 action next week at Piedmont, where Smith coached for the previous 17 seasons, leading the Bulldogs to five state titles.
HANDLEY 42, LANETT 27: Cannon Kyles completed seven of 13 passes for 126 yards and two touchdowns, and Handley (5-1) rebounded from last week's loss to Central-Clay.
Kyles threw touchdown passes of 47 yards to Daquavian Slaughter and 12 yards to Jamarcus Daniel.
Rinza Winston led the Tigers with 106 rushing yards, and E.J. Goss' 64 yards included touchdown runs of one and 13 yards.