Oxford, AL – Past Sunny King Charity Classic winners will receive a commemorative poker chip to recognize their victory, momento will be awarded through 2029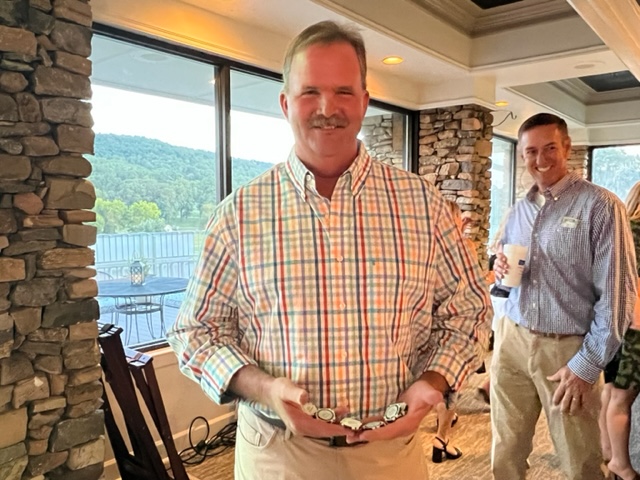 Gary Wigington looked down at his hands that were overflowing with poker chips and felt like he hit the jackpot. In every sense he did. The VIP party for this year's Sunny King Charity Classic Thursday night carried a Casino Night theme, but the items in Wigington's hands weren't those kinds of poker chips. He had eight of them in his hands and they were worth more than anything he could have won at the tables. There was one for each of the Sunny Kings he has won over the years.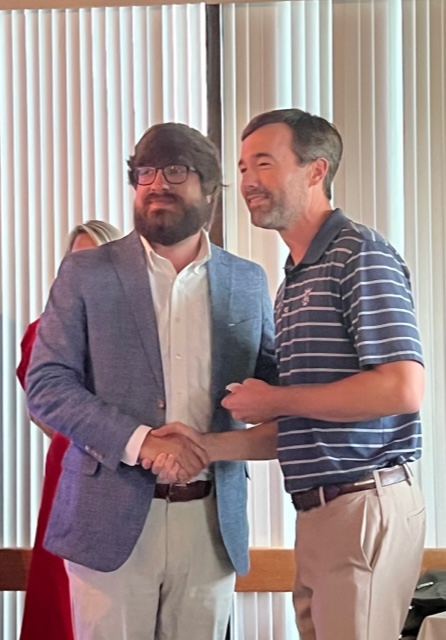 "I don't keep up with all that stuff, I had to call Randy (Reaves) today and ask him how many times we won," Wigington said. "So, having something up there to commemorate it, it definitely means something. As we get older the chances are getting slimmer and slimmer every year, so having something to say we've won it over the years is great." The tournament committee also had one of the chips ready for Tom Chapman, representing his father Ray, the oldest living past champion who won the 1989 Classic with Chip Howell. All of the previous 42 winning teams will receive a chip commemorating their particular championship and the tradition will continue through the 50th Classic in 2029.
For years, the winners of the Sunny King Classic would accept their gift certificates, get their picture taken with the championship trophy on the back patio of the Country Club and then get a nice sendoff for next year. The silver trophy went back into the clubhouse and the winners went home with nothing to show for their victory other than a bunch of happy memories. "I just always found it odd that the biggest tournament of the year didn't offer the winners some token to commemorate their win," said Al Muskewitz, the East Alabama Sports Today editor and ad hoc Classic historian who planted the seed for the chips. "I've been wanting to do something like this for the tournament for the last couple years and I thought on the occasion of my 25th Classic to go ahead and pull the trigger."
"I thought it was a great idea and the everybody on the committee thought it was a great idea," tournament chairman Brett Key said. "I don't play at the level these guys do, but I think it is an important tournament to win to those guys and I think the idea of being able to take away some sort of momento, it's long overdue." The chips were crafted by Stephen Cryer, a single-digit handicap and co-director of Scotty Dog Golf Ltd., an online golf business that specializes in golf accessories about 15 minutes from the gates of Royal Liverpool. The company has produced millions of markers for a worldwide list of clients from charity golf tournaments to "lots of footballers" to celebrities such as WestEnder Denise van Outen and Piers Morgan.
The Sunny King chips feature the Sam Byrd Invitational or Sunny King Classic logo on one side, and the championship year, partners names and winning score on the other. "We don't have the widest product range, but what we do, we do exceptionally," Cryer said. "I treat everyone individually and have the patience of a saint with regards to designs. "The products have evolved. The main driver of setting the business took me back to a previous business role and the corporate merchandise they used to give out on corporate days was basically rubbish. Golfers are fickle and if you want a golfer to use your product – and let's face it, everyone has markers, pitchforks (divot tools) and poker chips – it has to be better than what they use now."
Wigington has won his eight Classics with two different partners and was quick to give them credit. He won his first five with Randy Reaves and his last three with Ty Cole. He is playing with Cole this year. "You kind of feel a little bit selfish getting the award because it's a team tournament and I couldn't have won it without great partners," he said. "Playing with a good friend and a good competitor, it means a lot. It does feel like hitting the jackpot." Don't worry, there are a series of chips with his partner's names on them. They'll be delivered as the weekend unfolds.