Oxford, AL – Monsters let a big one slip away, losing to Astros in a game they were leading by five runs after three innings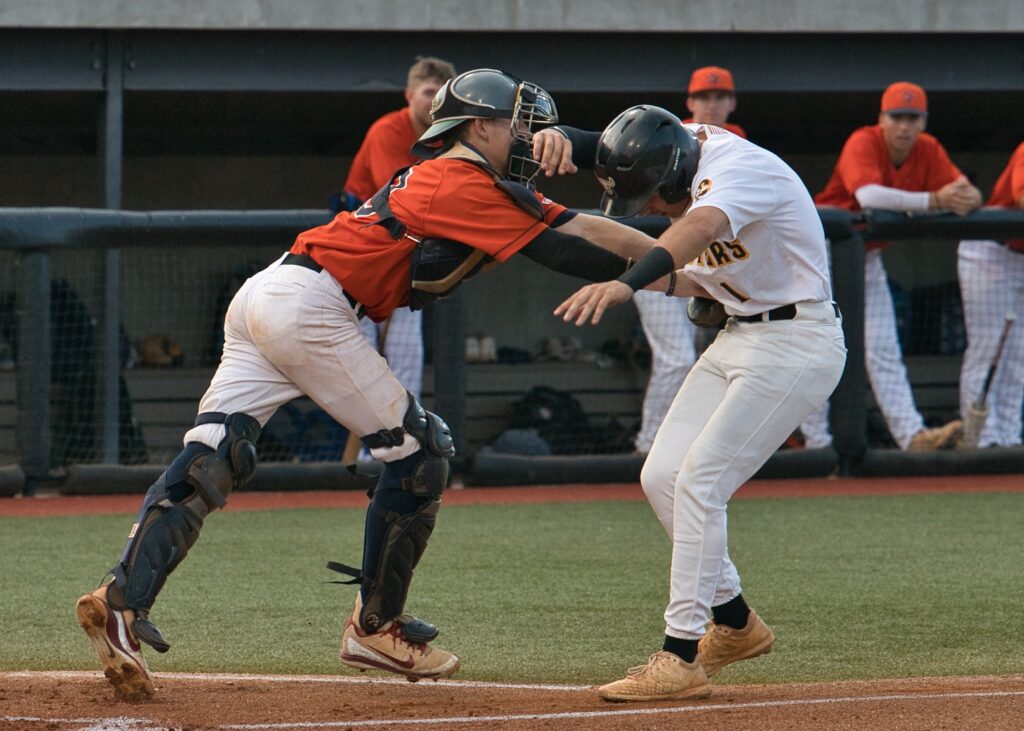 By Al Muskewitz

For all the momentum the Choccolocco Monsters built over their first three games of the week, they took a big step backwards Saturday.
Riding a three-game winning streak and looking to complete the first unbeaten week in franchise history that would have set them up for a nice run at a playoff berth, the Monsters let a big one slip away, losing to the Gwinnett Astros 8-5 in a game they were leading 5-0 after three innings.
"It's four or five steps backwards," Monsters manager Steve Gillispie said. "The things that had put us in the spot we were in showed back up.
"The game got away from us. Our approach got away from us. The mentality got away from us.  I don't know we'll know how damaging it is until the rest of the season plays out."
The Monsters (9-14) were in position to effectively grab the final wild-card slot in the Sunbelt Baseball League playoffs with five games left in their season with a win and it looked like it was going to happen with their early lead and Waleska's big early lead on Brookhaven.
They got the Brookhaven loss they needed, but the rest of the night slipped away when the Astros scored two in the fourth and two in the fifth off Monsters starter Garrett Telaga, then took the lead with four in eighth. Now, the Monsters remain a game behind Brookhaven and Gwinnett jumped over them in both the wildcard and division races.
"It definitely stripped the gears a little bit," Gillispie said. "We're making a move, we're getting on a roll. I think it definitely slows the momentum, but how damaging it is I don't know we can tell until it's over. It's not so much that we lost, but it smelled bad when we had five runs on 10 hits (through three innings). We lost focus of what we were trying to do. We'll have to see if we can get it back and then it's going to be a matter of how do we play, can we win."
Telaga hadn't gone more than three innings in any of his previous six appearances with the Monsters. He pitched well in the first three innings Saturday — actually, the first 3 1/3 — giving up only one walk his first time through the Astros' order. But he gave up three straight singles in the fourth leading to two runs and was lifted in the fifth after the first two Astros reached — and later scored — on a single and hit batsman.
The Astros batted around in the eighth to take the lead. A.J. Jarrell pitched three innings of shutout relief behind Telaga to keep the Monsters in the game, but they couldn't generate any offense.
Dom Scavone, Brant Deerman and Brennan McCullough were 6-for-6 in the three innings the Monsters built their 5-0 lead, but were hitless the rest of the game. The Monsters had only two hits and five base runners over the final six innings. McCullough, however, reached base all four times he batted.
The Astros loaded the bases in the eighth with two walks and an error to chase reliever David Cherwonuk and Michael Maginnis ripped a two-run single into left field off reliever Weston Kirk's first pitch to put them ahead. Jorge Arispuro had an RBI single and another run scored when the through throw on a double steal got away.
"We were consistently talking about not panicking, let the game come to us, but I've got to tell you I was a little nervous down five" Astros manager Karl Garcia said. "But I had the pitchers. I had the pitchers who could hold them. We got the right guys in and they held it. I knew we were going to hit, it was just a matter of time, and it worked out for us."
The Monsters scored five runs in the first three innings, but missed out on so much more. They had the bases loaded in the first and third innings, but ran themselves out of more than the two they got in the first and managed only one in the third despite loading the bases with none out. Through the first seven innings they left eight runners on base, six in scoring position.
"The bats got extremely selfish after the third inning," Gillispie said. "Swings got big, we basically quit playing after we were up 5-0. We basically thought we were just going to roll through. The whole approach offensively that we put in this week for that second guy (left-hander Christian Davis), when he came in we applied none of it and he just cruised through and threw up zeroes."
It doesn't have to be debilitating. Of the five games remaining, the Monsters play Waleska Wednesday, host an Atlanta Blues team they're chasing in the wildcard race and wrap up with a home-and-home against division-leading Columbus. Brookhaven, meanwhile, has two with the Astros and three with the top two teams in the league. The Astros have the set with the Bucks, two with league-leading Gainesville and three with the Chatta-a-Hoots.
"We can take a lot of good stuff from tonight," second baseman Brant Deerman said. "We had nine hits in the first three innings, we were rolling. It is a little discouraging (how it finished), but we realized in the past three games what we can do. I think we're still going to stay confident and try to finish out the year and win that last spot."
MONSTERS MASH: The game was interrupted 20 minutes in the top of the first for a lightning delay. Monsters players Brant Deerman, Weston Kirk, Josh Cooper, Gavin Orcutt, Jackson Sweatt and Jelani Howard passed the time throwing a football in front of the dugout … League-leading hitter Nate Shipley might be in Sunday's SBL All-Star Game after all. He was asked his availability during the lightning delay … During the Monsters three-game winning streak 3-4-5 hitters Shipley, Dom Scavone and Deerman are a combined 19-of-34 with three homers and 12 RBIs. Shipley is 7-of-13 with two homers and seven RBIs … Monsters are looking to get LHP Garrett Sagro and IF J.J. Rapp back and activate UAB LHP Carson Knight as early as Monday … Tyler Waugh (UAB) may have played in final game with the Monsters. He has been gone on a pre-scheduled family trip, but also had his wisdom teeth removed. "He hasn't ruled out coming back," Monsters manager Steve Gillispie said. [*** read more]
Gwinnett              000 220 040 – 8   9  2
Choccolocco       221 000 000 – 5 11 3
WP: Jacob Tate (1-0). LP: David Cherwonuk (0-1). S: Jeffery Coy Martin (3). 2B: Preston Welchel (G), Jelani Howard (C), Jake Spivey (C).
Sunbelt Baseball League standings
| | | | | |
| --- | --- | --- | --- | --- |
| EAST DIVISION | W | L | PCT. | GB |
| x-Gainesville GolDiggers | 17 | 6 | .739 | — |
| Waleska Wild Things | 12 | 9 | .571 | 4 |
| Alpharetta Aviators | 5 | 16 | .238 | 11 |
| CENTRAL DIVISION | | | | |
| Atlanta Crackers | 14 | 7 | .667 | — |
| Atlanta Blues | 11 | 12 | .478 | 4 |
| Brookhaven Bucks | 10 | 13 | .435 | 5 |
| WEST DIVISION | | | | |
| Columbus Chatt-a-Hoots | 12 | 9 | .571 | — |
| Gwinnett Astros | 8 | 12 | .400 | 3.5 |
| Choccolocco Monsters | 9 | 14 | .391 | 4 |
x-Clinched a playoff spot
Saturday's Games
Atlanta Crackers 8, Atlanta Blues 3
Columbus 3, Alpharetta 2
Waleska 8, Brookhaven 7
Gwinnett 8, Choccolocco 5
Sunday's Game
SBL All-Star Game at Choccolocco Park, 3 p.m.
Playoff standings
| | | | |
| --- | --- | --- | --- |
| DIVISION LEADERS | W | L | |
| x-Gainesville | 17 | 6 | East |
| Atlanta Crackers | 14 | 7 | Central |
| Columbus | 12 | 9 | West |
| WILD CARDS | W | L | SEED |
| Waleska | 12 | 9 | No. 4 |
| Atlanta Blues | 11 | 12 | No. 5 |
| Brookhaven | 10 | 13 | No. 6 |
| BUBBLE | W | L | GB |
| Gwinnett | 8 | 12 | 0.5 |
| Choccolocco | 9 | 14 | 1 |
| Alpharetta | 5 | 16 | 4 |