Oxford, AL – Oxford basketball to honor 'those who came before us,' Davidson family with three-day showcase in December
By Al Muskewitz

OXFORD – Joel VanMeter has wanted to do something to honor the Oxford basketball program's storied past for a long time. What better way, he thought, to do it than with the talents of the players of today.
After all, there's no way to have one without the other.
The Yellow Jackets will debut the Larry and Connie Davidson Classic Dec. 8-10 at the Sports Arena. The event will bring together 15 top-flight teams from Alabama and Georgia, most with direct connections to the Jackets' head coach, for three days of prime competition.
"I think the biggest thing is you get an opportunity to honor Coach Davidson and his wife for what they've meant to our program, for the years they've put into it," VanMeter said. "But I'm also doing it to try to reach out to all of our former players, to give them an opportunity to come back.
"(Recently retired Villanova coach) Jay Wright uses this statement all the time: 'We play for those who came before us.' If you come in our gym we have the state championship banners, but you don't see anything else about who played before us.
"We have a room downstairs we use to watch film and what we've done is everybody who played for Oxford High School and finished in the program (all the way back to the 1940s) we've put their names on the wall. This is our way of honoring those guys who've played before us and tying it all together. Everything we're doing and everything we've been able to do, the only reason we've been able to do it is because of them."
Davidson was surprised by the naming announcement and humbled by the honor.
"That's something that needs to be named after all the players who played here," the Jackets' athletics director said. "Any time people feel that way about things it's nothing you've done, it's the people you were surrounded with in the past and the people you're surrounded with now.
"I've always said Oxford is a special place because of the people. It's not about being from here; I'm not from here. We've got a lot of good folks who are not from here who are Oxford people; that's what it's all about."
The showcase dates fit into the window between the Alabama state football championship and the Jackets' traditional trip to Woodward Academy's War Eagle Classic. It also gives them three straight home games, a rarity in the demanding schedule they've put together, which this year includes a year-ender with reigning Class 4A state champion Jacksonville.
White Plains and Jacksonville will give the field more local flair. Connections abound with the other teams as well.
The Jackets were supposed to play in Paulding County's Thanksgiving tournament two years ago and again last summer but couldn't because of COVID restrictions. Pinson Valley is a return game from last year's schedule. Northgate (Ga.) is coached by former Oxford player LaVarrett Pearson. Central-Phenix City is coached by former Saks coach Charles Burkett. And VanMeter coached against Hiram (Ga.) coach Keyon Boyd when the latter played at Tennessee Tech.
Carrollton and Hiram both were Elite 8 teams last year in their respective Georgia classifications.
"We're excited about the showcase and honored to be invited to play," White Plains coach Chris Randall said. "It's a big deal to play in a showcase named after Coach D. He bleeds black and gold and has given his life to that school systems. He's a lifer and a Hall of Fame person."
VanMeter wants to make the Classic an annual event and expand its reach, and in time "because of the name that's on it and the purpose of it" build it into "one of the nicest Classics, not just in Alabama but the South."  [*** read more]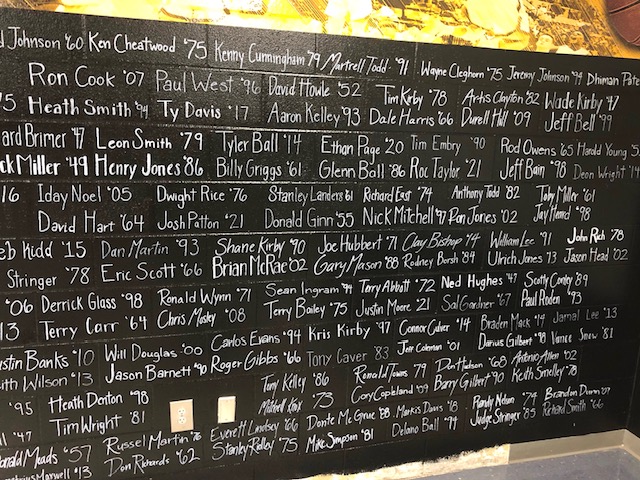 LARRY & CONNIE DAVIDSON CLASSIC
At Oxford Sports Arena
Dec. 8
White Plains vs. Paulding County (Ga.), 5 p.m.
Oxford girls vs. Pinson Valley, 6:30 p.m.
Oxford vs. Pinson Valley, 7:45 p.m.
Dec. 9
Northgate (Ga.) vs. Central-Phenix City, 6 p.m.
Oxford vs. Carrollton (Ga.), 7:30 p.m.
Dec. 10
Chelsea vs. Central-Phenix City, noon
Homewood vs. Fairfield, 1:30 p.m.
Jacksonville vs. Carrollton (Ga.), 3 p.m.
Shades Valley vs. Auburn, 4:30 p.m.
Oxford girls vs. Auburn, 6 p.m.
Oxford vs. Hiram (Ga.), 7:30 p.m.