Oxford, AL – Oxford held their regularly scheduled meeting on Tuesday September 12, 2023.
Call to Order

Councilwoman Hubbard – Present
Councilman Gardner – Present
Councilman Waits – Present
Councilman Henderson – Present
Councilman Spurlin – Present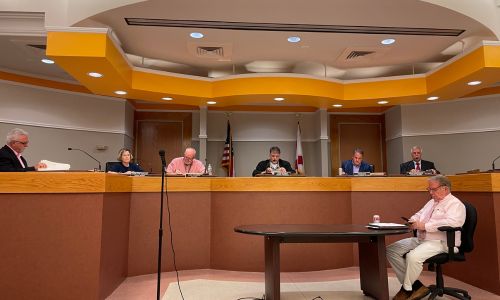 Welcome/Invocation – Greg Hethcox, Oxford First Baptist Church
Pledge of Allegiance
Approval of Minutes of August 22, 2023 – Unanimously Approved
Old Business

Resolution No. 2023-85 – Resolution for the approval of a subdivision plat for Carterton Heights – 4 Yays and 1 Nay vote from Councilman Henderson

New Business

Proclamation – Gynecologic Cancer Awareness Month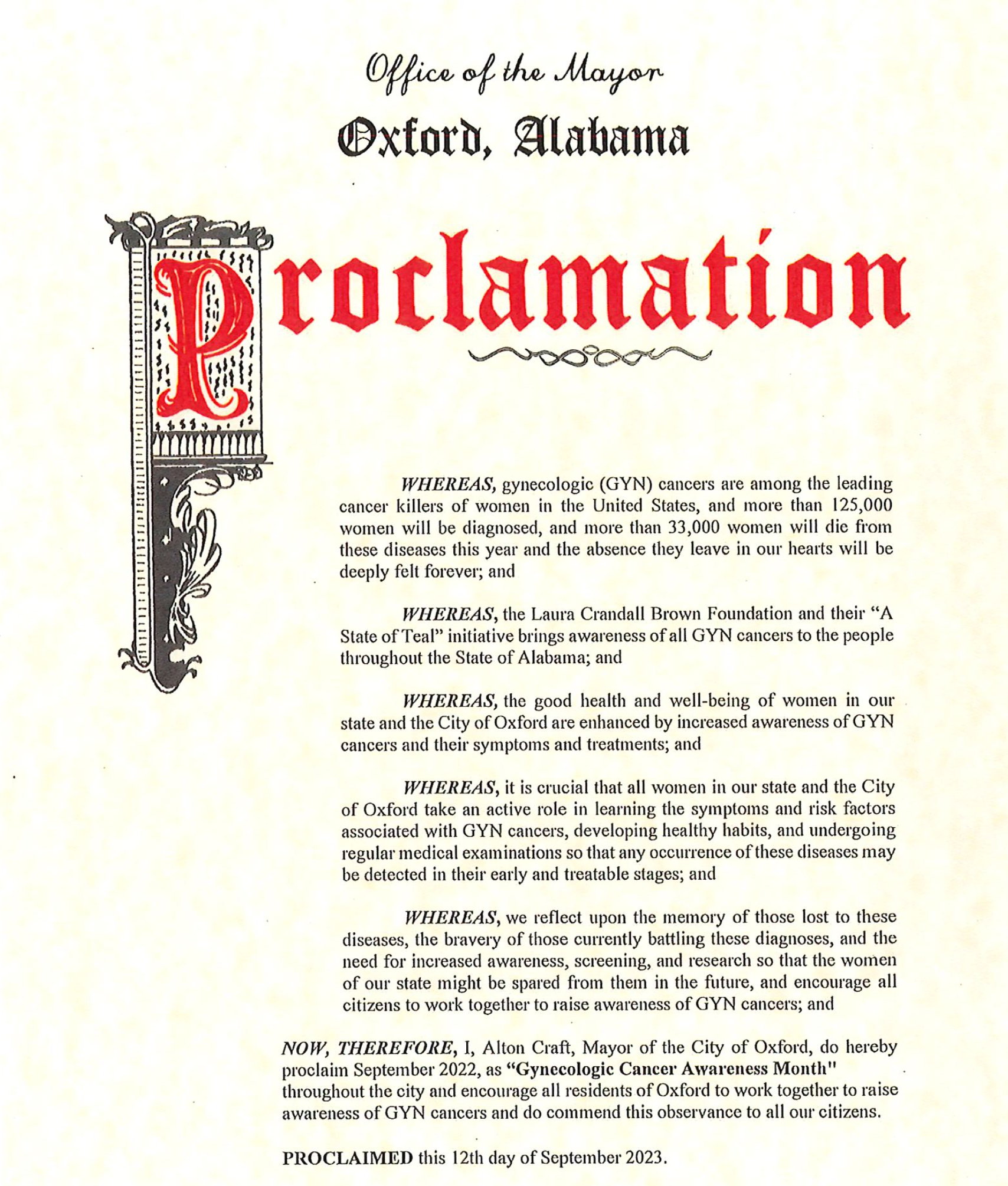 Proclamation – Constitution Week

The proclamation was presented to Robin Reeves Campeau.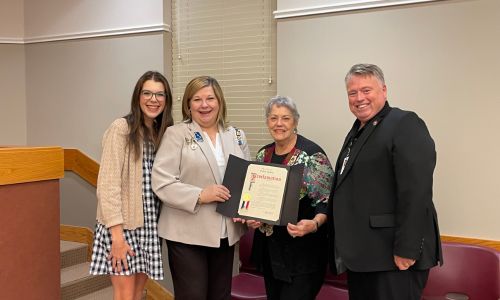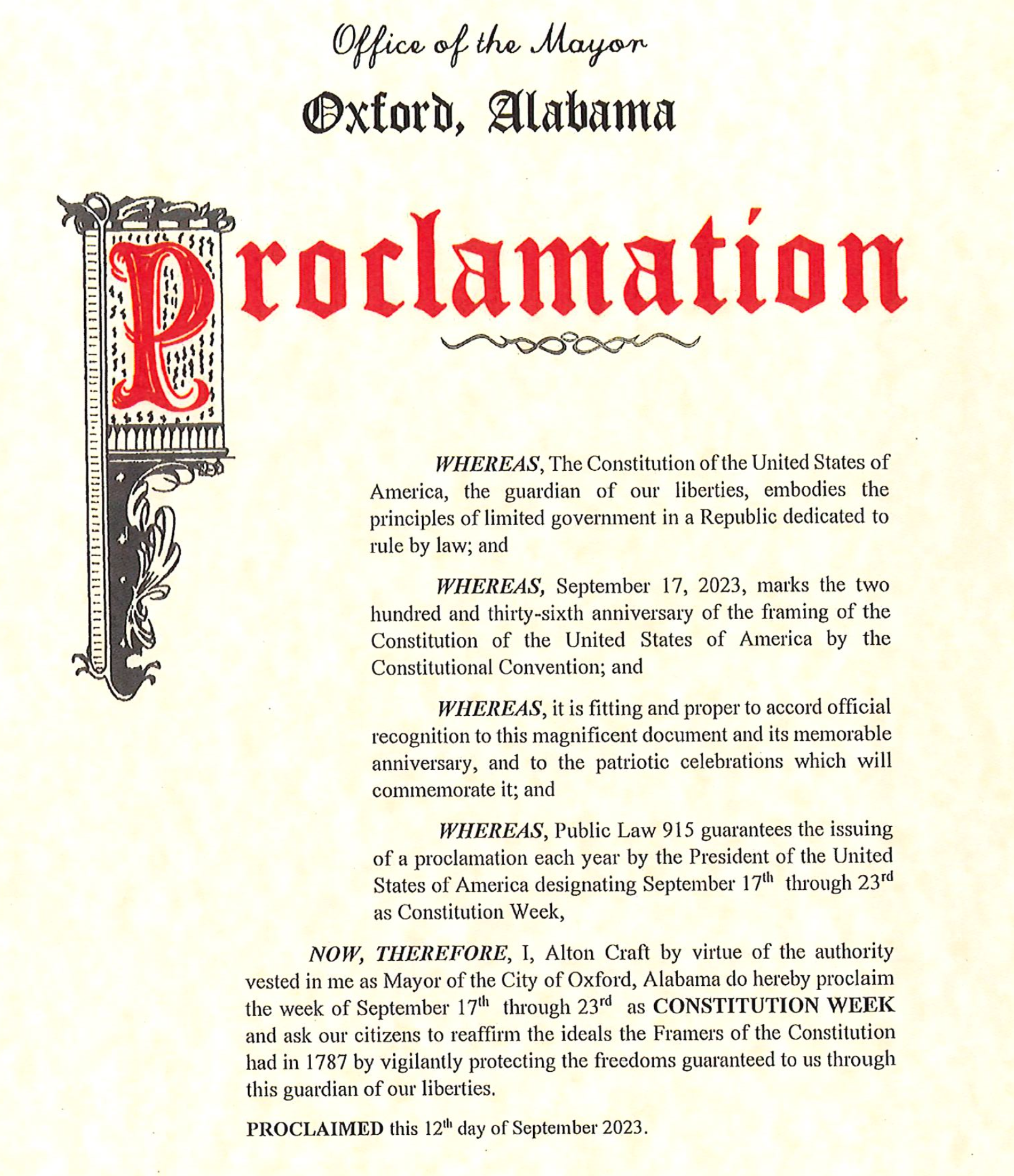 Public Hearing – to consider a zoning request from Howleco LLC/Sunbelt (Brian Howle) to rezone property located at 1919 Golden Springs Road from General Manufacturing District (M-2) to Light Manufacturing District (M-1) – No comments
Ordinance No. 2023- 24 – Ordinance rezoning property located at 1919 Golden Springs Road from General Manufacturing District (M-2) to Light Manufacturing District (M-2) – Unanimously Approved
Consent Agenda – Unanimously Approved

Resolution No. 2023-106 – Resolution authorizing the Mayor to execute an agreement with TTL, Inc. for design services to evaluate and confirm the depth to groundwater within proposed waste disposal areas at the City of Oxford Landfill in the total amount of $39,584.00.
Resolution No. 2023- 107 – Resolution authorizing the Mayor to execute an agreement with East Alabama Regional Planning and Development Commission for Fixed Route and ADA Paratransit Services for FY2024.
Resolution No. 2023- 108 – Resolution authorizing the Mayor to execute an agreement with East Alabama Regional Planning and Development Commission for a comprehensive mapping program for FY2024.
Resolution No. 2023- 109 – Resolution declaring certain equipment surplus and authorizing their sale/disposal.
Resolution No. 2023-110 – Authorizing the Mayor to sign the financial agreement with PNC Bank for a Heavy Duty Hazardous Material Truck for the Fire Department
Resolution No. 2023-111 – Authorizing the Mayor to sign the agreement with EDP for the purchase of a Heavy Duty Hazardous Material Truck for the Fire Department

Council Comments/Reports

Councilman Henderson wanted to that call who participated in the 9/11 Ceremony. He also wanted to thank all the fist responders who death with the "Terrorist Act" that Oxford faced the other day in a shooting.
Councilman Spurlin also wanted to praise all the first responders who worked together to contain and end the shooting event.

Mayor's Comments

The Mayor stated he was on site and saw all the different departments working together to protect all the people in the vicinity of the shooting as well as to end the shootout without the loss of life. He specifically praised the police, EMS, Fire Department, and road department for all working as a single unit.

Visitors – No comments 
Motion to adjourn (next regular Council Meeting, September 26, 2023)