Jacksonville, AL – Lewis slams his way into the Calhoun County spotlight with MVP performance as No. 2 seed Oxford overcomes top seed Jacksonville for county title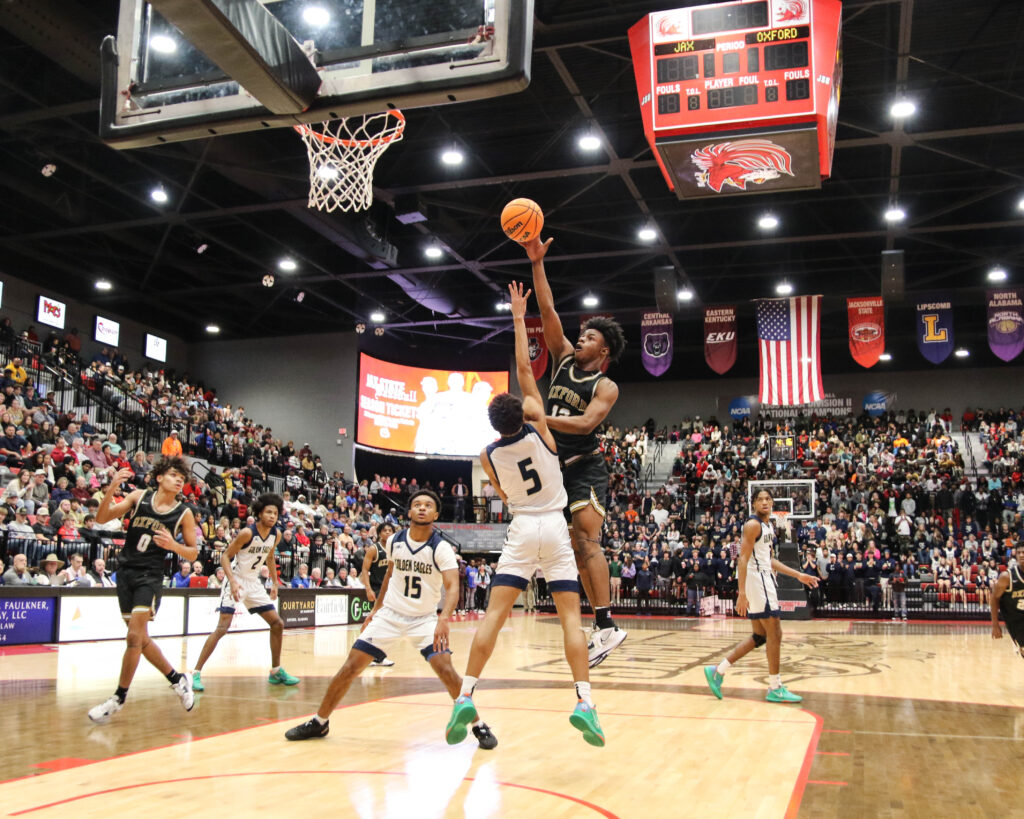 By Joe Medley

Jayden Lewis said his coach first called him 'Manchild' after an area-tournament game at Springville last year, and Joel Van Meter repeated it after Lewis keyed Oxford's latest Calhoun County title in boys' basketball Friday. "It gets me going," he said.
Calhoun County basketball fans will remember Lewis' real name and his nickname after his 22-point performance, including an alley-oop dunk with 36 seconds left, highlighted the second-seeded Yellow Jackets' 43-40 victory over top seed Jacksonville in Pete Mathews Coliseum. The tournament most valuable player added seven rebounds and three steals as Oxford (11-13) won its 23rd county title in 2023, its record-setting fifth title in a row and sixth in seven years.
It's Oxford's ninth county title under Van Meter, who sees it as a bookend. "I'll be honest with you, outside of the first one, this one and the first one might just mean a little something different because I feel like we were such an underdog," he said. Graduation losses from Oxford's 2022 county championship team included most valuable player Rylan Houck. Kyler Wright and Michael McGraw were also starters.
Oxford also missed starting senior guard Brock Reaves, who suffered a broken jaw in the Yellow Jackets' quarterfinal victory over Faith Christian. "We talked about it Tuesday, us being big underdogs," Lewis said. Absent for Jacksonville was guard Jaliek Long. Jacksonville coach Tres Buzan declined to comment on Long's absence but said the player will not return.  [read more …]