Montgomery, AL – Piedmont's Hayes wins Class 3A Back of the Year again, nosed out for Mr. Football by Saraland sophomore receiver; Anniston's McElderry 4A Lineman of the Year
By Al Muskewitz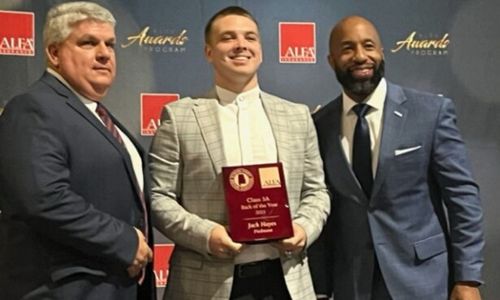 The one word that has consistently described Piedmont quarterback Jack Hayes throughout his storied career is 'winner.'
Whether it be getting the necessary yardage to keep the chains moving on a game-winning drive or directing an historic comeback to win another state championship, Hayes was always the man in the middle of the action and delivering.
Thursday afternoon he was up for the biggest prize of them all, Mr. Football as the best player of the year through all of the state's eight classifications (AISA included).
There was anticipation all day in the run up to the announcement, but at the end of the day he came up short in the voting despite a strong resume and an array of records.
Mr. Football went to Saraland sophomore receiver Ryan Williams. The Alabama commitment caught 88 passes for 1641 yards and 24 touchdowns. He also rushed for 700 yards and 16 scores, threw a touchdown pass and scored on two punt returns.
Williams is only the second underclassman to win the award and the first sophomore.
Hayes did go back-to-back as the Class 3A Back of the Year. He was third on the super all-state list behind Williams and Thompson lineman Peter Woods. He received four first-place votes.
"It is what it is," Hayes said. "He deserved it. He was a good player. I think there were three good candidates for it this year and I reckon they found him the better player than us. I'm fine with that. It really doesn't bother me that much."
Piedmont coach Steve Smith was disappointed his player didn't bring home the biggest award of the day, but was gracious in talking about the winner.
"At the end of the day when you're selected as the Back of the Year, one of 16 winners at this banquet, there's nothing to hang your head about," he said. "Jack's obviously a great player and the accolades he has individually and the records and the team success and playing in 60 games as a starting quarterback over your career, I think those things speak volume for the type player he was.
"Obviously everybody here is a great player and sports writers have a tough job to do when they pick these winners. If I was a sports writer and I had a vote I know who would have gotten my vote. At the end of the day you shake the hand of the winner and move on."
Hayes was bidding to become the third player from Calhoun County to be Mr. Football joining Alexandria's Mac Campbell (1997) and Oxford's Roc Thomas (2013).
His resume was strong. He set four all-time state records during a senior season that ended with a runner-up finish in the Class 3A playoffs. He ended his career No. 1 on the state's list for total offense (15,103), passing yards (11,024), touchdown passes (159) and touchdowns accounted for (223). He was 51-8 as the starter in the last four years of his career that included two state titles and a runner-up. He also started a game as an eighth grader.
"I've always felt like the winner of this aware each year should be for whatever that kids accomplishes in that year on the football field," Smith said. "Jack, obviously, got mentioned a lot for the career records he had, but his numbers for the years were pretty phenomenal. I thought his numbers stacked up very well with everybody's.
"I don't think it'd be a position I would want to be in as trying to make a unilateral decision, but, again, if I was picking the award, I think Jack deserved it. But again it's tough when you're having to consider candidates from everywhere … The sports writers voted on who they felt like was the top player in the state for 2022 and the sports writers have spoken."
If the award was based solely on the season, he didn't have a bad one of those either. He passed for 3,267 yards, had 4,859 total yards and accounted for 60 touchdowns. Not bad for a baseball player. Curiously, he doesn't have many football opportunities – a fact that has perplexed players and coaches alike – and has committed to play baseball at Snead State.
"I don't think I can be disappointed because I really didn't come in expecting to win," Hayes said. "If I came in expecting to win I think I could be disappointed, but I think it'd be just another addition if I would have won it.
"I know I didn't come here looking to win, but I'm not going to be disappointed or anything about it."
He has been at the Mr. Football luncheon each of the last four seasons. He had always been nominated for Class 3A Back of the Year and finally won it for the first time last year.
He walked into the banquet hall Thursday in a light-colored sport coat and sat down at one of the tables along the front row. He was asked if he had any prepared remarks in the event he won and said he would say something.
Asked further if he had notecards stashed in his coat pocket he pointed to his head and said it was in there. He was always prepared.
When he got up to give his 3A speech, he fumbled the finish a little excited in the moment. He would have another opportunity to speak again if he won Mr. Football and he was ready for that.
"I actually did have a speech ready for that one if I did win it," he said. "I was just going to say I didn't come here looking to win this. I changed it when I sat down. I was going to say let's try this again."
Anniston lineman Ryqueze McElderry was Class 4A Lineman of the Year. He has already enrolled at Alabama and didn't attend the ceremony, but his mom Markesha accepted on his behalf.
McElderry, the third Anniston player to win a class POY award and first lineman, went through pre-bowl practice with the Crimson Tide and went to the Sugar Bowl — and even got on TV twice — but did not play in the game because he wasn't enrolled in classes yet.
"He's really focusing on college right now," the proud mom said. "I don't even know if he thought he was going to win, but I told him I was going to come and represent him just in case he did — and he did.
"I think he would have thanked God, thanked his family, thanked his coaches, thanked his teammates and the City of Anniston, of course, everybody coming out supporting him. I know he would have said, 'Roll Tide.'"
Two Cherokee County players were finalists in the Class 4A — Tae Diamond (Lineman) and Jacob Cornejo (Back), and former Oxford player Anquon Fegans, now at Thompson, was a Class 7A Back of the Year finalist. B.B. Comer's Kamore Harris was the 2A Back of the Year.
Alabama Mr. Football
MR. FOOTBALL: Ryan Williams, Saraland
CLASSIFICATION WINNERS
| | | |
| --- | --- | --- |
| CLASS | LINEMAN OF THE YEAR | BACK OF THE YEAR |
| AISA | Jack Gibson, Patrician | George Myers, Lee-Scott |
| CLASS 1A | Bryson Dixon, Lecroy | Alvin Henderson, Elba |
| CLASS 2A | Keldric Faulk, Highland Home | Kamore Harris, B.B. Comer |
| CLASS 3A | Sterling Dixon, Mobile Christian | Jack Hayes, Piedmont |
| CLASS 4A | Ryqueze McElderry, Anniston | Fluff Bothwell, Oneonta |
| CLASS 5A | Zion Grady, Charles Henderson | Cole Blaylock, UMS-Wright |
| CLASS 6A | Kelby Collins, Gardendale | Ryan Williams, Saraland |
| CLASS 7A | Peter Woods, Thompson | Peyton Floyd, Hewitt-Trussville |
Super All-State
(Top 12 players regardless of classification)
Ryan Williams, Saraland
Peter Woods, Thompson
Jack Hayes, Piedmont
Earl Woods, Hueytown
Fluff Bothwell, Oneonta
Cole Gamble, Mountain Brook
Jacob Cornejo, Cherokee County
Kelby Collins, Gardendale
Bradyn Joiner, Auburn
Jaquavious Russaw, Carver-Montgomery
Hunter Osborne, Hewitt-Trussville
Cole Blaylock, UMS-Wright