Pleasant Valley, AL – Pleasant Valley's Bryant picks up his 500th career victory as Raiders reach winners' bracket final; Piedmont, Spring Garden also also one victory away from clinching state berth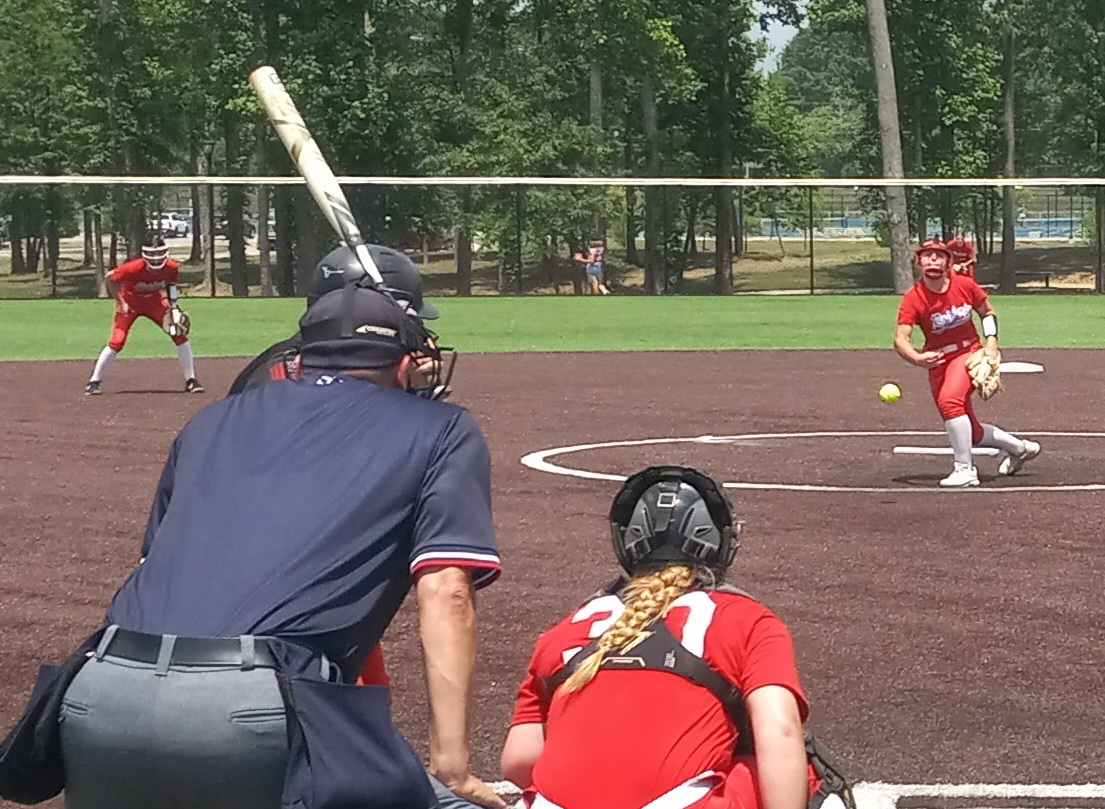 By Joe Medley

David Bryant says his 500th career victory as Pleasant Valley's softball coach just means he's old.
Balloons, a cookie cake, a soaked Columbia blue shirt, a commemorative ball and a big grin say otherwise.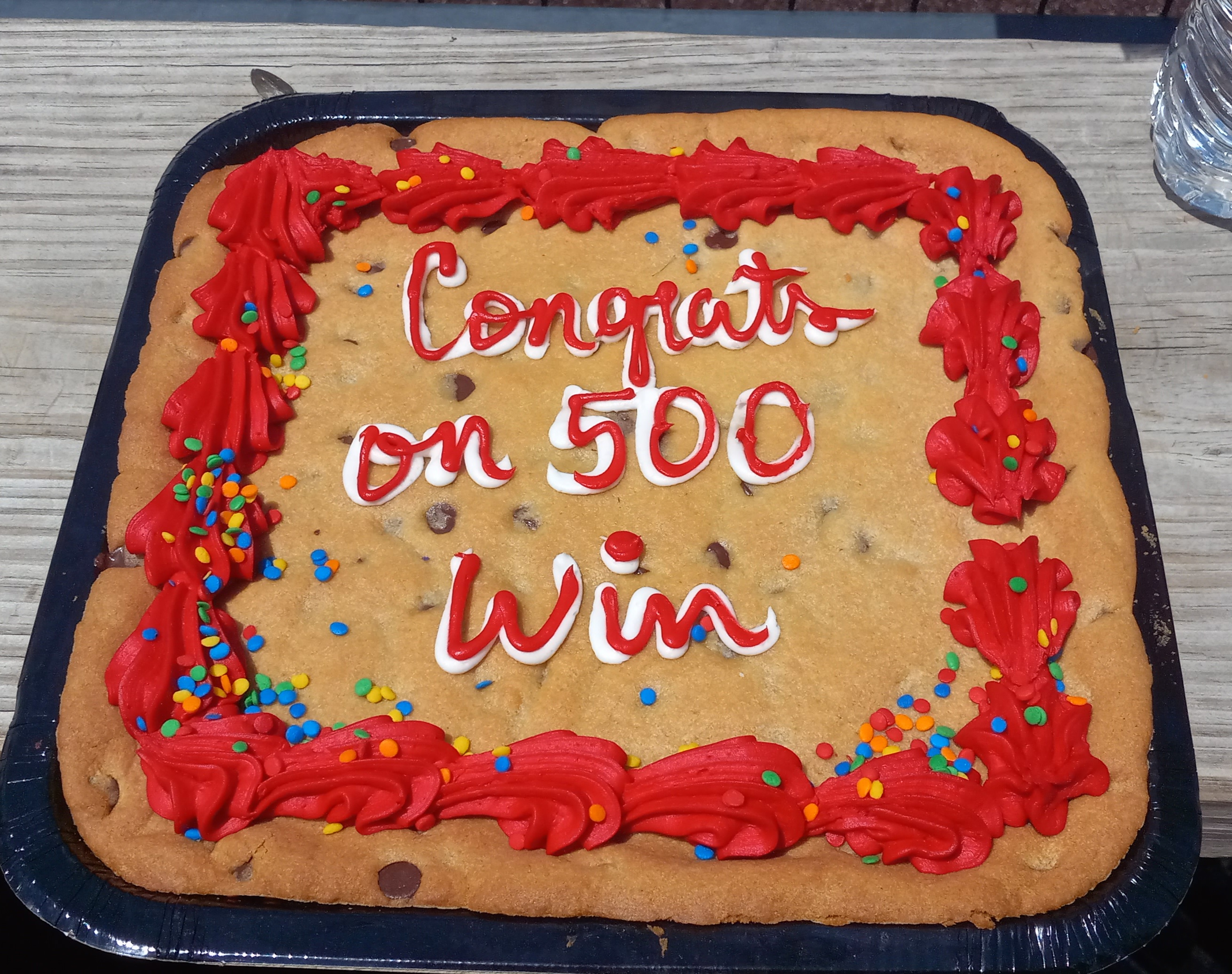 Madyson Cromer hit a three-run home run and drove in four runs, and the Raiders beat Fyffe 11-4 in their Class 2A East Regional opener on Tuesday at Albertville's Sand Mountain Park.
The victory, followed by a 9-3 win over West End, sent the Raiders (20-13) on to Wednesday's winners' bracket final to face Pisgah. Wednesday's winner advances to next week's state tournament at Choccolocco Park.
"I'm just glad to be one game from Choccolocco," Bryant said. "That's the way we looked at it. We put two together today, and we've got to put one more together tomorrow."
Pleasant Valley's victory over Fyffe got Bryant to the 500th win of his career.
"It's a milestone, but really, it's a testament to all of the kids I've coached," Bryant said. "I didn't make a single out. I haven't thrown a single pitch. They've done it all, and I've just been blessed to be along for the ride."
Cromer gave Pleasant Valley the lead for good with a three-run home run to make it 3-1 in the bottom of the first inning.
"The day before, was struggling," she said. "I wasn't confident, and so we were working because the previous game I got jammed inside a whole bunch, so we went to the house and worked inside.
"She pitched it inside, and I was just, 'Oh, this is it!' and I just daddy hacked it."
Cromer added an RBI double in the fifth.
Haylie Lee delivered clutch pitching. She came on in relief and worked out of a one-out, bases-loaded jam in the top of the fifth. The Raiders came up behind that and gave her four more runs then added four in the sixth.
Lee came on in relief against West End, as well, and spread seven hits over six innings. She struck out two batters with no walks and allowed one earned run.
"I was really proud of Haylie Lee today," Bryant said. "Today, we played well, but we had some rough patches. We didn't play our best ball. We kept grinding it out, and Haylie stepped up in the circle."
Rebekah Gannaway had the offensive highlight against West End, sending a ball down the right-field line and to the corner. Her speed got her home for an inside-the-park home run to put the Raiders up 3-2, after West End scored two in the bottom of the first to tie the game.
"Honestly, I didn't think it was the best hit that I could've had, but I saw it going down the line, and I knew the girl wasn't going to be able to get it in time," Gannaway said. "I thought to myself, I'm either going to have to really, really run, or I'm going to be stuck at second base. When I saw that she missed it, I just took off.
"I felt like that was a changing moment in the game. It got our energy back up."
It was a clincher on a day that saw Pleasant Valley dominate two opponents, Pisgah upset Sand Rock 5-3 and Bryant come away with wins 500 and 501.
Cromer called being part of Bryant's 500th win "awesome."
"'It's been a great buildup, and the team, we've just bonded really well this season, and I'm glad that this is the season where we hit it."
Bryant said he's glad to get the milestone behind him.
"I'm just blessed to be part of so many kids' lives and families, and 500 means I'm pretty old, and we've won a lot of ballgames," he said.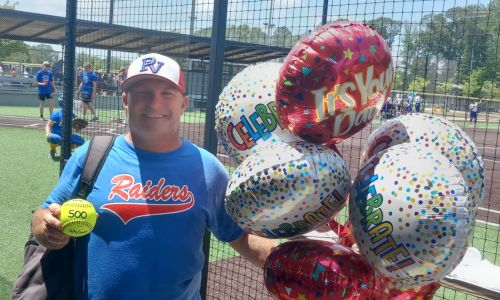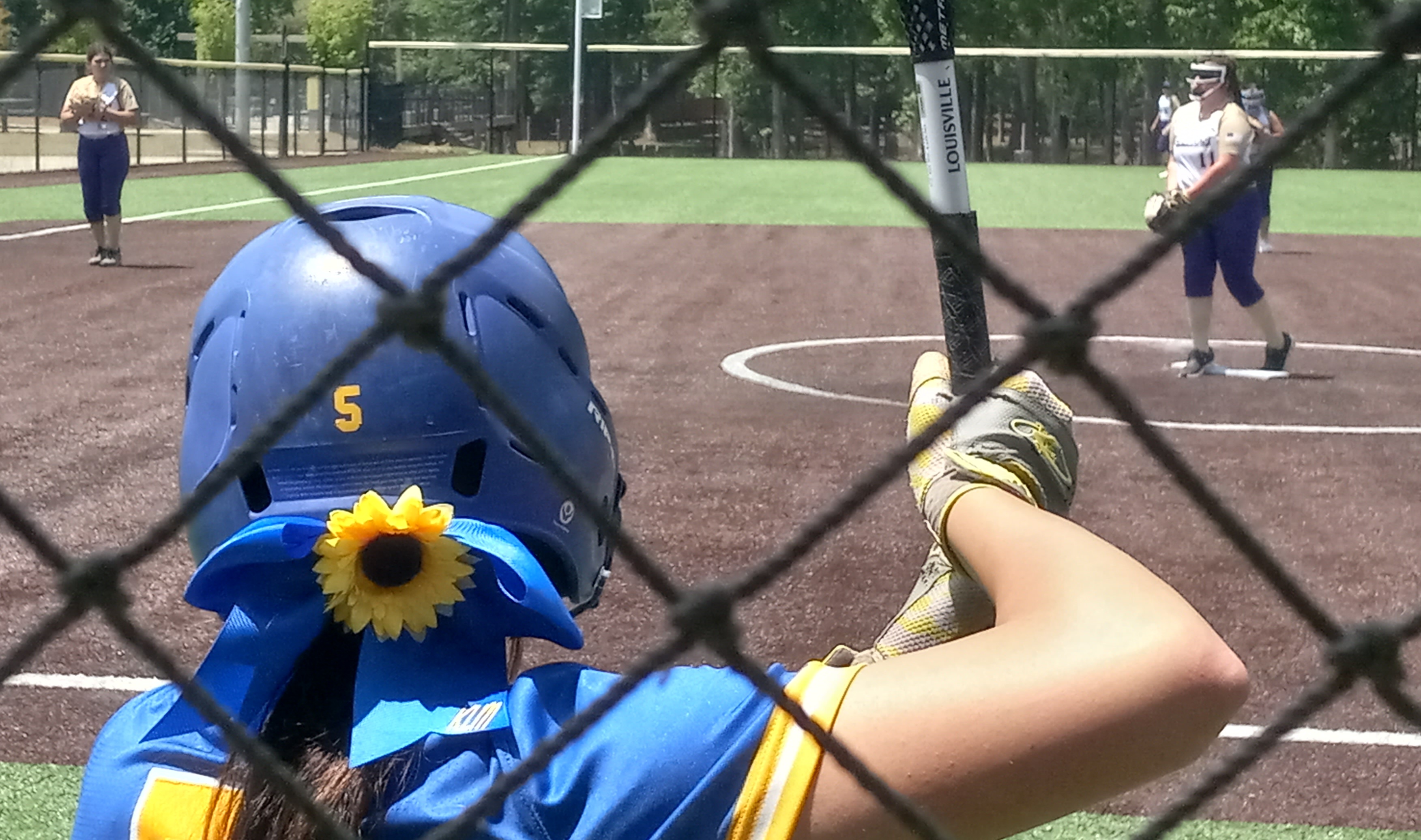 Class 3A
PIEDMONT SWEEPS: Piedmont's late-season winning streak extended to eight games during Tuesday's East Regional action, and the Bulldogs continued to win in impressive fashion.
Carson Young and Savannah Smith each pitched a three-hitter, and the Bulldogs beat Susan Moore 16-1 and Glencoe 12-0.
Fourth-ranked Piedmont got through day one of regional in nine total innings after two mercy-rule games and earned a shot at top-ranked Plainview in Wednesday's 10:45 a.m. winners' bracket final. The winner will clinch a state-tourney berth, and the loser will have to win the elimination bracket to clinch the second qualifier spot.
Piedmont banged out 12 hits against Susan Moore. Jenna Calvert went 4-for-4 with a double and scored twice. Savannah Smith, Cacey Brothers, Armoni Perry and Abby Baird had two hits apiece.
The Bulldogs had 13 hits against Glencoe. Calvert went 3-for-3 with two RBIs. Smith, Perry and Young had two hits apiece.
"It's easy to be a pitcher when you can hit like that," said Smith, who struck out nine batters. "Our bats are hot right now, and just go out there with a lot of confidence. Everybody's hitting the ball. I don't even feel like I'm doing a whole lot, really."
Piedmont won special blue hair bows with sun flowers to honor Jacksonville State University coach Jana McGinnis' late daughter Kinsey, who died over the weekend. She lived 26 years with a rare genetic disorder.
"Coach McGinnis and her family are just adored members of our community," said Piedmont coach Rachel Smith, who played for McGinnis at JSU. "Coach is very precious to me. Her and her family always have been, and she's a very respected and honored member of our community, and we just wanted to do a thing to honor Kinsey in a small way."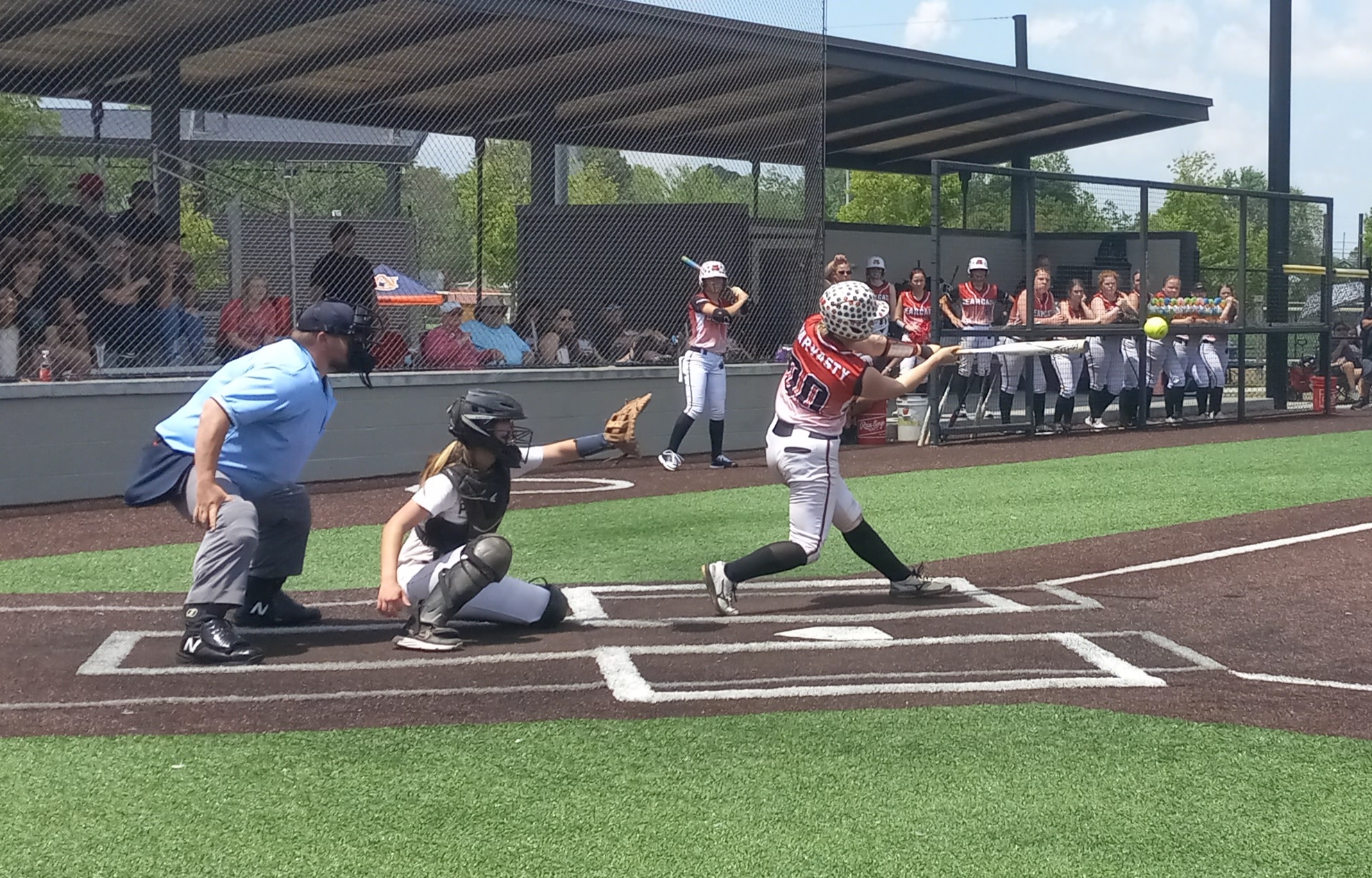 WEAVER'S RUN ENDS: Trailing 9-0 going into the seventh inning, Weaver rallied for five runs against J.B. Pennington, falling 9-5.
Senior Kinley Marvasty had the big blow with a double with two runners on. She got an RBI on the play, and an outfield error allowed Marvasty and another runner to score.
The Bearcats got two other runs on a pickoff throwing error that carried to the right-field corner.
Marvasty, Sydney Bitzer, Jadyn Smith, Annaliese Shirvinski, Madison Atchley and McKennah Homesley each had a hit. Marvasty had two RBIs.
The Bearcats' season ended with a 15-3 loss to Hokes Bluff. Kinley Marvasty and Peyton Marvasty each had a single and RBI.
"We picked a bad day to not play well," Weaver coach Gary Atchley said. "The goal all year was to get here, and we did. Maybe will be hungry. We've got them all back but two, so many the expectation next year is to come back and get out of regionals."
Weaver will lose seniors Kinley Marvasty and Peyton Marvasty. They led Weaver to its second ever regional appearance and first since 2017.
'Honestly, I'm glad we didn't end in Calhoun County," Kinley Marvasty said. "I'm so excited that we had the chance to be able to advance to this, because we've never had that chance. As long as I've played varsity, I've never got to do this, so doing this is super excited."
Class 1A
SPRING GARDEN SWEEPS: The 10th-ranked Panthers beat Appalachian 13-3 and Ragland 14-8 and will play top-ranked Skyline in Wednesday' 1:45 p.m. winners' bracket final. The winner will clinch a state-tourney berth, and the loser will have to win the elimination bracket to clinch the second qualifier spot.
"They're a super great team," Spring Garden coach Stephanie Steward said. "They've been ranked No. 1 all year, but we're excited about the challenge. This will give us a little measure of where we're at."
Sophomore pitcher Avery Steward, playing with a fracture in her pitching hand, got both wins Monday. She allowed four hits with three strikeouts and five walks against Appalachian. She pitched a complete game against Ragland, allowing 10 hits with one strikeout and eight walks.
She also homered against Ragland.
Against Appalachian, Helena Ingram went 3-for-4 with a triple, double, two runs and two RBIs. Maggie Jarrett and Maggie Reedy each had two hits and an RBI.
Against Ragland, Jarrett went 3-for-4 with a double and five RBIs, and Layla Ingram was 4-for-5 with a double and two RBIs. Reedy went 3-for-5 with two RBIs.
Class 2A
FINAL: Sand Rock 10, Woodland 0.
FINAL: Woodland 5, Holly Pond 1
NEXT: Woodland vs. West End, Wednesday, 9 a.m. [read more sports stories…]