Oxford, AL –
Shortstop Cooper one of four Monsters players now going to the SBL All-Star Game Sunday at Choccolocco Park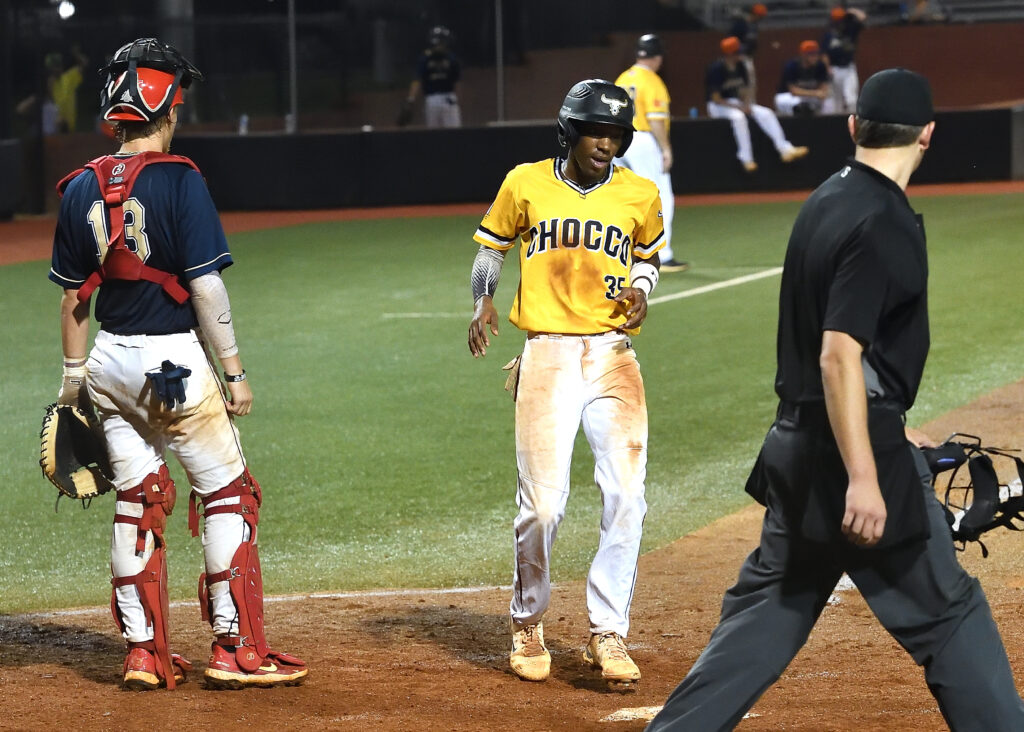 By Al Muskewitz


OXFORD – Josh Cooper came to the Choccolocco Monsters this summer to get better and evolve as a player. He's going to leave at the end of the season as a first-year All-Star for a first-year team.
Cooper, the Monsters' starting shortstop, is one of four players from the expansion team on the National roster for Sunday's Sunbelt Baseball League All-Star Game at Choccolocco Park, the only non-pitcher and with only four infielders on the roster the only guaranteed starter.
"I'm just very excited to be even selected," Cooper said. "I'm just going to try to play my best and continue to do what I'm doing."
Cooper, a rising sophomore at Claflin University in South Carolina, is batting .290 with a .670 OPS, 20 hits, 10 RBIs and is 10-of-11 in stolen base attempts. He has gotten a hit in 10 of his last 12 games (16-of-46) and has a 10-game on-base streak. His RBI production has dropped since moving to the top of the lineup, but he continues to set the table for those hitting behind him.
"I initially came to get better, get more reps and just evolve as a player," he said. "That was my goal and I feel like I did accomplish that. I still want to keep progressing. That's my goal, to keep going higher, higher than this."
Monsters right-handed Will Griffith (1-1, 4.40) also was an original selection on the team and will pitch in the game. Leading hitters Nate Shipley (.438, 11 RBIs) and Brandon Prince (.383, 15 SBs) were also selected, but will not play.
Then late Friday, Monsters pitchers Alexander McKay (0-2, 2.63) and Weston Kirk (2-1, 5.79) were added to the Nationals roster.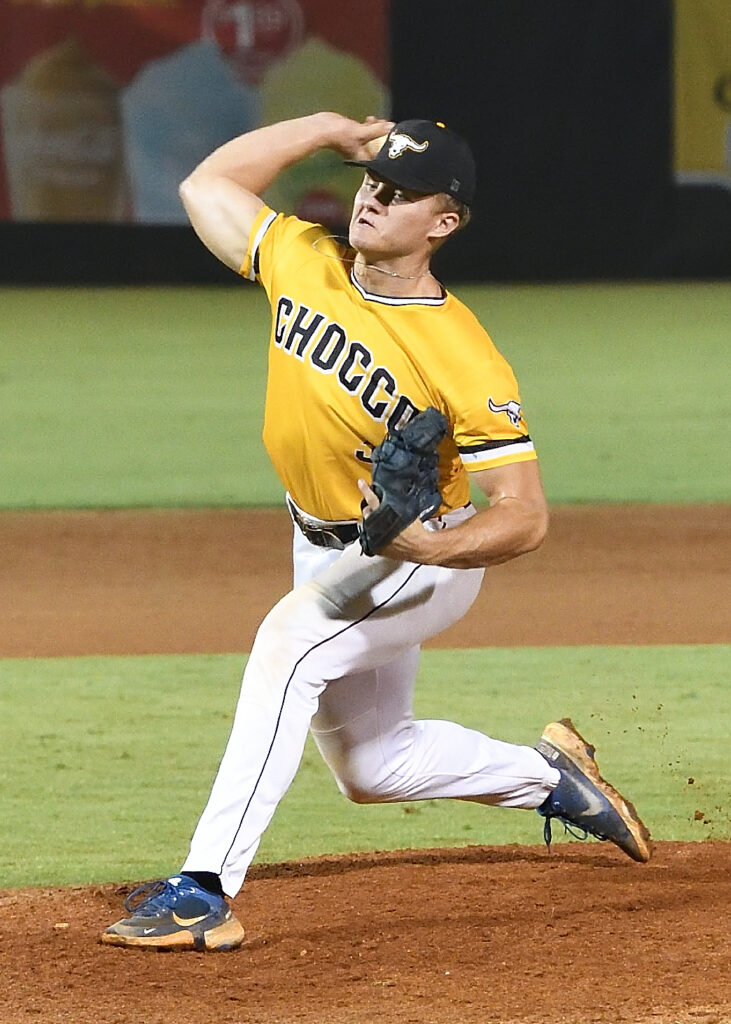 "Both those guys have been very good in their last few outings," Monsters manager Steve Gillispie said. "When they had a couple guys drop out I mentioned those guys to (commissioner Todd Pratt) earlier and he came to me before the game and asked if I thought I could get them and I told him I know they would.
"It actually would be good work for them to get ready for next week. They both jumped at the chance and I think it's a great time for them to shine."
The Nationals, managed by Alpharetta's Brandon Boggs, will be comprised of players from the Monsters, Aviators, Brookhaven Bucks, Atlanta Blues and Gwinnett Astros. The Americans, managed by Columbus' Steve Smith, will consist of players from the Chatt-A-Hoots, league-leading Gainesville Gol'Diggers, Atlanta Crackers and Waleska Wild Things.
After initially announced otherwise, Monsters coaches DeWayne Crowder and Dalton Cobb will be in the Nationals' dugout with their players avoiding a potentially awkward in-game situation. [*** read more]
SBL All-Star Rosters
AMERICAN TEAM
Pitchers
Austin Grause, Gol'Diggers (University of South Florida)
Blake Wehunt, Gol'Diggers (Kennesaw State University)
Halton Hardy, Gol'Diggers (Francis Marion University)
Riley Stanford, Gol'Diggers (Georgia Tech)
Zach Valentine, Gol'Diggers (Georgia Highlands College)
Nathan Alexander, Wild Things (Garner-Webb University)
Brock Weiss, Wild Things (University of Colorado-UCCS)
Ryan Suppa, Crackers (Columbus State University)
Hunter Lane, Crackers (Lee University)
Catchers
Samuel Gilliam, Gol'Diggers (Chabot College)
Sam Thompson, Crackers (Michigan State University)
Infielders
Cam Suto, Crackers (Lee University)
Landon Underhill, Wild Things (Mercer University)
Bobby Boser, Gol'Diggers (University of South Florida)
Brett Blomquist, Wild Things (Western Kentucky University)
Brady Moore, Gol'Diggers
Outfielders
Jackson Mayo, Gol'Diggers (University of South Florida)
Theodor Bryant, Gol'Diggers (Tennessee Tech)
Scott Campbell, Crackers (Chattanooga State C.C.)
Zane Ross, Chatt-A-Hoots (Albany State University)
Jamarie Brooks, Crackers (Kennesaw State University)
NATIONAL TEAM
Pitchers
Drew Bouchard, Aviators (Shorter University)
Will Griffith, Monsters (University of Alabama-Huntsville)
Alexander McKay, Monsters (Mercer University)
Weston Kirk, Monsters (Lurleen B. Wallace State J.C.)
Cade Mitchell, Astros (Chattahoochee Valley C.C.)
Tyler Clayton, Astros (Georgia Gwinnett College)
Logan Frady, Bucks (LaGrange College)
Ben Norton, Blues (Cleveland State C.C.)
Charles Stephenson, Blues (Berry College)
Catchers
JD Kaiser, Aviators (Georgia Southern University)
Andrew Pendleton, Bucks (Berry College)
Infielders
Dylan Jones, Blues (Allegany C.C.)
Wade Richardson, Bucks (Columbia State C.C.)
Josh Cooper, Monsters (Claflin University)
Kyle Carlson, Bucks (Piedmont College)
Outfielders
Elgin Bennett, Astros (Kansas State University)
Jack Herring, Bucks (Rollins College)
Jack Poist, Bucks (Berry College)
Christian Jackson, Blues (Georgia State University)
Myles Austin, Blues (University of New Orleans)
Honorable Mentions
Nathaniel Shipley, Monsters (Georgia Highlands College)
Brandon Prince, Monsters (Georgia Tech)
Tremarr Johnson, Blues (Arizona State University)
Bryce Valero, Chatt-A-Hoots (Murray State University)
Nick Morgan, Chatt-A-Hoots (University of West Georgia)