Donoho's boys win first Calhoun County soccer title since inaugural tournament, end Oxford's three-year reign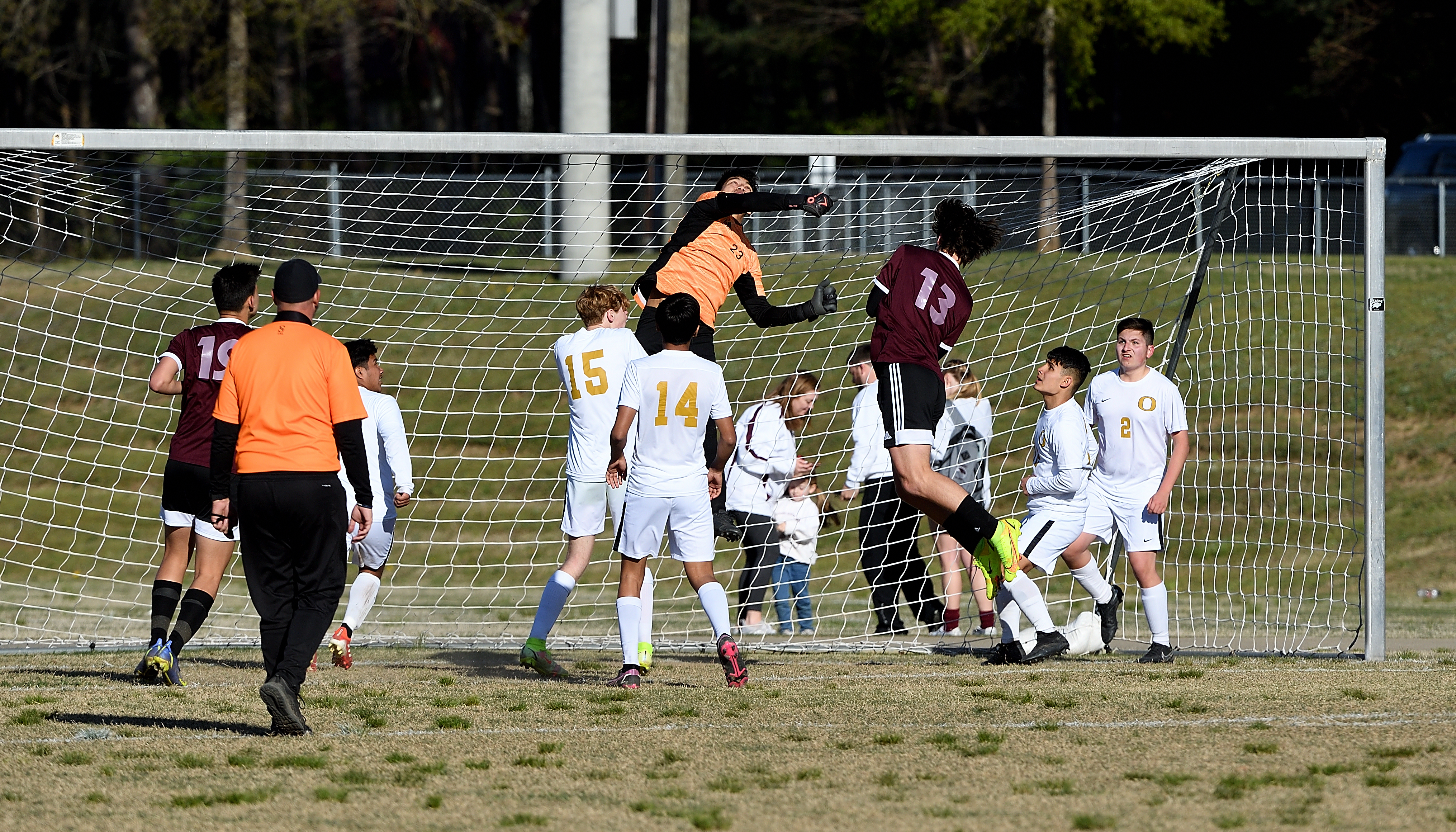 By Al Muskewitz


The record will show Donoho's boys won their first Calhoun County Soccer Tournament title since the inaugural event and ended Oxford's vise-like grip on the title Saturday at McClellan.
But, truth be told, the Falcons actually won it way back on Wednesday when they took the time to meticulously strategize for the teams and specific players they likely would encounter along the way.
The Falcons took down the three-time defending champions 3-1 in large part due to all the extra planning they did, planning on a scale usually reserved for a football bowl game.
"I think that is directly what translates to our success," Falcons striker and tournament MVP Drew Williamson said. "Doing that little extra work instead of, like, having a normal practice; just doing the extra things to be better."
That's just the way first-year Falcons head coach Tim Melton is wired. Harking back to his days as a college player and a professional player in South America, Melton strategized for a low-scoring game against the quicker 6A Yellow Jackets and devised three different formations for the Falcons to employ depending on what was happening on the pitch.
Holding details close to the vest, they used a "very offensive-driven" formation, a "very midfield-central" strategy and a man-mark defensive plan against Oxford's Josue Alvarez, Tristen Koontz and Nico Gutierrez. All three approaches had a positive impact in securing the victory and keeping the Falcons (9-0) undefeated.
"We really had to be strategic going in, watching a lot of film, a lot of individual strategy, player-by-player of who we were playing each game all the way into the championship game," Melton said. "It didn't matter which game we were in, we strategized and were very strategic from one half to the next.
"We watch film, we individualize each player, our team is responsible for going out and watching other teams play and they come back with their own scouting report and present it to the team. So, we do things totally different than other teams."
Williamson missed out on the Calhoun County Basketball Tournament experience earlier this year due to sprained ankle, but he was eager to make up for it in the soccer tournament.
He scored the first goal of the championship game on an assist from Sam Johnson 15 minutes into the match and sealed the victory by taking a "wonderful" through ball from Grant Steed and blasting it home left-footed with less than a minute to play. He also set up Johnson's header into a wide-open goal with 8:44 to play that put the Falcons up 2-0.
"When that (basketball) injury first happened my goal was to get back by County, but I just wasn't ready for it," Williamson said. "It devastated me. I hate missing anything to do with the county. It was so good to be back for soccer and especially win it. That was just the best feeling in the world."
The Johnson goal was particularly important since Alvarez got Oxford on the board a few minutes later when he banged home the rebound after Richard Goad blocked his penalty kick.
Goad is playing his first season of high school soccer and is learning as he goes. Melton said he played his best game of the season "by far." He turned back the Yellow Jackets several times during the match and the exquisite stop he made on Alvarez' PK was one Melton said not many keepers in the county would have made.
Had the Falcons cleared the rebound, Goad may have had a shutout.
"I was focused on the game completely and all locked in," Goad said.
Donoho beat Oxford in the first county tournament in 2017. The Yellow Jackets had won every one since. There was no tournament in 2020 due to COVID.
CALHOUN COUNTY TOURNAMENT
BOYS CHAMPIONSHIP GAME
Oxford            0   1  –  1
Donoho           1  2  –  3
GOALS –D: Drew Williamson, 24:57; D: Sam Johnson, 71:16; O: Josue Alvarez, 74:00; D: Drew Williamson, 79:02. 
Tournament Awards
MVP: Drew Williamson, Donoho
Offensive MVP: Rilee Johnson, Donoho
Defensive MVP: Alex Reyes, Oxford
All-Tournament Team
Donoho: Grant Steed, Trey Alexander, Logan Melton, Ethan Rogers, Drew Williamson, Rilee Johnson.
Oxford: Tristen Koontz, Nico Gutierrez, Ray Zuniga, Andy Garcia, Alex Reyes.
Jacksonville: Caleb Boothe, Isaac Joiner.
White Plains: Layton Cheatwood, Gleymar Perez.