Piedmont, AL – Cleaning out the notebook: Tailgating with the Piedmont Booster Club has gotten to be a real happening, Oxford basketball brings in old friend to expand tournament field and more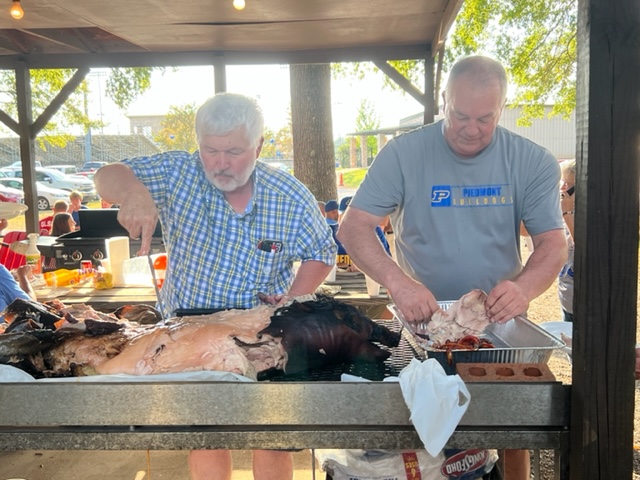 By Al Muskewitz

Everybody in America tailgates at football games, but not many do it to the level of the Piedmont boosters. The folks who live and die with the Bulldogs have maybe the best pre-game tradition in the state. They have this thing down to a science. They have the food – oh, the food – like LSU, the grove like Ole Miss and the fellowship, booster club president Mike Pody says, "that comes with the guys showing up anywhere from about 2 o'clock to 3 o'clock on Friday afternoon and grilling." "It's just kind of unique to Piedmont, I guess," Pody said. "It's just involvement from everybody and a lot of help."
Anyone who has ever partaken will tell you they always put on a good show – if you go away hungry, it's your own fault – but Thursday night's game with Anniston gave them a chance to go the extra mile. In addition to the traditional tailgate food the boosters set up inside, the men had this whole pig picking thing going on at the grill. About a dozen cooks were on hand from about 7 p.m. to after midnight Wednesday night to get the process started. The tailgating tradition started when the Bulldogs built the fieldhouse in 1999 and it moved to its present location since 2001. "It kind of got bigger and bigger," Cody said as he delivered another pan of pork to the house.
Now, they usually entertain more than 300 blue-and-gold clad boosters, media and officials before the Bulldogs play on the Field of Champions. There have been even bigger nights. A local radio station once did its ESPN GameDay-style pregame show from there. The playoff game with Ohatchee a couple years back also drew a big crowd. "We do it as a booster club to kind of encourage people to join and be part of it," Pody said. "It just helps getting everybody together on the same page and having a good time. "
OXFORD ADDS GAME: Who says you can't go home again? A familiar face will be back in the Oxford Sports Arena this coming basketball season as Yellow Jackets coach Joel VanMeter has added another game to the final day of the inaugural Larry & Connie Davidson Classic. Former Oxford assistant Jeremy Bynum is now the head coach at Dothan and his team has been added to the field to play in the 2 p.m. Dec. 10 game against Huffman. Bynum coached Mae Jemison last year and went head-to-head with VanMeter and the Jackets last year in the Huntsville City Classic.
Here is the new Dec. 10 schedule for the tournament:
Chelsea vs. Central-Phenix City, 11 a.m.
Homewood vs. Fairfield, 12:30 p.m.
Dothan vs. Huffman, 2 p.m.
Jacksonville vs. Carrollton, 3:30 p.m.
Shades Valley vs. Auburn, 5 p.m.
Auburn vs. Oxford girls, 6:30 p.m.
Oxford vs. Hiram, 8 p.m.
White Plains, Paulding County (Ga.), Pinson Valley (boys and girls) and Northgate (Ga.) will play in games Dec. 8 and 9.
FIRST IN LINE: The Saks wrestling program has a couple firsts lined up for the county this winter. The Wildcats have been planning the first girls wrestling tournament in Calhoun County for the past two years and has it set for Dec. 3, although there is talk Piedmont may beat them to market with its event a little earlier. The Saks tournament, which has attracted Thompson and two-time state champion Daphne to its field, will carry some yet-to-be-determined recognition for former Saks wrestling coach Robin Gilliam.  "We still call her Miss Willl," said event organizer Jeremy Waters, a former Saks wrestler under Gilliam, who went by Robin Wilson back then. "She took over the program the second year we had it and pretty much kept our team together so we could wrestle." In addition to the girls tournament, the Wildcats also will host the first county junior high wrestling tournament Dec. 28.