Gadsden, AL – Cole rallies from four shots back with five holes to go to force playoff, edge Travis in Gadsden City Championship for 23rd Calhoun County Tour victory.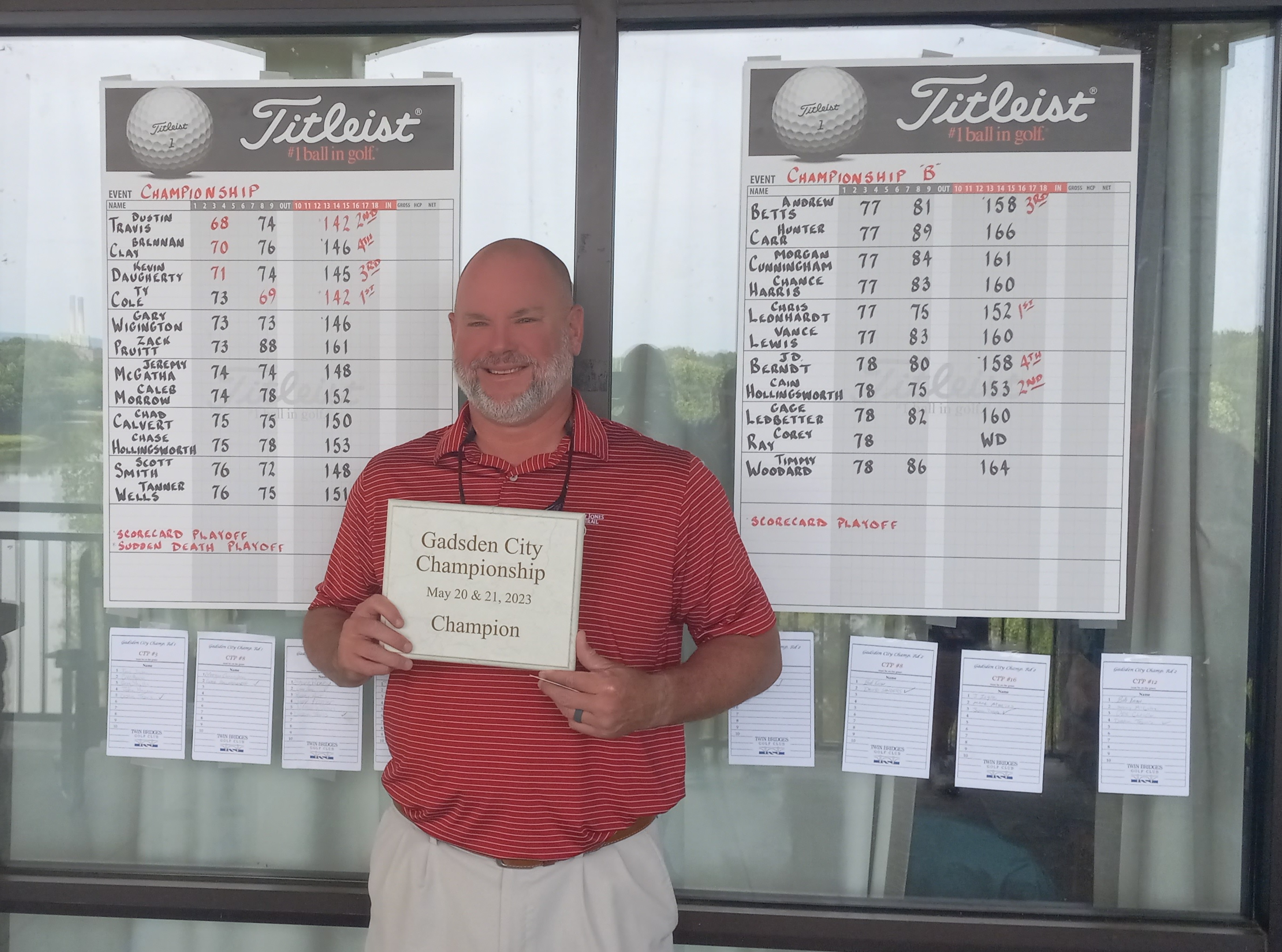 By Joe Medley

Maybe the scariest part of Ty Cole's victory in the Gadsden City Championship on Sunday, in terms of implications for the Calhoun County Golf Tour, is he's not yet playing his best golf.
He played well enough Sunday to rally from four shots back with five holes to go to force a playoff with first-round leader Dustin Travis then prevail with a birdie on the second playoff hole.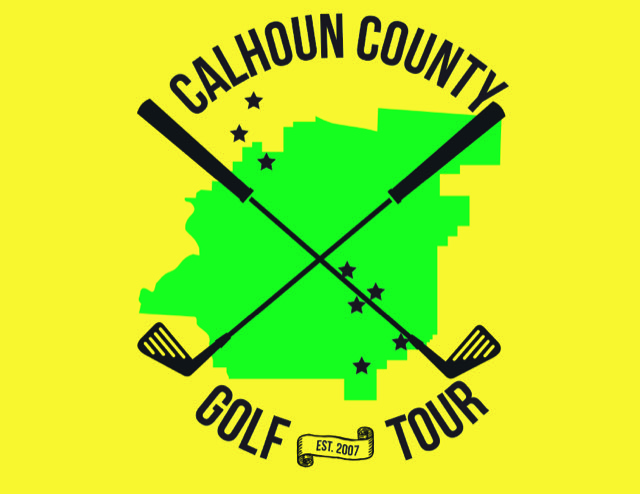 Victory in Cole's first tour points event of 2023, and the tour's second, followed up long-time Sunny King Charity Classic partner Gary Wigington's victory in the RTJ-Silver Lakes Championship two weeks ago. That's scary, since both perennial contenders usually play their best golf later in the tour.
"This early in the year, 'Twig' and I are about the same," Cole said. "We lay off all winter and try to come back, and he plays good a couple of weeks ago, and I scraped it around just enough to get into the playoff."
Cole shot a bogey-free, Sunday-low, 3-under-par 69 a day after Travis shot a tournament-best 68 to lead by two shots after the first round. Travis shot 2-over 74 on Sunday and stood at 5 under par for the tournament through 13 holes Sunday.
Travis bogeyed 14 and 15, and Cole birdied 15 to come within a shot going into 18. Travis missed a 10-foot par putt, and Cole parred.
Cole didn't immediately know he was headed for a playoff.
"Brennan (Clay) and I didn't keep score," Cole said. "We had it in our head where everybody was, but I thought I had to make the putt on 18 and him miss to go to the playoff. I thought I was two back.
"Brennan and I both forgot that he bogeyed 5."
As Cole walked off the green, he thought he'd lost.
"I'm putting my stuff up thinking, 'OK, he beat my by one,' and then they're like, 'Well, where do we go?'" Cole said. "I'm like, 'We go home. We go to the house.'"
Clay was first among the two to realize their mental track of the scoring was off by a stroke.
Course pro Chet Hallman picked No. 1 as the playoff start because players not playing in the tournament were in the 10th fairway. Cole and Travis parred No. 1, but Cole hit longer off the tee on No. 2, just left of the green and downhill.
Cole said he got a "lucky" lie, allowing him to get under the ball and spin his second shot.
"If that ball would've been sitting down in the rough, that close, I would've just had to flop it and hope it stops." he said. "It was sitting up so good, like real high, that I could clip it and get it to stop and not have to worry about flyers or rolling out or anything like that.
"I got lucky that it was sitting up and didn't have any mud on it. I got really fortunate, especially where I was. It was really wet."
Both players chipped to within 10 feet … close enough that Hallman had to measure by pin which was farthest out. Travis missed, and Cole holed it to win.
It was a tough ending for Travis, the 2015 White Plains graduate who got everyone's attention with his first-round 68.
His day wasn't without its moments. His par putt on 9, after bogeys on 7 and 8, rounded the lip before dropping. He hit a 15-foot par putt on 10 then birdied 11 and 12 to go to 5 under for the tournament and re-establish a four-shot lead.
Travis, who said Saturday that he's planning on upping his tour game in 2023, sees the near miss in Gadsden as an encouraging sign. He had the lead until the last hole of regulation.
"Unfortunately, I'll be at the beach for Anniston Country Club this year, so I'll miss that one, but I plan to play most of the other ones," he said. "But yeah, I feel like it's a big confidence boost, especially after how I played in the first event. I didn't play great at Silver Lakes. I didn't play bad.
"I'm just going to keep working hard and keep practicing four or five days a week, when I can."
Calhoun County Golf Tour
GADSDEN CITY CHAMPIONSHIP
Twin Bridges Golf Club
Final scores
CHAMPIONSHIP FLIGHT
Ty Cole 73-69—142 (wins in playoff)
Dustin Travis 68-74—142
Kevin Daugherty 71-74—145
Brennan Clay 70-76—146*
Gary Wigington 73-73—146
Jeremy McGatha 74-74—148
Scott Smith 76-72—148
Chad Calvert 75-75—150
Tanner Wells 76-75—151
Caleb Morrow 74-78—152
Chase Hollingsworth 75-78—153
Zack Pruitt 73-88—161
CHAMPIONSHIP B FLIGHT
Chris Leonhardt 77-75—152
Cain Hollingsworth 78-7—153
Andrew Betts 77-81—158*
J.D. Berndt 78-80—158
Chance Harris 77-83—160
Vance Lewis 77-83—160
Gage Ledbetter 78-82—160
Morgan Cunningham 77-84—161
Timmy Woodard 78—86—164
Hunter Carr 77-89—166
Corey Ray 78-WD
CHAMPIONSHIP C FLIGHT
Chad Hare 80-71—151
Mason Dennis 80-74—154
Daily Thomas 80-75—155
Chris Cox 79-77—156
Brad Landin 79-79—158
Ott Chandler 80-78—158
Casey Harmon 80-82—162
Drey Reeves 80-82—162
John Hagan 81-81—162
Norman Clifton 79-84—163
Bumper Jones 81-87—168
Chris Messer 81-89—170
Houston Black 81-98—179
FIRST FLIGHT
Scotty McFry 83-73—156
Clayton Chandler 82-78—160
Graham Morrow 84-78—162
Dre Davenport 82-82—164
Derek Jenkins 83-82—165
Jonathan Gibson 84-81—165
Aaron Jackson 82-84—166
Nathan Protz 88-80—168
Mark Gaines 87-89—176
Kolby Slick 84-94—178
Matt Greer 86-96—182
Chase Thomas 82-101—183
Carl Stanley 82-WD
SECOND FLIGHT
Nathan Williams 91-83—174
Jason Payne 93-84—177
Josh Ghavassi 90-89—179
Shane Roney 89-92—181*
Alex Burnham 93-88—181
Tyler Rich 93-93—186
Scott Jimmerson 99-87—186
Justin Pickard 94-96—190
Tyrel Tucker 92-99—191
Stephen Jenkins 97-97—194
Carson Chandler 90-105—195
Adam Benefiel 104-93—197
Bobby Hunt 105-99—204
SENIOR A FLIGHT
Jerry Fraiser 69-70—139
David Sanders 71-80—151
Scott Moates 76-78—154
Greg Schultz 77-79—156
Mark Moates 75-83—158
Dominick Margentina 77-81—158
Mike Lett 79-88—167
SENIOR B FLIGHT
Clay Calkins 81-72—153
Ron McClellan 85-72—157
Bob Eaton 80-79—159
Ted Heim 84-79—163
Jerry Ingle 87-89—176
Everette Protz 90-98—188
Keith Hutcheson 95-98—193
Trey Stone 80-WD
*—Scorecard playoff