By Al Muskewitz
Bearcats rally on second day to win first state wrestling championship since 2004, Anderson MVP; Alexandria's New a 5-time champ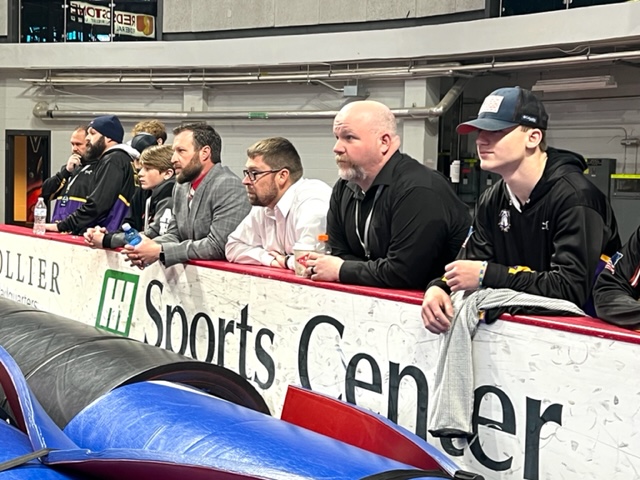 HUNTSVILLE — Andy Fulmer was up into the wee hours of Saturday morning, running through scenarios where his Weaver wrestling team could find enough points to win a state championship knowing that in a few hours he was going to be down in that arena hoping one of those scenarios fit the bill.
There were crumpled papers strewn across the hotel room as he tracked the possibilities for the top five teams in the overnight standings, but somewhere there was a scenario that worked in the Bearcats favor. One of them, he remembered, was close to what happened at the VonBraun Center and If he could find that paper again he might frame it and put it in his office next to the big prize of the day.
The Bearcats found the points they needed and got a little help to win their first state wrestling championship since the end of a dominant 10-year run in 2004.
Thanks in large part to pins by J.D. Johannson and Devin Anderson in the championship round, the Bearcats collected 82 points and edged Calhoun County rival and first-day leader Ohatchee by one point.
"Just overwhelmed," Fulmer said after taking a few moments to compose himself and call his dad with the good news after they had clinched. "Just wrestled so sluggish yesterday, but the kids just battled. Kids who lost matches they shouldn't, they battled back. Just grinding. Very workmanlike, blue-collar mentality this weekend.
"We came in with seven and knew they could score. Had some tough breaks early and they just battled. … I thought we could get to 84 and we'd need some help. This was probably close to one of them, not the exact one, but really close to it.
"We did what we were supposed to. I told the kids this morning and last night let's just do what we do, control what we can control and if it's good enough it is and if not, it wasn't meant for us. Coach (Gene) Taylor I think would be really proud of what we're doing."
Taylor is the late patriarch of the program and under his tutelage the Bearcats built one of the best programs in the state. The program won nine state titles from 1993 to its last one in 2004. Many of the coaches in the county programs today come are branches of his coaching tree.
"We were a legend, they called us the Mecca of Wrestling," Johannson said. "It has so much history to it. It feels good (to get back on top)"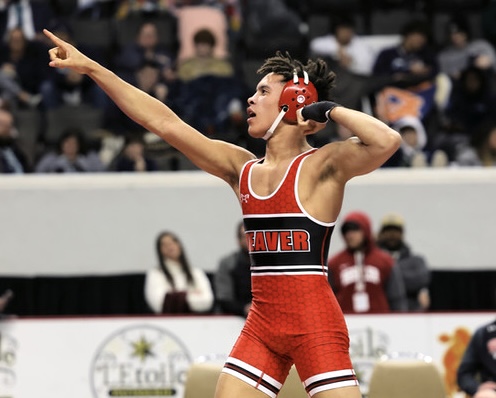 They also got important consolation round points from third-place finishers Dalton Fink (106) Anthony Usry (170)
"Coming into today it was really stressful because yesterday didn't go as planned, we choked in a lot of matches, some matches we didn't perform to the best of our ability and it really showed how close it came down to," Johannson said. "Today we were fresh, ready to go. As a team we knew what was at stake so we did our best."
Ohatchee had 24 points available in the finals with four wrestlers alive, but won only one match. Brock Thrash won a 7-5 decision over Ashville's Layden Olson decision at 220 for individual gold, but the Indians needed a pin there to seal their first-ever state championship.
The Indians have been wrestling under a philosophy of every point matters since losing on deep tiebreaker in the State Duals semifinals. They were assessed a team penalty point at the end of their 145 match that cut into their lead on Weaver, but coach Chris Findley refused to pin the setback on that.
"Every point, every match, that's what we talk to them about the entire time today," Findley said. "Any little thing here or there can change it. Every point matters, but it doesn't come down to just one person."
Johannson (28-0) pinned Montgomery Catholic's Shawn Sponsler at 160 and Anderson (46-0) pinned Ashville's Dylan Harris at 182 to complete undefeated seasons and bring the Bearcats the crown.
Anderson was named most valuable wrestler in 1A-4A, his fourth MVP award of the season. His pin in the final was his 75th straight win and actually completed a second straight undefeated season. While the Bearcats were celebrating their victory, he walked to the middle of the mat and quietly placed his shoes in the center circle as the traditional wrestler's retirement.
"I thought it was amazing," Anderson said of his team's comeback. "You can only surprise your coach every so often. It was a really good feeling to make him happy and have him smile. Usually he's a strict face, focused on what needs to be done. Just seeing that smile on his face is to know you did something right."
Seven individual state champions came out of Calhoun County's neighborhood.
In addition to Johannson, Anderson and Thrash, Alexandria's Jaden New (5A-6A 152) became the first five-time champion in his school's history and White Plains' Gavin Kilgore (1A-4A 113), Cherokee County's David Herrick (1A-4A 138) and Ranburne's Carson Hall (1A-4A 285) all took the top step of the 1A-4A podium.
Class 1A-4A
TEAM SCORES: Weaver 82, Ohatchee 81, Ashville 69, Deshler 54, Montevallo 48, Cleburne County 47, Bayshore Christian 45, Dora 45, New Hope 41, Montgomery Catholic 39;
Westminster Christian 37, St. James 35, St. John Paul II 29, Ranburne 28, White Plains 28, Madison County 25, Saks 25, American Christian 21, Pleasant Valley 21, Cherokee County 20;
Piedmont 19, Bayside Academy 13, ASB 11, Oak Grove 10.5; Thomasville 10, Orange Beach 9, W.S. Neal 9, Prattville Christian 5, Reeltown 3, Susan Moore 2.
CHAMPIONSHIP MATCHES
106: Zeke Dernlan (Bayshore) dec. Adrian Waugh (New Hope), 12-7
113: Gavin Kilgore (White Plains) dec. Shamar Heard (Cleburne County), 9-5
120: Logan Hartson (St. James) dec. Austen Mayfield (Cleburne County), 6-3
126: Marcus Wright (Westminster) dec. Gavin Monk (Montevallo), TB-1 10-6
132: Jack Von Eschenbach (St. John Paul II) dec. Joseph Rodriguez (Montgomery Catholic), 7-1
138: David Herrick (Cherokee County) dec. Tyler Ebner (Ashville), 2-0
145: River Scruggs (American Christian) dec. Malachi Goble (Ohatchee), 7-2
152: Brendan Steder (Westminster) dec. Matthew King (Ohatchee), 7-6
160: Joshua Johannson (Weaver) pinned Shawn Sponsler (Montgomery Catholic), 2:48
170: Jonathan Foster (Dora) pinned Devon Jeffreys (Deshler), 2:38
182: Devin Anderson (Weaver) pinned Dylan Harris (Ashville), 3:49
195: Mason Ellis (Madison County) dec. Troy Galloway (Ohatchee), 4-3
220: Brock Thrash (Ohatchee) dec. Layden Olson (Ashville), 7-5
285: Carson Hall (Ranburne) pinned Mason Wilson (Ashville), 3:07
Class 5A-6A
CHAMPIONSHIP MATCHES
106: Caleb Wright (Mortimer Jordan) dec. Preston Jones (Alexandria), 4-3
152: Jaden New (Alexandria) dec. Cole Sykes (Shelby County), 12-5
285: Jayden Joseph (Northridge) dec. Jerrod Harden (Southside), SV-1 3-1 [*** read more]