Jacksonville, AL  – Calling all little Gamecock. Experience college this summer and obtain an official JSU College for Kids Diploma. All classes are taught by talented and amazing JSU Professors. For ages 5-10.  June- July 2023 (1:00-2:00 p.m.) at the Children's Corner at the Houston Cole Library, Jacksonville State University.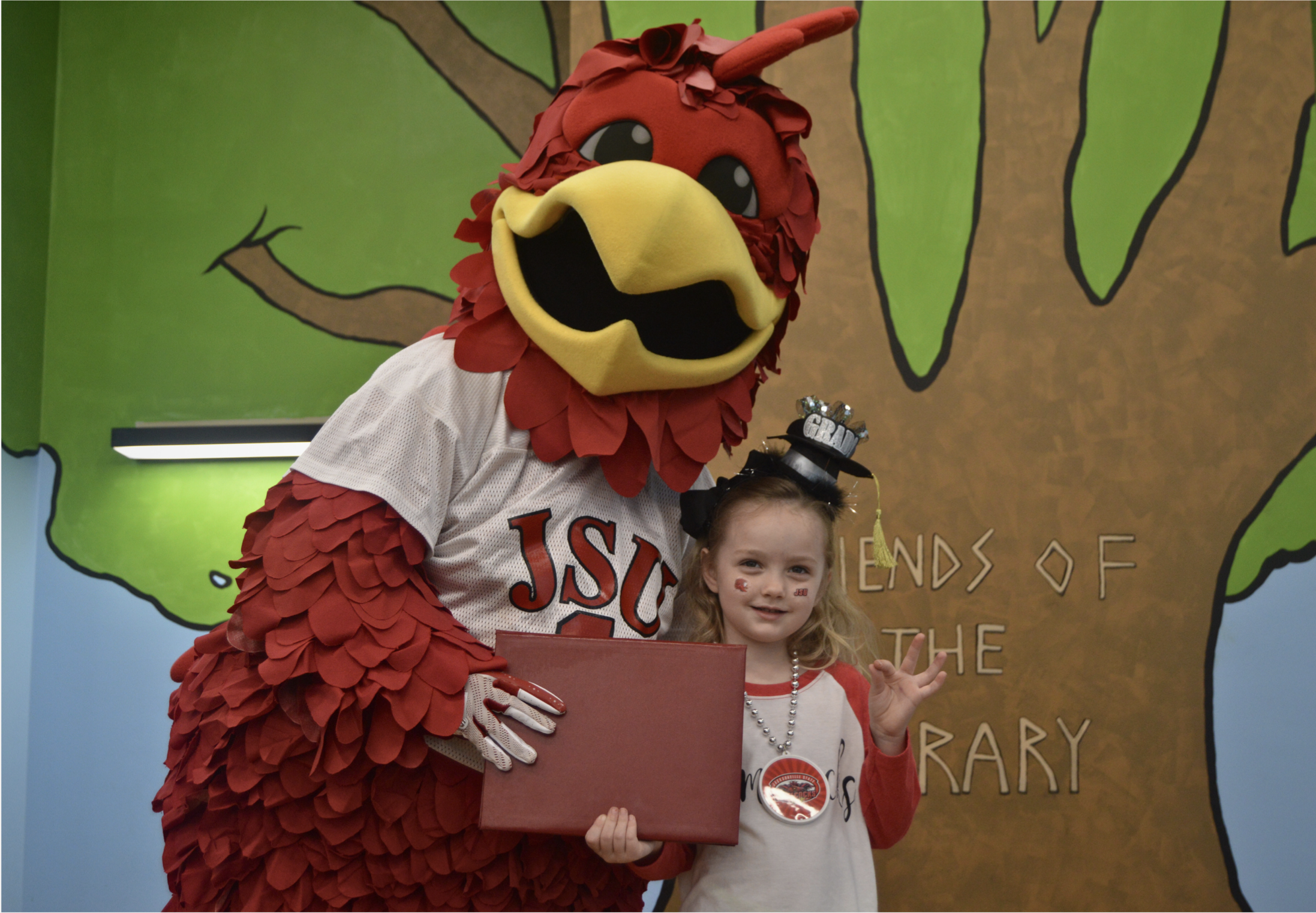 June 1st: College for Kids Registration & Orientation Day! 
Ms. Heathcock has been a librarian at JSU for 21 years. She helps students and purchases books for the library. In her spare time, she likes to read to her two cats & three dogs. She especially loves children's books! She will be your guide during the program, Please call her "Laurie" (sounds like LA REE).
June 5th: Discovering the World of Plants through Nature Drawings 
Professor Triplett teaches in JSU's Biology Department. He is a botanist and an evolutionary biologist. Dr. Triplett is also the curator of the JSU Herbarium, a collection of more than 70,000 plant specimens. In his spare time, he plays Appalachian fiddle tunes, and studies Japanese. Bryce Lafferty is a professor in the art department. His drawings focus on nature and are on display at The Momentum Gallery in Asheville, North Carolina. He has four children.
June 7th: Story of My Life in Six Words Julia Tigner
Professor Tigner teaches students in JSU's English Department. In her spare time, Dr. Tigner enjoys spending time with family and friends. Of course, she loves to read! She earned her doctoral degree from Auburn University, her master's degree from the University of Georgia, and her bachelor's from Tuskegee University.
June 8th: A Brief History of the Vikings Kathryn Catlin
Professor Catlin teaches archaeology in the Chemistry & Geosciences Department. She studies societies from the past so that we can learn from them. Dr. Catlin does research on Viking settlements in Iceland. Her work is funded by the National Science Foundation.
June 12th: A Juneteenth Celebration: Exploring a National Holiday 
Charlcie Pettway Vann is the Director of JSU's Office of Diversity & Inclusion. Her job is to promote mutual admiration and kindness, where everyone feels like they belong here at JSU. In 2015, Professor Vann won the National Library Week's Creating Communities of Kindness contest. She is also a life-long librarian. Miniya-Grace Vann is Professor Vann's daughter. She currently attends Jacksonville High School. Her talents include dance and tennis. She has been selected to dance in the 2023 Macy's Thanksgiving Day Parade!
June 15th: Fun with Children's Books
Dr. Johns serves as Professor in the College of Education and Professional Studies at JSU. Prior to joining JSU in 2010, she taught for eleven years in elementary schools in Cherokee and Etowah counties. She currently teaches elementary mathematics methods and supervises teacher candidates. She is originally from Osaka, Japan and enjoys visiting her family and friends in Japan during the summer.
June 20th: Playground Politics: Voting & Citizenship Ben Gross
Professor Gross teaches courses in political science and philosophy at JSU. He especially likes to teach about Francis Bacon, an English philosopher born in 1561, and Jean- Jacque Rousseau, a philosopher from the Age of Enlightenment. The "Age of Enlightenment" was a time of great scientific, political, and philosophical learning during the 1800s!
June 21st: How to Train your Dragon (or a Rat)!
Professors Renda and Nall teach in the Psychology Department. As behavioral scientists, their research focuses on understanding human and animal behavior. In the past year, Drs. Renda and Nall have built a new animal lab at JSU where students explore the psychology behind animal training. Students in the lab train rats to do pretty cool things–some rats are even learning to play sports!
June 22nd: Nursery Rhyme Remix
Professor Billingsley, also known as "Dr. K.," is a professor in the English Department. Her current research focuses on how to better prepare high school writers for college success. She has won several teaching awards. She enjoys true crime, reality television, and her fur baby, Brady Lee Billingsley-Cooke.
June 26th: Mycology: Fun-gi with Mushrooms!
Professor Moore is a professor in the Biology Department. She is a molecular biologist and microbiologist. She studies fungi. Fungi are a kingdom like plants and animals. Mushrooms are a type of fungus. A person who studies mushrooms is a "mycologist."
June 27th: Code Curry: Exploring India with Programming
Professor Ghosh teaches Computer Science in the Department of Mathematical, Computing, and Information Sciences (MCIS). He leads the Human-Technology Interaction Research Lab (HTIR Lab) where he and his students study the interactions between humans and technology. His research findings have been featured in popular news media, such as ABC News and NPR. Professor Ghosh is
originally from India.
June 28th: ¡Hola! Let's Learn Spanish!
Professor Dodd-Stefen has been a visiting instructor at JSU's Department of Foreign Languages for the last year. She teaches Spanish to all age groups and has studied abroad in Spain, Costa Rica, and Guatemala. She also uses her Spanish expertise as a performer in theatre.
June 29th: Tops & Bottoms: Fun with Veggies
Professor Calhoun teaches in the English Department. She specializes in children's literature and language arts methods. She came to JSU in 2013, having been a teacher for seven years at Weaver Elementary School.
July 3rd: Alabama Dinosaurs, Fossils, & Prehistory 
Professor Burns teaches in the Biology Department at JSU. He is a vertebrate anatomist and paleontologist. A vertebrate anatomist studies animals with backbones. Dr. Burns also researches dinosaurs that once lived in Alabama!
July 5th: A Little Marketing Skill Goes a Long Way: Big Business Starts Small
Dr. Huang is a marketing professor in the College of Business and Industry. She was named Teacher of the Year in 2022. Her interests include using Open AI (Artificial Intelligence) to help local businesses promote their products and services and assisting young children in developing a healthy lifestyle.
July 6th: Puppetry Around the World
Professor Blades is the Department Chair of JSU's Drama Department. He teaches classes in puppetry. Dr. Blades was instrumental in the planning and design of the Children's Corner. He also built the stage in our room!
July 10th: Dealing with Worries: Coping Strategies for Kids
Professor Walker and Professor Helms both teach in the School of Nursing. These professors have extensive experience in mental health nursing and population health. Dr. Helms and Walker both have a passion for nursing education with a special interest in the health education of vulnerable populations, thus the reason both teachers are so excited to be sharing their knowledge with you.
July 13th: Getting Paid with Lemonade
Professor Ward teaches in the Department of Management and Marketing. She is a Certified Public Accountant. She has taught accounting and business courses for JSU since 2017. Ms. Ward is also a two-time graduate of Jacksonville State University.
July 17th: Nematodes Rule the World!
Professor Turner is a geneticist, molecular biologist, and teacher- scholar in the Department of Biology at JSU. Dr. Turner leads a team of student researchers in The Worm Hole, a research lab that studies the microscopic roundworm C. elegans.
July 18th: Fun with the Solar System
Dr. Weinkauf is a professor of physics. She loves sharing fun facts about astronomy with kids. She is the Program Director of JSU's Planetarium. She loves to read in her spare time. She really enjoys The Magic Tree House series. Have you read any of those books?
July 19th: Getting & Keeping You in the Game!
Professor Clark teaches athletic training in the Kinesiology Department. Professor Clark was a student athletic trainer for the sports of football, basketball, baseball, tennis, and soccer at the University of Kentucky and Furman University.
July 20th: Just Breathe! Learning Mindfulness Techniques
Professor Maywald teaches in the Social Work Department. She specializes in adult and children's mental health care and helps clients achieve emotional well-being. She is also a United States Veteran.
Graduation Ceremony & Party! – July 24th, 5:00-6:30
Join us for a very special graduation ceremony to celebrate your accomplishments! JSU President, Dr. Don C. Killingsworth,Jr., JSU Provost, Dr. Christie Shelton, JSU's Mascot, "Cocky," and Dean John- Bauer-Graham of the Houston Cole Library, will bestow diplomas and certificates upon participants who complete the JSU College Kids Summer Program.
Questions? Please contact Ms. Laurie Charnigo Heathcock at Iheathcock@jsu.edu,
(256) 782-5245, or Dr. Laura Pitts at lepitts@jsu.edu or (256) 782-5247