Anniston senior edges Jacksonville's Broom to win 4A Player of the Year for second year in a row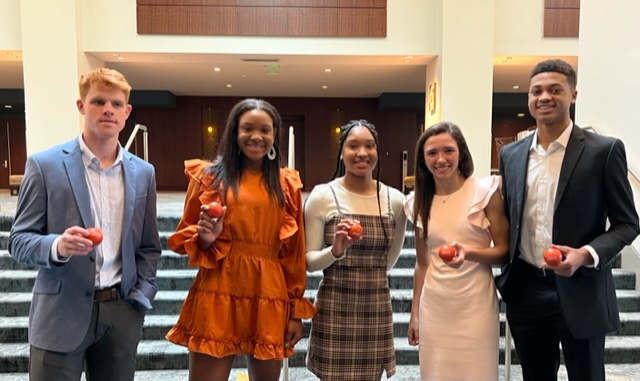 By Al Muskewitz

MONTGOMERY — Commitment to classwork kept Anniston senior guard Antonio Kite from attending the return of the Alabama Mr. Basketball luncheon today. He missed a heck of a party in which he was one of the guests of honor.
In an announcement kept secret until it was unveiled Thursday afternoon, Kite was named the Class 4A Boys Player of the Year for the second year in a row.
The Alabama football signee averaged 21.4 points a game and 6.8 rebounds this past season, was fourth in the county in steals (.2.7) and third in assists (5.1). He also was a finalist for 4A Football Back of the Year in January.
Barry Dunning of McGill-Toolen was Mr. Basketball. Samiya Steele of Hazel Green was Miss Basketball.
Although Kite didn't win the overall Mr. Basketball, he was part of the All-State Team comprised of the top five players regardless of classification. He edged out Jacksonville Final Four MVP John Broom and Escambia County Sheldon Williams for 4A honors.
Kite was disappointed he could not attend the luncheon — he was up until Wednesday night — but said by phone he had to go to school. He called it a "blessing" to have won the award in back-to-back years.
"It's a wonderful feeling," he said. "Coach just told me.
"I knew I was going to win it. Not trying to be cocky or anything, but I felt like I had the better year out of all the guys.
"'This year was different because I feel like I was developed all the way. I knew my teammates and knew how to cooperate with them. This year wasn't all about scoring, it was trying to make my teammates better and have fun with it. I had fun."
Anniston coach Torry Brown was surprised by the announcement, but not about his top senior player's ability. He had numerous college basketball offers before signing with Alabama for football in December.
"I was just surprised because of the way our season went," Brown said. "Should he have probably gotten it just based on production, I would say yes.
"He did some things just as good and didn't improve on the way we wanted him to, but both years were really good."
Broom had to be considered Kite's closest challenger for the 4A award.
The Jacksonville junior averaged 18.8 points a game for the 4A state champions, led Calhoun County in free throw percentage (.848) and was second in 3-point shooting (.443).
He also had 51 steals and 101 assists. His biggest assist of the year may have been been that didn't take place on the floor — his influence in bringing 6-9 Cade Phillips to the Golden Eagles as the final piece of their championship lineup. He was MVP of the Calhoun County Tournament and the Class 4A Final Four.
"It is what it is," Broom said. "Spoodie's a really good player. He was very deserving; we all three are very deserving of it. I wasn't really surprised when he won because he had a great year, just like me and Sheldon. I was just honored and blessed just to be here, to be a finalist."
Broom was one of five Calhoun County area players who were POY finalists. The others were Oxford's Xai Whitfield (6A), Ohatchee's Jorda Crook (3A), Piedmont's Alex Odam (3A) and Spring Garden's Ace Austin (2A).
Odam led Calhoun County in scoring with a 25.3 average. The junior was third in free throw shooting (.789), top 10 in 3-point percentage (.369), led the county in assists (131) and was second in total steals (71). He became Piedmont's all-time leading scorer (boys or girls) this season. Plainview's Cole Millican won the 3A Player of the Year.
Crook was the most dominant girls player in Calhoun County, leading the county in scoring (26.9), rebounding (14.9), steals (3.9) and blocked shots (42). The junior set the Calhoun County Girls Tournament single-game scoring record this year with 43 points against Alexandria. Ella Jane Connell of Prattville Christian won the 3A Girls POY.
"I'm proud and honored to be here," Crook said. "I was a little nervous, but I got over it and I hope to be here next year. Next year I'll be prepared."
Whitfield, a sophomore, led the county in free throw shooting (.786) and 3-point shooting (.435) while averaging 14.7 points and 6.2 rebounds. Oxford coach Melissa Bennett has said when Whitfield is on her game, she's' one of the best players in the state.
"I think it's an honor, especially as a sophomore," Whitfield said. "I didn't win, but hopefully next year or the year after I win, but it's an honor."
The neat thing about all the local players who didn't win POY honors is they are underclassmen and can return here next year.
"Just being able to come here is an honor at a young age," Austin said. "You've just got to keep working and striving to be the greatest you can. Everybody in here is a good ballplayer, so anybody could have won it. Everybody in here doesn't want to settle for a one time thing. I'm looking forward to next year."
"It'd be really cool if we all make it back here in the next year and we all win it," Odam said.
Mr. Basketball Dunning, a three-time All-State player who has signed with Arkansas, averaged 25.3 points and 12.9 rebounds in helping McGill-Toolen to the Class 6A semifinals.
Miss Basketball Steele, a 5-8 two-time All-State guard, averaged 17.3 points for a Hazel Green team that went 35-0 and beat a record-setting Oxford team for its fifth straight Class 6A state title. She is an Alabama State signee.
Players of the Year
| | | |
| --- | --- | --- |
| | BOYS | GIRLS |
| 7A | Labaron Philon, Baker | Reniya Kelly, Hoover |
| 6A | x-Barry Dunning Jr., McGill-Toolen | y-Samiya Steele, Hazel Green |
| 5A | Martavious Russell, Sipsey Valley | Olivia Vandergriff, Guntersville |
| 4A | Antonio Kite, Anniston | Emma Kate Tittle, Deshler |
| 3A | Cole Millican, Plainview | Ella Jane Connell, Prattville Christian |
| 2A | Anthony Johnson, Midfield | Molly Heard, Pisgah |
| 1A | Will Bonner, Belgreen | Timya Thurman, Linden |
| AISA | Robert Rose, Autauga Acad. | Jasmyn Burts, Glenwood |
x-Mr. Basketball, y-Miss Basketball
Super All-State
BOYS
Barry Dunning Jr., McGill-Toolen
Labaron Philon, Baker
Martavious Russell, Sipsey Valley
Antonio Kite, Anniston
Anthony Johnson, Midfield
GIRLS
Samiya Steele, Hazel Green
Reniya Kelly, Hoover
Molly Heard, Pisgah
Emma Kate Tittle, Deshler
Aniyah Hubbard, Hoover  [*** read more]