Calhoun County, AL – Calhoun County cross country teams were running all over North Alabama Saturday; Oxford's Delozier makes bold proclamation about his team, PV's Nelson, White Plains' Conn win races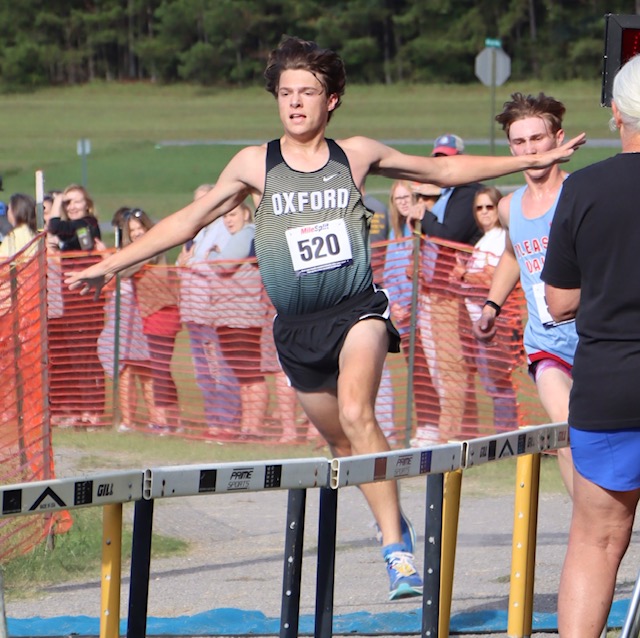 By Al Muskewitz

Landon Delozier made no apologies for what he was about to say. He was part of the last truly great cross country team at Oxford High School, but the time has come for the old king to relinquish his crown. The Yellow Jackets finished fifth in the big school division of the Black & Gold Classic on their sectional course in Scottsboro Saturday. They were some 60 points behind two of the biggest dogs in the lead pack, but it's their overall body of work that has the coach rethinking their status in the world.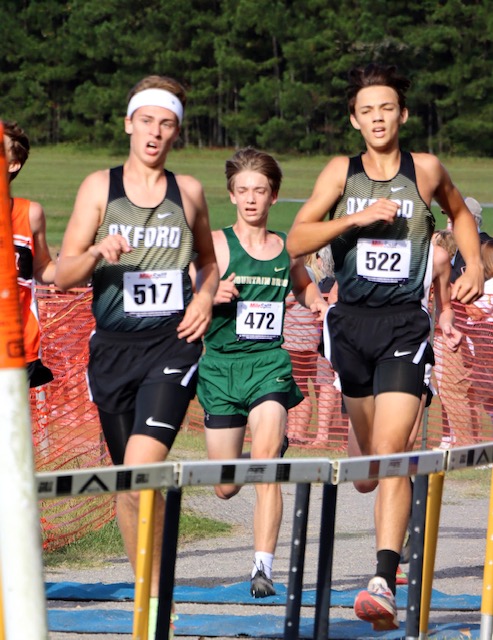 "This is the greatest high school (cross country) team to ever come through Oxford High School," Delozier said. "When I was in school we had two in the 16s, I was in the mid-17s, we had another guy 17:55 and a fifth like 18:20, 18:30. Now, we have four guys all under 18 and a fifth at 18. These guys should go top three in the state this year. "I'm going to make a bold statement and my good friend Jacob Schwyn (the leader on that 2012 team) might not like it if he reads it, but this is the best team to walk the halls at Oxford High School."
It starts with reigning county champion Noah George, the top-ranked runner in 6A, of course, and No. 2 Evan Somers, but it's the next six-pack of runners that holds the key to this rising team. George finished second overall Saturday with a school record PR of 15:36.62. Somers ran a sub-17 for the first time (16:39.27) to place 20th. Reid Nordan (17:50.54) and Isaac Williams (17:51.12) broke 18 for the first time and the Jackets' fifth counter, Braxton Snider, just missed (18:02.42).
In fact, less than 30 seconds separated their third through seventh finishers. "My 3 through 7 is the story of my team right now," Delozier said. "It's easy to look at Noah, who's leading the pack, and Evan, who's in the top 1-2 pack, (but) the meat in the battle is my 3 through 7. We have not had the same finishing order 3-7 in any race this year. "I got on them. I said y'all have been showing the last three weeks you all can break 18, I need somebody to go do it, and finally Reid and Isaac did what they'd been showing me for weeks they can do." [*** read more]
Kudzu Hills Invitational
BREMEN – White Plains' Maddyn Conn picked up another win when she led all runners across the line in 18:41.94. The Lady Wildcats finished fourth in the girls 3A-4A race. The White Plains boys were third in their division. Faith Christian's Evie Garrett was fifth in the 1A-2A girls race. Faith's Eli Mitchell was fifth in the 1A-2A boys race. All of the county's runners will get a preview of this year's county championship course Tuesday when they run in the Bulldog Twilight race at the McClellan Soccer Complex.
Black & Gold Classic
At John R. Esslinger Trail of Champions, Scottsboro
Boys 1A-4A team scores: Pleasant Valley 29, Sand Rock 52, Pisgah 72, Plainview 116, Madison Academy 120, Glencoe 158, Sylvania 186, Section 226, Collinsville 232.
Girls 1A-4A team scores: Glencoe 29, Pisgah 67, Pleasant Valley 84, Plainview 108, Sylvania 124, Section 152, Sand Rock 152, Collinsville 220.
Boys 5A-7A team scores: Hoover 31, Mountain Brook 71, Homewood 72, Scottsboro 124, Oxford 129, Springville 158, Decatur 237, Fairview 243, Huntsville 269, West Point 276, Arab 323, Brewer 350, Guntersville 373, Sardis 399, Austin 439, Hazel Green 451.
Girls 5A-7A team scores: Mountain Brook 23, Homewood 73, Hoover 109, Scottsboro 113, Huntsville 114, Brewer 170, Springville 212, Decatur 244, Austin 252, Sardis 255, Guntersville 279.
Kudzu Hills Invitational
At Cold Springs H.S., Bremen
Boys 1A-2A team scores: Cold Springs 16, Faith Christian 51, Jefferson Christian 70.
Girls 1A-2A team scores: Cold Springs 17, Faith Christian 50, Winston County 71, Cornerstone 88.
Boys 3A-4A team scores: Altamont 80, LAMP 96, White Plains 115, JB Pennington 124, Priceville 134, Westminster 148, Cordova 189, Oneonta 197, Deshler 218, Haleyville 259, Vinemont 276, Central Florence 282, Northside 296, Rogers 327, Oakman 421.
Girls 3A-4A team scores: Altamont 41, Desler 105, JB Pennington 105, White Plains 109, Westminster 114, Priceville 131, DAR 169, LAMP 170, Oneonta 223, Haleyville 234, Cordova 334, Oakman 357.
Boys 5A-7A team scores: Ardmore 19, Douglas 70, Jasper 82, Clay Central 89, Boaz 95.
Girls 5A-7A team scores: Jasper 28, Douglas 40, Clay Central 56, Moody 120, Boaz 124.