Oxford, AL – Top seed Oxford, No. 2 Alexandria dominate in semifinals, punch ticket to Thursday's title game at JSU; final moved to 6 p.m.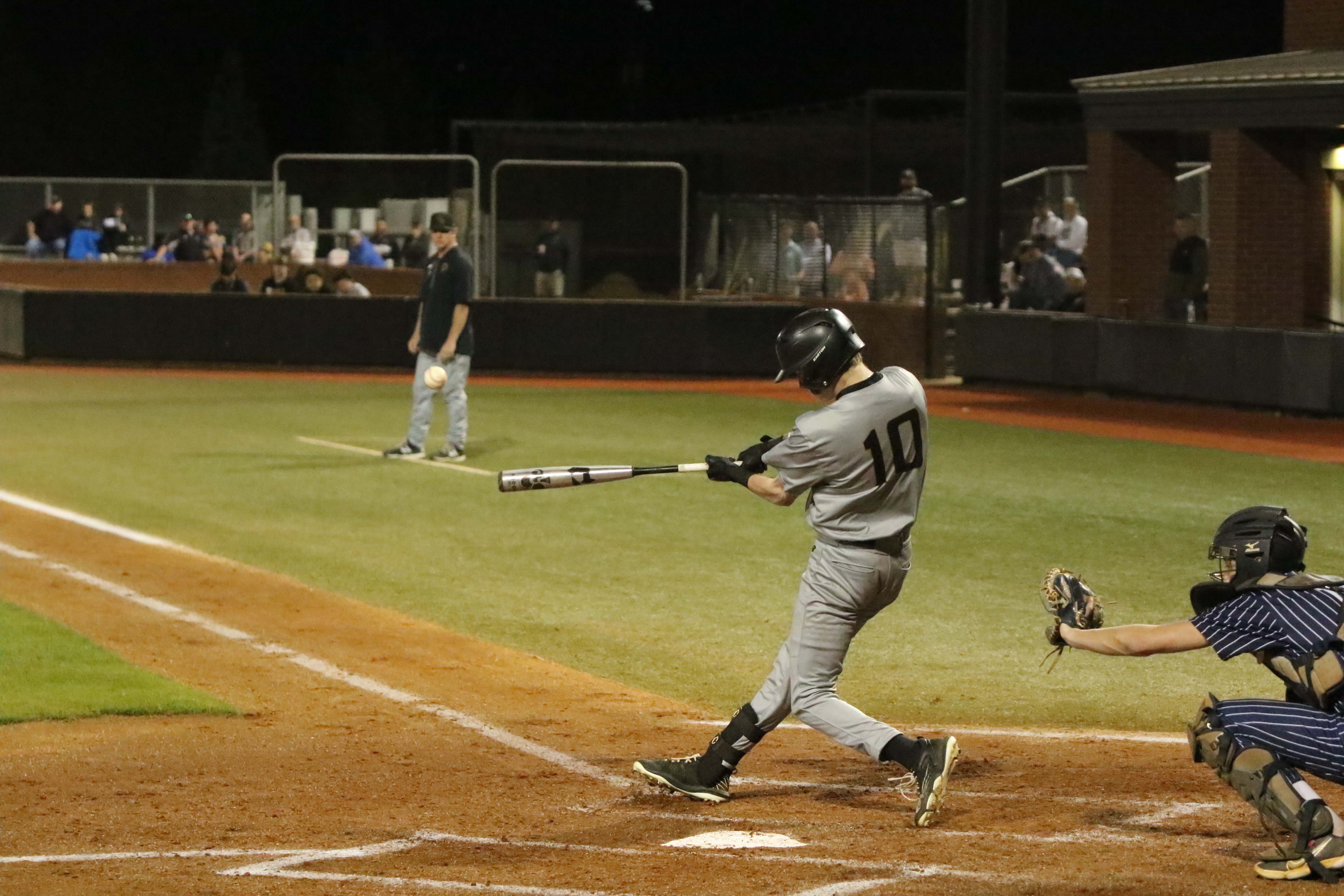 By Joe Medley

Top seed Oxford and No. 2 Alexandria made quick work of their Calhoun County semifinal opponents on Tuesday. Alexandria beat No. 6 Donoho 22-3 in five innings, and Oxford topped No. 4 Jacksonville 10-0 in six innings. That set up a rematch of last year's final Thursday on Jacksonville State University's Rudy Abbott Field. Organizers moved the game time from 7 p.m. to 6 p.m. in anticipation of rain. Here's a rundown of Tuesday's semifinal action:
ALEXANDRIA 22, DONOHO 3: Alexandria has found lots of ways to win baseball games in Zac Welch's first season as head coach. The Valley Cubs won the fun way Monday … with lots and lots of offense. Evan Snow's three-run, inside-the-park home run, the fifth inside-the-parker of the tournament, highlighted Alexandria's 12-run fourth inning, and Andrew Allen finished off a complete game. "After getting walked twice last night and then walking again this game, I was itching for a base hit," Snow said. "I just went up there with confidence and swung as hard as I can and crushed it.
Snow put it to the warning track, just over diving Donoho center fielder Peyton Webb. "I knew when it came off the bat I was going to touch that home plate. Sliding across that plate was one of the best feelings I have ever had. Seeing my team come out the dugout and seeing all the fans cheer me on was amazing." Alexandria earned a return to the county final and will play the Oxford-Jacksonville winner Thursday at 6 p.m. on Jacksonville State University's Rudy Abbott Field. Alexandria (6-2) will start Tripp Patterson. "We have Tripp and a full bullpen," Welch said.
Alexandria pounded out 17 hits, 10 in the fourth inning. Snow finished with four RBIs. Aaron Johnson and Aiden Brunner drove in three apiece. "We may have just got all of our hits for the next three weeks," Welch joked. "We might not get another way until sometime in the end of March, but tonight was good. "Some things came together. I was really happy with the guys' approaches. It started early on. Ty Brown had a great at bat that he hit off the wall in right field, and we just went from there. Hitting is contagious."
Allen, who had a no-hitter going into the final batter of last year's county final, allowed six hits and three earned runs but struck out nine batters with no walks, and the Valley Cubs took advantage of six errors. "The first couple (of innings) were interesting, though," Welch said. "That's a very good team. They swing it well. They've got a lot of good looking players. They'll do some damage in 2A." Donoho moved up to 2A in baseball by virtue of the AHSAA's competitive balance rule for private schools. This after the Falcons played in the 2021 1A title series and 2022 1A semifinals. [read more…]
OXFORD 10, JACKSONVILLE 0: Trace Adams' hot-hitting ways continued. One of the stars of Oxford's run to the Perfect Game National High School Showdown championship in Hoover over the weekend, Adams homered, tripled and scored the game-ending run on a wild pitch as Oxford advanced to Thursday's 6 p.m. final against Alexandria. His three-run home run keyed Oxford's four-run first inning and set the tone. The homer came with an adjustment after Oxford's quarterfinal victory over White Plains on Monday. "Yesterday, I was early on every thing," he said. "I tried to make an adjustment today. I tried to go 'oppo' (opposite field). It ended up being inside for a home run." Adams also singled, missing the cycle by a double.
Adams broke into the lineup four games into the season and got hot, and Oxford coach Wes Brooks has stuck with a hot hand. Brooks called Adams' senior surge a matter of "perseverance" and reminds Brooks of former Oxford catcher Alex Muncher, who caught for the Yellow Jackets' 2012 state-title team. Muncher emerged out from behind Ricky Guzman in 2010 and Bobby McCain in 2011 to break into the lineup. "Alex Muncher just pushed through and got his opportunity, and he caught three guys that pitched professional baseball, and he didn't start until his senior year," Brooks said. "Trace has done that and pushed through, and got an opportunity, and he's seized the moment. He's in that moment and making the best of his opportunity." Oxford (10-1) had other standouts Tuesday. Roby Brooks and Peyton Watts doubled. Watts and Hayes Harrison each had an RBI.
Jacksonville State signee Drew McCormick got the start and worked the first 4 1/3 innings, strike out eight batters. Hudson Gilman got the final two outs, both strikeouts. They combined for a one-hitter and four walks. Oxford went the third game in a row without Auburn signee and shortstop Sam Robertson, who injured his left knee while sliding during the Perfect Game Showdown. Robertson made a ceremonial one-pitch appearance in the White Plains game and underwent an MRI on Tuesday. "Sam got an unofficial good report on his MRI," Brooks said. "As of now … hopefully, it's going to be a couple of days of rehab to tolerance. Whenever he feels good, he'll be back out there."
Robertson said he'll need "hopefully, just a couple of weeks of rehab, and I will be good to go." Brooks said he's not sure which pitcher will start Thursday. All of his first three pitchers worked Friday in Hoover, but Carter had the fewest pitches. That doesn't mean he'll start. "With this team, you almost want, whoever is fresh, save your best for the last three or four innings of the game," Brooks said. Jackson Bonner got Jacksonville's lone hit Tuesday, and Grant Patterson went the distance on the mound. He allowed just six hits, but five walks and two Jacksonville errors proved costly. "We made way too many mistakes against a team of that caliber," Jacksonville coach Jamison Edwards said. "It seems like every mistake we made, they made us pay for it." [read more…]
Updated Calhoun County baseball tournament schedule
Choccolocco Park
Saturday's results
Signature field
No. 11 Weaver 19, No. 14 Anniston 9
No. 6 Donoho 9, Weaver 2
No. 13 Faith Christian 14, No. 12 Wellborn 9
No. 5 Ohatchee 16, Faith Christian 5
No. 8 White Plains 13, No. 9 Jacksonville Christian 8
No. 7 Pleasant Valley 13, No. 10 Saks 3
Monday
Choccolocco Park
No. 4 Jacksonville 3, Ohatchee 2
No. 2 Alexandria 8, Pleasant Valley 5
Donoho 8, No. 3 Piedmont 4
No. 1 Oxford 13, White Plains 0
Tuesday
Choccolocco Park
Semifinals
Signature field
Alexandria 22, Donoho 3
Oxford 10, Jacksonville 0
Thursday
Rudy Abbott Field
Alexandria vs. Oxford, 6 p.m.