Calhoun County, AL – As most in the county know, Commissioner Hess is ending his 28 years of service as a County Commissioner in November. Congressman Mike Rogers wanted to give special acknowledgment for this service by formally entering a recognition of service into the Congressional Record. The Congressmen, all commissioners, family, and friends gathered in the commission chambers for an event to honor this lifetime of service. To start the day off, Chairman Lee Patterson jokingly banged his gavel, but quickly became serious in welcoming all to an occasion to recognize a, "Longtime defender of the county." Pastor Keith Merritt then gave the invocation followed by the pledge.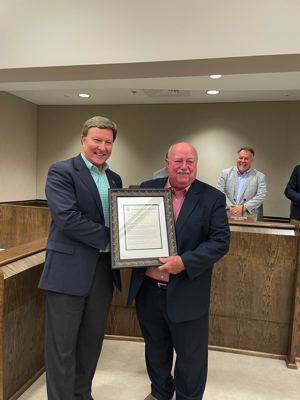 Congressman Mike Rogers thanked all for the honor of being here and mentioned what an upgrade the new chambers were compared to what they were like when he was a county commissioner back in the eighties. He also stated that he learned then what a tough job being commissioner truly was. He went on to mention that it is often a thankless job that you really only do if you are service minded, and to do this job 28 years takes a great deal  of commitment and love for the area you serve. He went on to note that J.D. is a good friend of his and to the community.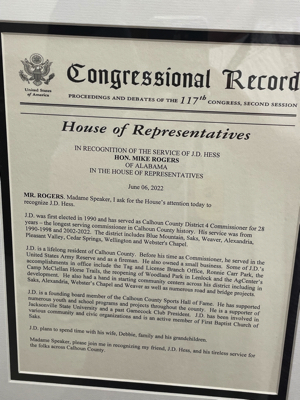 Commissioner Hess spoke and thanked everyone for coming out. He said what a pleasure it has been serving this community. He also acknowledged that running for public office is a challenge because you put yourself out there for people to pick apart and take jabs at, but that the good you can do is worth any negative. He also said that while you are elected for a specific district, you really serve the entire county. He stated his family is and always has been the constant in his life. They bolstered him in his darkest days and supported him on campaign trails. He really wanted to take a moment to thank them all. He shared that often the stress would be brought home, but his family always was there unfailing in standing by him. He also wanted to thank his friends, but said he wasn't about to start naming names because he would forget someone and really get in trouble! He did take a moment to recognize Eli Henderson who was his partner in so many quality-of-life projects. He wanted to stress that nothing he accomplished was done alone. Every project and every success was because of the full council. He went on to say, "This council is bigger than any one person, man or woman. Calhoun County has great leadership and will continue to grow and thrive because of that leadership."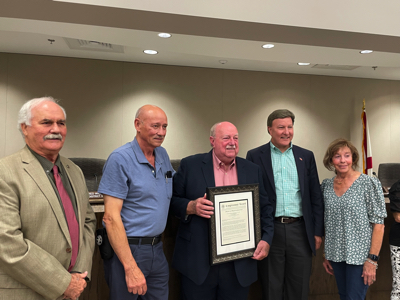 Representative Randy Wood spoke next and said how happy he was to see so many familiar faces, but he hated it was under these circumstances. He teased about some stores he could tell, but decided maybe today wasn't the day for that. He did say there were so many projects and undertakings that Commissioner Hess was a part of. He said that nobody would fight to make a difference like J.D. Hess and that he admired him.
Calhoun County Commissioner of Licenses Barry Robertson spoke next and reminded Commissioner Hess not to, "discount yourself as leaving." He explained that while he might be leaving his public role, he is still relevant and will still be needed and used as a sounding board and for advice. He said the sheer volume of institutional knowledge held by the Commissioner is too great to let slip away and said that J. D. has forgotten more than most people know. He said that he counts the commissioner as a mentor and great friend and that his name will be remembered in Saks, Alexandria, and so many places in the county.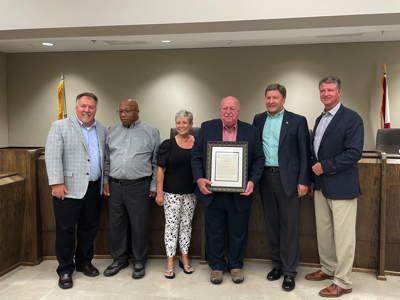 Commissioner Fred Wilson said, "You're not gone yet; we are here until November." He also said that J.D. loves to solve problems and while he will hate to see him go, he will still be here because they are going to call on him to help solve problems.
Commissioner Shears used a sports analogy to explain that in sports the first and last quarter are the most important and while this may be J.D.'s last quarter it was his first and it was very important to serve the first year as commissioner  next to Commissioner Hess. He stressed how much he has learned and how valuable that is. He also laughed at how incredibly resourceful J.D. Hess truly is and said he can stretch a penny further than anybody he has ever known.
Commissioner Henderson was brief, but emotional when she said that she hasn't worked along side J.D. very long, but she loved every minute of her time with him.
Chairman Patterson shared how invaluable J.D. has been to the community and to the commission and to his own personal growth. He credited Commissioner Hess with much of his maturity as a commissioner and in teaching him to think outside of the box. He named J.D. as a dear friend and visionary for the county.
Craig Waldron with Back Country Horsemen of America – Alabama – McClellan Chapter spoke and said he really learned a lot about how to be "tight" with money. Then when went on to say he looks at the things that have been built at the horse trails from all the resources J.D. found or brought to the table. He really wanted to acknowledge that what J.D. gets accomplished with so little money is amazing.
Marcia Yarbrough spoke and shared that she has worked in the office with Commissioner Hess for 20 years and it has been a pleasure. She said that he has been a part of her life and her children's lives and that she loves him from the bottom of her heart.
Jerry Roach spoke next and wanted to thank J.D. for all the hard work he has done, particularly with the horse trails. He went on to say how much tourism they have brought in and continue to bring in and gave J.D. the credit for that vision. He also went on the say how he truly loves Commissioner Hess like a brother.
Commissioner Hess spoke again to thank everyone for their kind words. He again stressed that it was a team effort and how proud he was to be a part of a great group of leaders.