Jacksonville, AL – Perennial county power Anniston overcomes Crook's 32 points to get by Ohatchee, reach county final for the seventh year in a row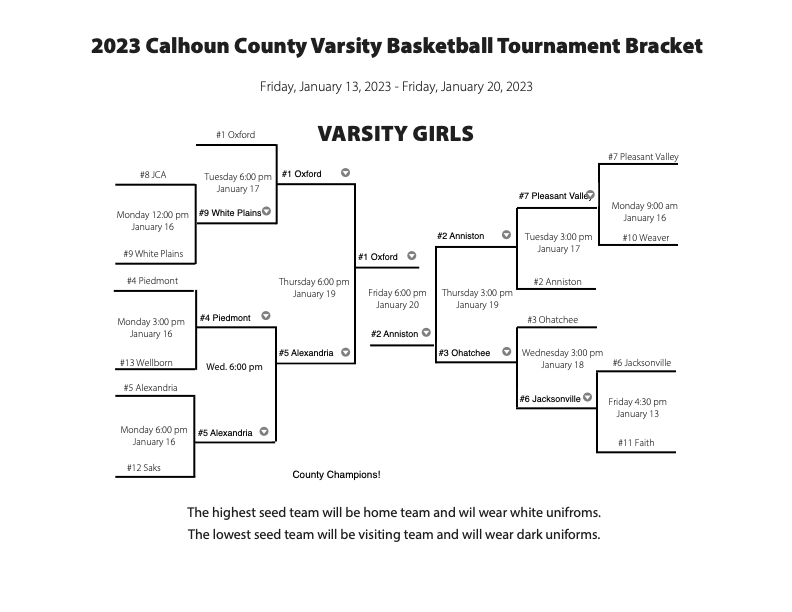 By Joe Medley

Anniston's girls have won 21 Calhoun County basketball championships, so feeling like underdogs is, well, a weird feeling. Everybody counted us out," junior forward Tykeria Smith said. "I'm just glad that we made it back to where we are now." Smith poured in 29 points to nearly match the 32 from Ohatchee's Jorda Crook, and No. 2 seed Anniston held off the third-seeded Indians 50-45 in Thursday's semifinals.
The Bulldogs earned a shot at top seed and defending champion Oxford in Friday's 6 p.m. title game. Anniston had won the tournament five years in a row before Oxford claimed its first county trophy since 2006 last year. The Yellow Jackets went on to make their first Final Four appearance and finished as Class 6A runner-up. Anniston is in year two after two-time Alabama Sports Writers Association Class 4A player of the year Allasha Dudley, who spearheaded teams that made three consecutive Final Fours and won the program's first-ever state title in 2020.
Making matters more challenging, the Bulldogs lost junior guard Serena Hardy to a season-ending knee injury in the fifth game. Anniston still carried the No. 2 seed into this year's county tournament, but it was no certainty the Bulldogs would get past Crook, the county's most dominant player, in the semifinals. Crook's performance Thursday gave her 234 points in eight career county-tourney games. She scored a record 49 against Jacksonville on Wednesday.
Anniston came determined to surround Crook and made it hard for her to get the ball. The game plan didn't work as well as Anniston coach Eddie Bullock had hoped. "She's going to score because she's a great player, but I think she got 10 points off of offensive rebounds, and then she probably got another 10 off of straight-line drives to the basket," he said. "Those were the two things we wanted to take away." [read more …]