Calhoun County, AL – 'Family meeting' helps Lions rebound from Thursday loss to Donoho, beat Falcons to advance to Tuesday quarterfinal against Oxford; Saks, White Plains, Piedmont also advance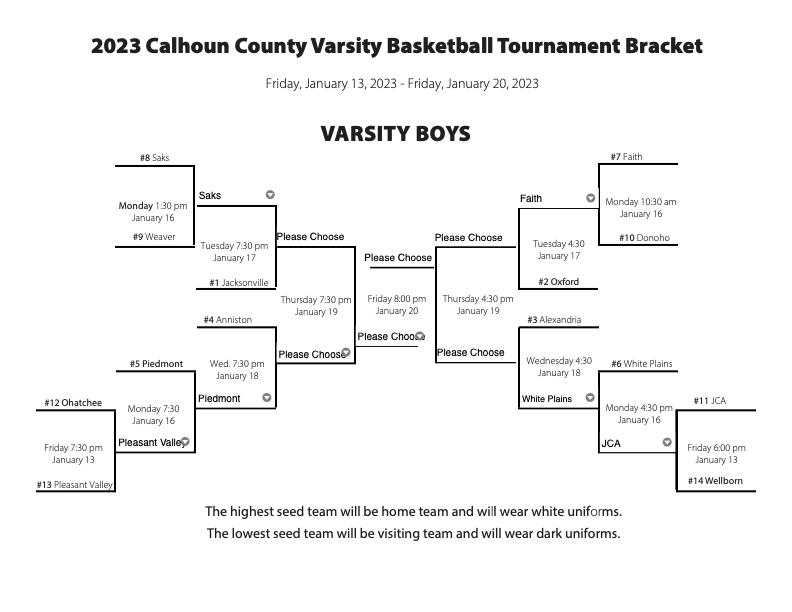 Calhoun County Tournament
Boys Games
No. 7 Faith Christian 65, No. 10 Donoho 50
No. 8 Saks 44, No. 9 Weaver 30
No. 6 White Plains 71, No. 11 Jacksonville Christian 45
No. 5 Piedmont 73, No. 13 Pleasant Valley 50
By Joe Medley
Those who don't think two Class 1A private schools can drum up a hot rivalry just haven't seen Faith Christian and Donoho play recently.
Thomas Curlee scored 18 of his 25 points in the second half, and Faith's boys rebounded from Thursday's area loss to Donoho with a 65-50 victory over the Falcons in Monday's Calhoun County tournament action at Pete Mathews Coliseum.
No 7 seed Faith (15-6) earned a shot at No. 2 Oxford, the county's only Class 6A school, in Tuesday's 4:30 p.m. quarterfinal.
"We played them before the year started in a little scrimmage, and they are crazy athletic," Faith coach Cory Hughes said. "Joel (Van Meter) coaches defense, and I'm super happy to get to play them, because they're going to press on us like crazy. [read more…]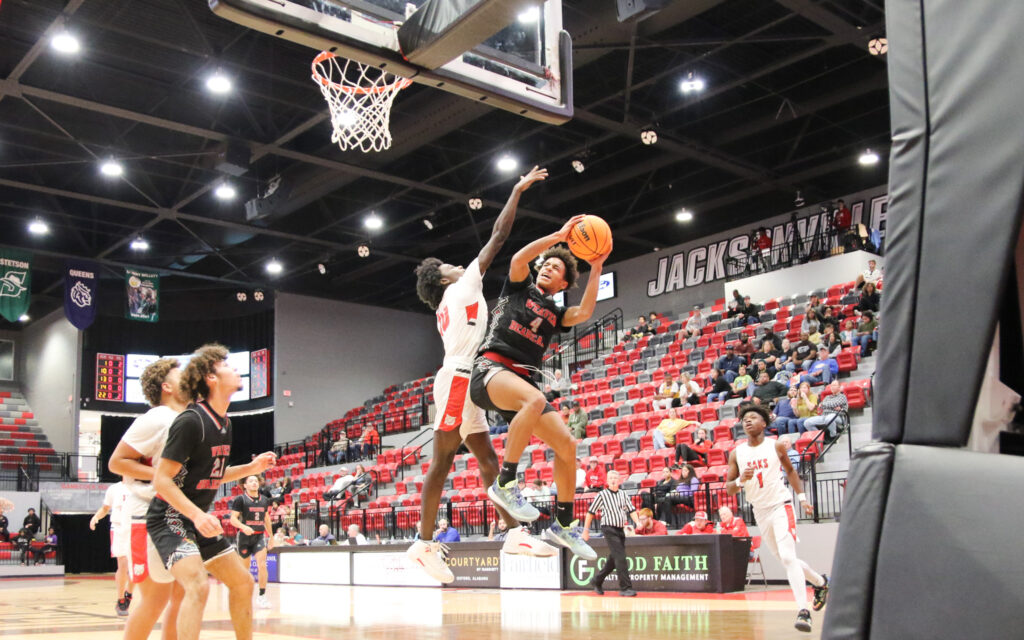 Wide-eyed Wildcats
Both teams clam up on big stage, but Saks adjusts most to prevail over Weaver
Ninth-seeded Weaver came into its Calhoun County tournament game with No. 8 Saks with three varsity players who had played in Pete Mathews Coliseum. Saks had two.
Weaver coach Beau Winn put it in basketball terms.
"Between me and (Saks coach Jonathan) Miller, we had us a starting five of players who've played in 'The Pete,'" he said.
It showed as the two teams played to a 26-point first half, but Saks found the mark enough to win 44-30
The Wildcats (6-6) earned a shot at top seed and defending Class 4A state champion Jacksonville in Tuesday's 7:30 p.m. quarterfinal. [read more…]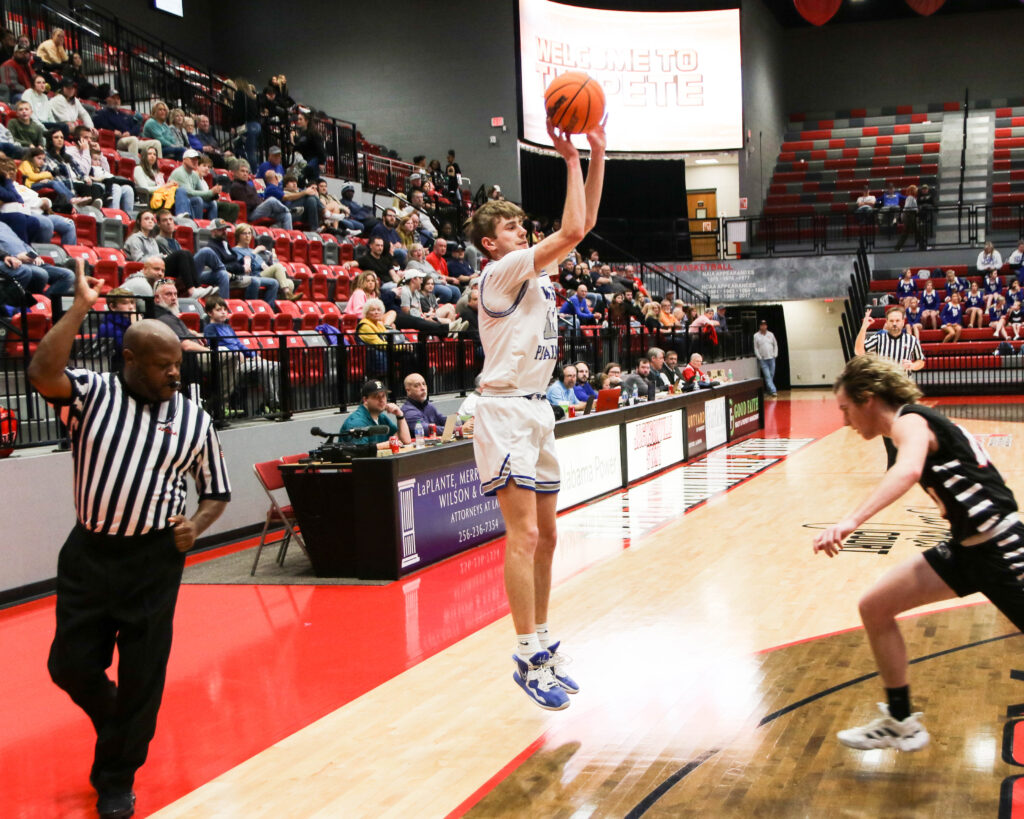 Wheeler's shooting touch helps Wildcats break free after early shootout with JCA
Josh Wheeler has a distinction in long-time White Plains' coach Chris Randall's coaching career.
"Josh is the only kid I've ever taken out for not shooting," Randall said.
No such worries Monday as Wheeler hit three 3-pointers and scored a handful of fastbreak baskets to help sixth seed White Plains separate for a 71-45 victory over No. 11 Jacksonville Christian.
By running its winning streak to four games, White Plains improved to 11-9 and earned a date with No. 3 Alexandria in Wednesday's 4:30 p.m. quarterfinal. [read more…]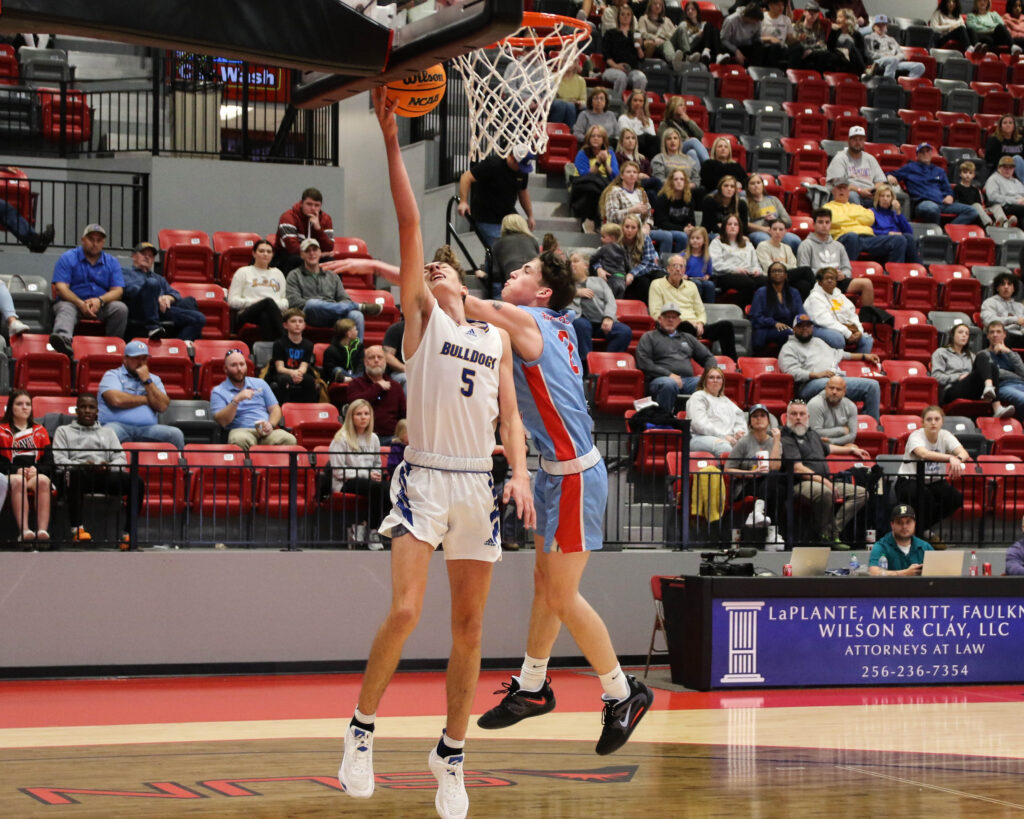 Dunkin' Dogs
Alley-oop highlights Piedmont victory; Bulldogs earn rematch with Anniston
A walking call wiped out Ishmael Bethel's first dunk Monday, but fate and Rollie Pinto delivered him a second chance.
And Bethel delivered second-chance thunder.
Their alley-oop collaboration with 2:30 to play put the highlight on a big night for fifth-seeded Piedmont as the Bulldogs rolled to a 73-50 victory over No. 13 Pleasant Valley in the Calhoun County tournament.
Piedmont's 11th victory in 12 games lifted the Bulldogs to 15-3 on the season earned them a rematch with No. 4 Anniston in Wednesday's 7:30 p.m. quarterfinal. [read more…]