Burgess scores golden goal in second OT, gives Donoho first playoff win since 2009; girls blank Collinsville in their playoff game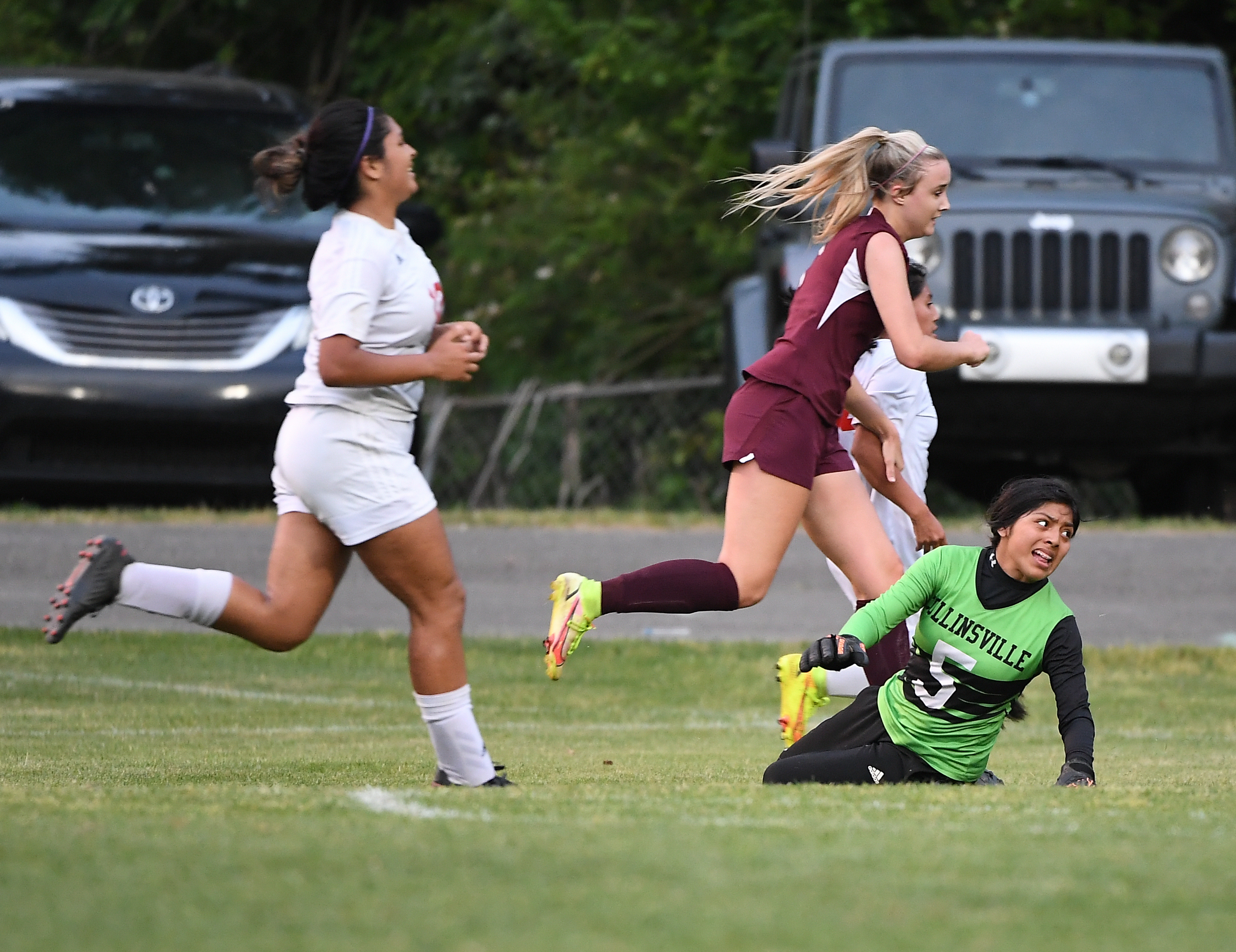 LOCAL PLAYOFF RESULTS
Girls Games
1A-3A: Donoho 2, Collinsville 0
1A-3A: Susan Moore 1, Weaver 0
4A-5A: Guntersville 4, Jacksonville 1
4A-5A: Westbrook Christian 4, Lincoln 1
Boys Games
1A-3A: Donoho 2, Susan Moore 1 (2 OT)
1A-3A: Collinsville 8, Faith Christian 0
4A-5A: Leeds 4, Westbrook Christian 3
By Al Muskewitz

Jack Burgess may have been out of position at the crucial point in the game, but they'll probably forgive him for that. Because he definitely was in the right place at the right time.
The Donoho senior midfielder pushed up into the box and was Johnny-on-the-spot to score a golden goal 79 seconds into the second overtime Tuesday to lift the Falcons over Susan Moore 2-1 for their first playoff win since 2009.
"That might be the best goal I've ever scored in my whole life," Burgess said.
And truth be told he probably shouldn't have been where Grant Steed's pass found him. As a midfielder, he's the first line of defense against Susan Moore's speedy and aggressive forwards, but the Falcons were also trying to exploit the Bulldogs' three-man back line.
"We always work on when we have a throw-in on one side, we always seem to have a guy running on that back post so he can just turn and play it," Steed said. "Normally Jack doesn't even play that position, but paying attention in practice we all know how to play different positions. I knew somebody was going to be on the back post."
"He was out of position, but it was at the right time," Donoho coach Tim Melton said. "That's soccer IQ, understanding where I should be versus maybe where the formation tells me to be."
The Falcons (13-0-2) will play at Mars Hill Bible in the next round. Their last playoff win before Tuesday night came over Mars Hill.
The win keeps alive the possibility of two undefeated Donoho teams playing for the state championship in a couple weeks in Huntsville. The 16-0 Donoho girls won their game over Collinsville 2-0 on a pair of Erin Turley goals.
The girls now play at Whitesburg Christian (11-4-1) Thursday. The Lady Falcons beat Whitesburg last year in the Final Four.
"That's the goal," Melton said. "We wanted to be in the championship together. We saw the girls go before and the guys didn't enjoy watching the girls play. As much as we like to cheer them on, we want to be in the game playing. Our goal for both teams was to all make it to the championship together and play on the same field on the same weekend and bring home the trophies together."
"That would be awesome," Donoho girls coach Jay Jenkins said. "It would be incredible. But we're a long way from that. We've got Whitesburg next."
The Lady Falcons took a 1-0 halftime lead in their game when Turley broke a scoreless tie on a goal with mere 12 seconds left in the half.
On her second goal she took the ball at midfield, surrounded by four Collinsville defenders, and basically made a bull rush at the goal and scored by just sheer force. Donoho keeper Maggie Wakefield made 16 saves to preserve the shutout. Richard Goad was equally brilliant minding the boys goal.
The boys trailed 1-0 at halftime. They tied it with 9:51 left in what Melton called "probably the best second half we've played all season" when Logan Melton crashed the goal to knock home the rebound of Hunter Davenport's initial shot off a Trey Alexander corner kick.
The game-winner came when Sam Johnson got the ball to Grant Steed, who crossed the ball across the box. Burgess settled it and after settling himself put it into the upper left side of the goal.
"I got nervous when I saw it coming to me," Burgess said. "Then I just composed myself, I didn't panic, I just hit it off my chest and thought it was a good touch and then I passed it in. But I was definitely nervous when I first got the pass, like, 'Oh crap, I can win the game for us.'"
And he did.  [*** read more]
GIRLS GAME
Collinsville                0  0  –  0
Donoho    1  1  –  1
GOALS – D: Erin Turley, 39:48; D: Erin Turley, 75:19.
BOYS GAME
Susan Moore         1  0  0  0  –  1
Donoho    0  1  0  1  –  2
GOALS – SM: Daniel Hernandez, 28:02; D: Logan Melton, 70:08; D: Jack Bussey, 86:19.