Alexandria, AL – Alexandria uses big bats, three more Gattis gems to gain a spot in the 5A state championship game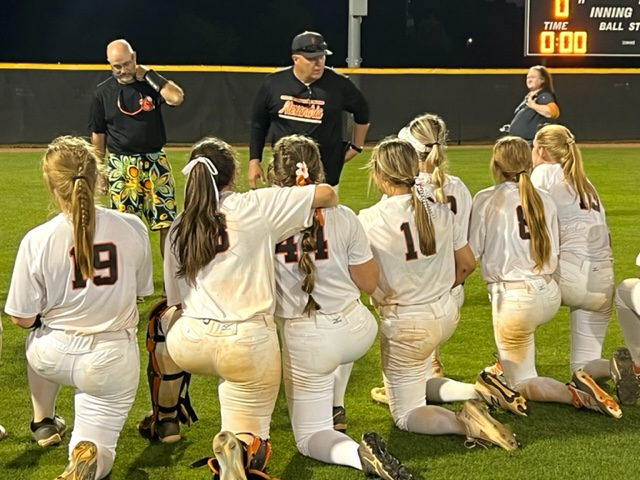 CLASS 5A STATE CHAMPIONSHIP
Wednesday's games
Alexandria 5, West Point 0
Alexandria 11, Rehobeth 0
Alexandria 8, Satsuma 0
Thursday's games
Hayden vs. Rehobeth, 10:45 a.m.
Hayden-Rehobeth winner vs. Satsuma, 12:30 p.m.
Championship game (Stadium)
Hayden/Rehobeth/Satsuma vs. Alexandria, 5 p.m. (if game to follow)
By Al Muskewitz
East Alabama Sports Today
OXFORD — Alexandria officials encouraged their fanbase to wear Hawaiian garb to the state softball tournament Wednesday. There were colorful shirts, colorful shorts and a whole bunch of leis.
But it was the Lady Cubs who really lei'd it on the opposition.
The Lady Cubs won all three of their games during the opening day of the Class 5A state softball tournament at Choccolocco Park to earn a spot in Thursday's 5 p.m. championship game on the Signature Field.
They beat West Point (5-0), Rehobeth (11-0 in five innings) and Satsuma (8-0) behind three more potent playoff pitching performances from Rylee Gattis.
They are one win away from adding another ball to the back wall of Larry Ginn Gymnasium with their third state softball title, first since 2014, and 15th in all sports all-time.
Hayden, Satsuma and Rehobeth will fight it out for the other spot in the title game where one of them will have to beat the Valley Cubs (45-10) twice.
"This is as good as I've seen them play," Cubs coach Brian Hess said. "I hope it carries over into tomorrow, but I'm not gonna worry.
"That was three really good teams they beat today. It was just a testament to their hard work and focus. Everything has come together. We're going to enjoy it for what it is tonight and hopefully we can finish it tomorrow."
It started in the circle with Gattis, but it went beyond that.
In spinning her three shutouts, Gattis pitched two one-hitters, gave up six total hits and struck out 38. At the plate, the Lady Cubs banged out 33 hits in three games, 29 in the last two. Every hitter had at least one hit in the Rehobeth game, eight of the nine had at least one against Satsuma.
Ashley Phillips went 4-for-4 with six RBIs in the Rehobeth game, had a string of six consecutive hits and had eight in the three games. Gattis had six hits.
"We're just trying to go after what we all want — winning the championship," Phillips said. "We all hit the ball, we played good defense, Rylee pitched well. We did everything right today."
"I think this team is peaking at the right time," Gattis said.
The Lady Cubs broke a scoreless tie against West Point with five runs in the fifth inning. Phillips broke the dam with a two-run double to left. Gattis followed with an RBI single and the eruption was on.
Gattis and West Point pitcher Carlie Wilkins were locked in a pitcher's duel for four innings, so Gattis had to be at the top of her game.
Wilkins was working on a no-hitter until Pressley Slaton led off the fifth with a soft fly that centerfielder Alexis Kimbril couldn't hold with a diving effort.
Gattis spun her fourth straight playoff shutout, gave up one hit — a second-inning single — and struck out 18 of her 21 outs. After turning back a threat in the second, she struck out 10 in a row. She faced four batters over the minimum.
"She seemed to be really, really focused early on," Hess said. "She walked one and gave up a big hit and they made a threat there about the third inning and when she shut that down it was almost like she settled back in and got in a groove."
In the second game, Phillips went 4-for-4 with three extra-base hits and six RBIs. It was more than Gattis needed. She spun another one-hitter and struck out 11.
The Lady Cubs pounded 16 hits in the game, with everyone in the order getting at least one. The first five spots in the lineup combined for 12 of them.
"This is the best we've hit it, even better than the regional game we played against Guntersville," Hess said.
Phillips had an RBI double to open the scoring, an RBI triple in the third, aa two-run double in the fourth and a two-run single in the fifth to reach the run-rule threshold. In her last five at-bats through the Rehobeth game, Phillips is 5-for-5 with eight RBIs.
"I'm just trying to focus on staying through the ball and not trying to do too much because these fields are deep, so I'm not really looking to hit home runs right now," Phillips said. "And I know if me and Jill (Cockrell) at the top of the lineup get on base everybody else in the lineup is going to follow us
Gattis didn't strike out everybody she faced; it just looked that way. She set Rehobeth down in order in the first on three contact outs but on only four pitches and then only two players touched the ball the rest of the game.
She got the next 11 outs by strikeout with the only interruption in the run being a leadoff single in the third inning. The last out of the game was a grounder to third.
Against Satsuma, a team that reached the winner's bracket final with two walk-off wins (one in 11 innings), she took a no hitter into the fourth inning. The Cubs supported her with two runs in the first, fourth, fifth and sixth innings.
In 40 regional and state tournament innings, Gattis has given up nine hits (four one-hitters), no runs (six shutouts), walked two and struck out 76.
"It's almost like she's gone into a different zone, because she knows it's at the end for her and her teammates," Hess said. "It's almost like survival; you're just trying to survive to tomorrow. She's on a different level right now. I hope she can continue."
The pitcher's sister, Chloe, has caught her all her life and said she's pitching better than ever.
"She's top tier right now, definitely, for sure, especially today," Chloe said, revealing she is considering joining her sister at Carson-Newman next year to keep the tandem together. "It looks really good back there." [*** read more]