Oxford, AL – Kelley's three-run homer in seventh inning lifts Monsters to 3-2 win over Blues, keeping them alive for SBL playoff spot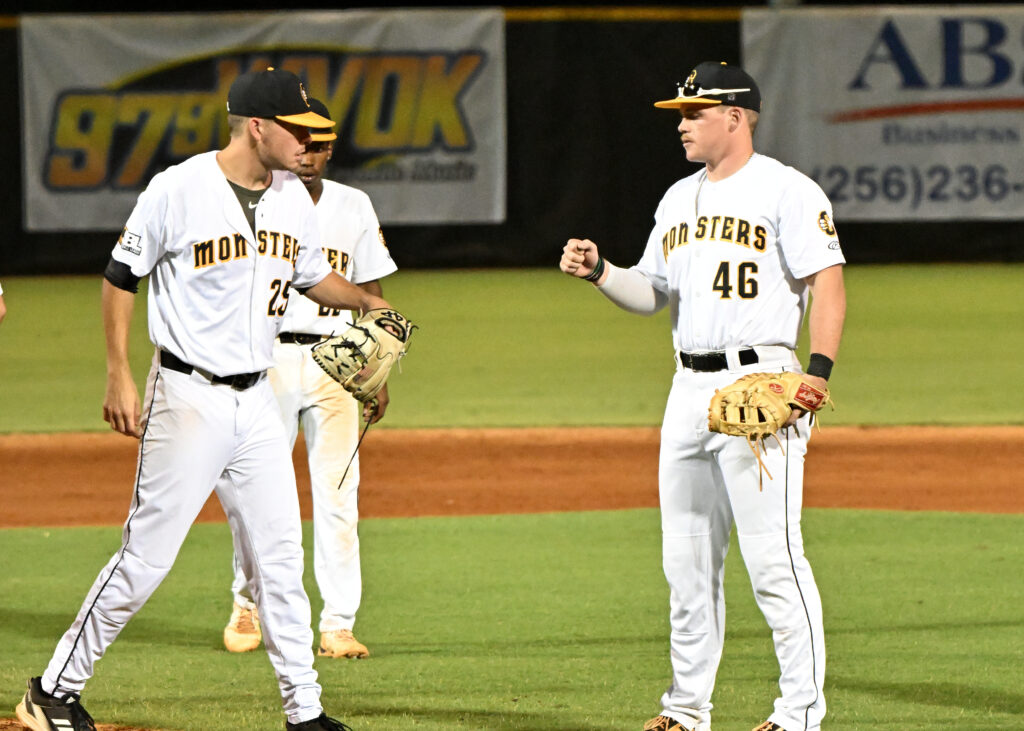 By Al Muskewitz

William Kelley might not have saved the Choccolocco Monsters season with his three-run homer in the seventh inning Friday night, but he at least kept it alive.
Kelley delivered what he humbly called "one of my bigger hits this year" when he launched a three-run bomb deep into the night to give the Monsters the lead in an eventual 3-2 win over the Atlanta Blues to keep their playoff hopes alive.
Monsters manager Steve Gillispie called it "as big a hit probably as we've had," but stopped short of saying it was a season saver.
"I'll tell you Tuesday night (if it did)," he said. "It gives us a chance to at least control some of our destiny."
"I wouldn't say that (either)," Kelley said. "I would say I pushed it farther. I pushed it to where we could make it more of a chance to get in the playoffs."
The Monsters (10-15) are fighting for the final wild-card spot in the Sunbelt Baseball League playoffs with Brookhaven, division rival Gwinnett and the Blues. They left the park a half-game behind the Bucks, who lost Friday, and Astros, who had a delayed got a late start with Columbus, and 1.5 games behind the Blues.
(Gwinnett wound up winning its game, so the Monsters woke up Saturday morning a half-game behind Brookhaven and a game behind Gwinnett, which now occupies the sixth spot.)

Monsters starting pitcher Austin Goode, who had another brilliant Friday start, didn't hold back on the importance of Kelley's blast.
"That home run saved our season," he said. "We needed that game. It was pretty much a pitcher's duel the whole game and with him getting that pitch and hitting it, it was definitely huge."
It was a pitcher's duel. Goode pitched 5 1/3 innings of one-hit ball, giving up one earned run, walking none and striking out 10. The last two Friday nights he has pitched 11 1/3 innings, given up three runs and struck out 21. In his last four Friday outings, he has a 1.80 ERA, giving up 10 hits, walking three and striking out 24.
"You take away that first outing (of the year) he really has been pretty good," Gillispie said, "because he's commanded his breaking ball and that's made his fastball more effective."
The only reason Goode got pulled with a gem going was he reached a pitch limit that would still allow him to pitch in a possible playoff-clinching game Tuesday at home against Columbus.
The run he gave up Friday that looked like it might be the only run of the game came in the third inning when he actually struck out four batters. Chandler Hicks fanned, but reached on a dropped third strike, then stole second and scored on the first of Allen Grier's two doubles.
A.J. Jarrell gave up three hits in two innings behind Goode and got the win, and Weston Kirk closed it with 1 2/3 innings of no-hit relief to get the save.
Blues starter Bailey Shannon was just as sharp as Goode. He worked the first four innings without allowing a run, giving up one hit and striking out five. He retired the last 10 batters he faced after Nate Shipley's two-out single in the first.
Kelley's homer came after Blues reliever A.J. Stinson issued back-to-back two-out walks to Brennan McCullough and Jackson Sweatt. The Freed Hardeman freshman lined the second pitch he saw deep over the left-field fence. It got out quickly and traveled far.
"I knew he was going to throw a fastball because that's the only thing he's been throwing me," Kelley said. "The first pitch was a ball, so I was just waiting on the pitch and I got it, and I just didn't miss it. I finally got to a ball that I didn't hit right to somebody. I've been waiting to do it all season. I finally got one and I did not miss it."
There is no Trackman in Choccolocco Park, so quantifying the blast was anybody's guess. Gillispie estimated the ball's exit velocity at 130-140 mph.
"That ball was never really high and the left-fielder he just took like two steps and started jogging; he knew," he said. "There was no doubt. It was absolutely crushed."
It was a treat for all the senses.
"That was major league sound when it came off the bat," Monsters first base coach DeWayne Crowder said.
MONSTERS MASH: Garrett Telaga will start for the Monsters in Saturday's series finale … The Blues had an SBL-record five players taken in this week's MLB Draft, including No. 4 overall pick Tremarr Johnson (Pittsburgh) … Weston Kirk's brother Easton took some cuts in the Monsters' cage and worked behind the plate in pregame as he tried to put together a package for an independent team that wants to use him as a left-handed-hitting catcher.  [*** read more]
Atlanta 001 000 010 — 2 4 1
Choccolocco 000 000 30x — 3 3 0
WP: A.J. Jarrell (3-0). LP: A.J. Stinson (0-1). S: Weston Kirk. 2B: Allen Grier 2 (A), Tervell Johnson (A). HR: William Kelley (C).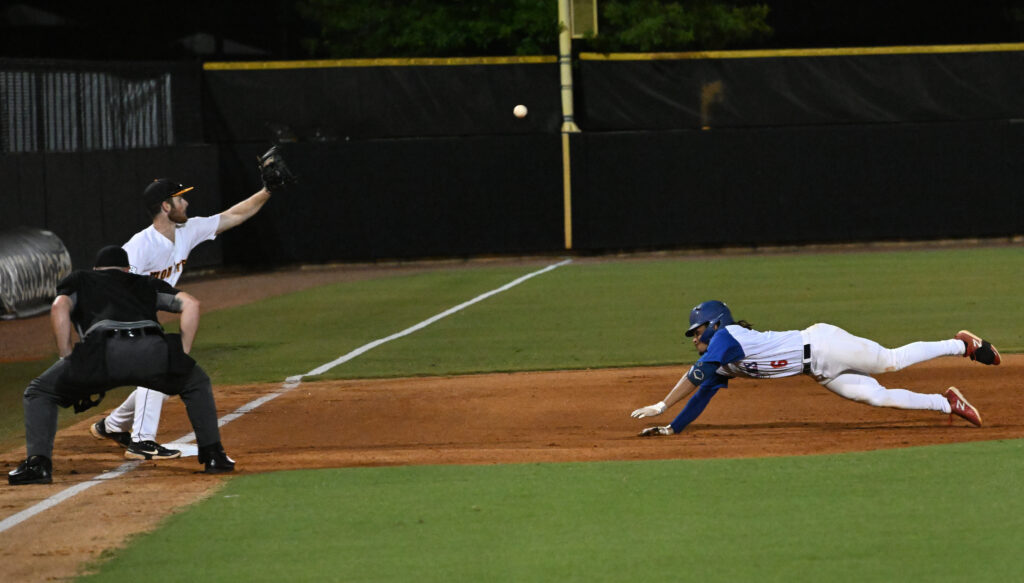 Sunbelt Baseball League standings
| | | | | |
| --- | --- | --- | --- | --- |
| EAST DIVISION | W | L | PCT. | GB |
| x-Gainesville GolDiggers | 19 | 6 | .760 | — |
| Waleska Wild Things | 13 | 10 | .565 | 5 |
| Alpharetta Aviators | 6 | 17 | .261 | 12 |
| CENTRAL DIVISION | | | | |
| x-Atlanta Crackers | 15 | 10 | .600 | — |
| Atlanta Blues | 12 | 14 | .462 | 3.5 |
| Brookhaven Bucks | 11 | 15 | .423 | 4.5 |
| WEST DIVISION | | | | |
| Columbus Chatt-a-Hoots | 14 | 10 | .583 | — |
| Gwinnett Astros | 10 | 13 | .435 | 3.5 |
| Choccolocco Monsters | 10 | 15 | .400 | 4.5 |
x-Clinched a playoff spot
Friday's Games
Choccolocco 3, Atlanta Blues 2
Gainesville 5, Brookhaven 3
Gwinnett 3, Columbus 1, 7 inns.
Waleska at Alpharetta, ppd.
Saturday's Games
Waleska at Alpharetta (2), 4:05 p.m.
Gwinnett at Columbus (2), 3:05 p.m.
Atlanta Crackers at Brookhaven, 5:35 p.m.
Atlanta Blues at Choccolocco, 6:05 p.m.
Playoff standings
| | | | |
| --- | --- | --- | --- |
| DIVISION LEADERS | W | L | |
| Gainesville | 19 | 6 | East |
| Atlanta Crackers | 15 | 10 | Central |
| Columbus | 14 | 9 | West |
| WILD CARDS | W | L | SEED |
| Waleska | 13 | 10 | No. 4 |
| Atlanta Blues | 12 | 14 | No. 5 |
| Gwinnett | 10 | 13 | No. 6 |
| BUBBLE | W | L | GB |
| Brookhaven | 11 | 15 | 0.5 |
| Choccolocco | 10 | 15 | 1 |
| Alpharetta | 6 | 17 | 3.5 |