Alexandria, AL – Frustrated Lady Cubs were in good position, but drop both games in 5A finals to Hayden; 'it was like a kick in the gut,' they said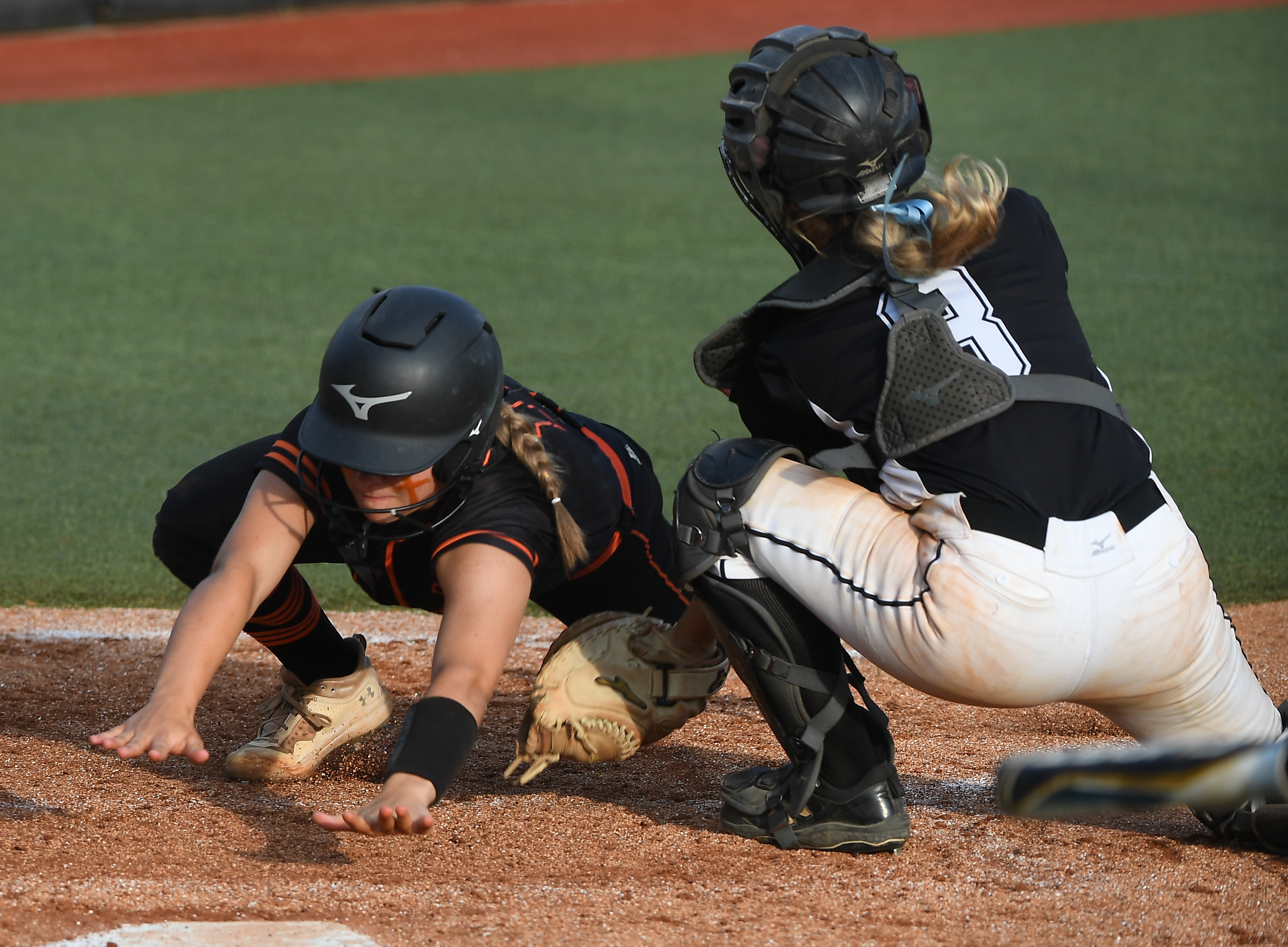 CLASS 5A STATE TOURNAMENT
Thursday's games
Elimination games
Hayden 8, Rehobeth 1
Hayden 5, Satsuma 2
Championship round
Hayden 6, Alexandria 5
Hayden 3, Alexandria 0
By Al Muskewitz

Brian Hess stood out in right field foul territory with his arms crossed watching the awards ceremony unfold in the infield, occasionally turning away to think of what might have been. His Alexandria players stood on the first base line not even trying to hold back their tears.
The Lady Cubs' dream of winning their first softball state championship since 2014 was thwarted Thursday night when Hayden took both games of the Class 5A championship doubleheader at Choccolocco Park, 6-5 and 3-0, to complete an impressive four-win day.
The Lady Cubs (45-12) gained the finals with three straight shutouts during Wednesday's opening day and needed only one victory to claim their third state title, but they looked a different team Thursday and then watched the Lady Wildcats (31-5) celebrate.
"It was like a kick in the gut," senior shortstop Ashley Phillips said. "We all felt like that should have been us and today Hayden just came out as the better team."
"It was awful, it was awful; it really was bad," third baseman Christian Hess said. "Especially since I'm so close to every single one of these seniors. It killed me. It hurts a lot."
While the Lady Cubs recognized Hayden was the better team on this night, there was something else that impacted their performance in the games.
They complained about the inconsistency of the strike zone, especially in the first game, and it affected pitcher Rylee Gattis' ability to get any kind of rhythm.
Gattis had not given up a run in the Lady Cubs' first six regional and state tournament games, but Hayden reached her for 10 hits and six runs in the first game while hitting a pair of two-run homers by tournament MVP Becca Benton and Ansley Armstrong.
Gattis had only 10 strikeouts in the doubleheader. She had 38 in three games Wednesday.
"It's tough not because I'm not getting those strikes, but it's because my teammates are getting those strikes," she said. "I'm trying to fight for my teammates and he's not being consistent both ways."
"There's got to be a conversation had about what we're going to get here in a championship setting; we've got to come up with something," Hess said. "The strike zone kept moving, you got one in the dirt's getting called, it's frustrating. Look, Hayden's a great team, Hayden beat us straight up, but we've got to do something about the situation here in a championship setting because, to me, I've seen better in our County Tournament than what we had here in the championship setting."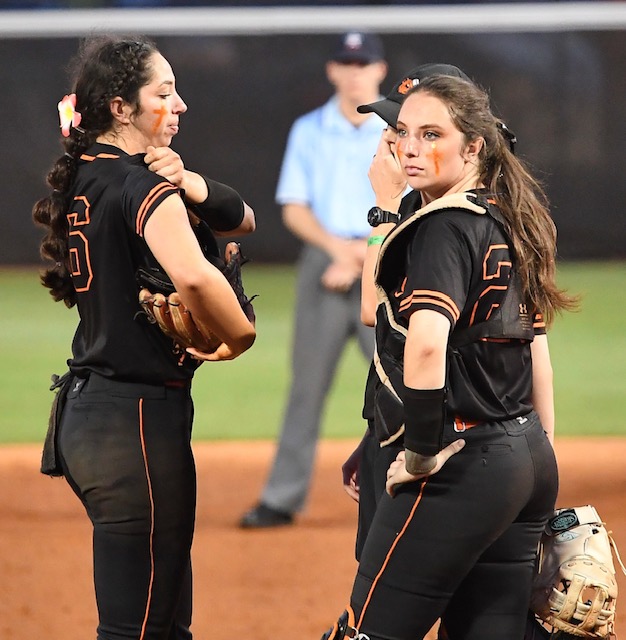 Gattis pitched better in the second game — with a different set of umpires — giving up only two hits, but they were a solo homer to Benton in the second inning and a two-run double to Armstrong in the fifth. She struck out seven but walked five, as opposed to fanning three and walking two in the opener.
The Lady Cubs' frustration reached a head in the sixth inning of the nightcap when their threat was thwarted by an inning-ending double play off a foul pop at first and the lead runner being thrown out at third for oversliding the bag.
Hess argued vehemently that courtesy runner Ava Johnson's arm was pushed off the bag by Benton, but he was sent off for his protestations. He felt some vindication in his position when the umpires only restricted him and did not eject him for arguing his case.
"I know I can get trouble for that from the AHSAA, but at this point I don't care," Hess said. "They knew what I was arguing there was right or otherwise they would've kicked me out of here. They knew what was happening, but beyond that, Hayden beat us straight-up, they were the better team. They executed better than we did, they hit the ball better than we did, they played defense better than we did. It was just all-around Hayden's night."
Both teams had their hitting shoes on in the first game, combining for 11 runs, 24 hits, eight extra-base hits and three homers. Hayden led four times (2-0, 3-2, 5-3 and 6-5) and the Lady Cubs came back to tie it three (2-2, 3-3, 5-5).
Hayden took the lead for good in the sixth on an Alyssa Jinright triple and Kiley Weston's sacrifice fly. Jinright threw out a runner at the plate in the fifth that temporarily prevented the Valley Cubs from tying the game 5-5.
Alexandria did get the tying run on the next hitter when Clancy Bright delivered an RBI single.
"I felt like if we could ever get a doggone lead in the first game we'd have it," Hess said. "But we never could do it."
The Lady Cubs did get the leadoff runner on in the seventh, but reliever Aubrey Gunter – the winning pitcher in both games – got out of it with a groundout and a line double play back to the circle to end the game.
Phillips homered for the Lady Cubs and three hits in the first game. Bright also had three hits in the game and Gattis and Hess had two apiece.
Phillips, Gattis and Bright were named to the all-tournament team. [*** read more]
Game 1
Hayden                  201 201 0 – 6 10 0
Alexandria           111 110 0 – 5 14 0
WP: Aubrey Gunter. LP: Rylee Gattis. 2B: Kiley Weston (H), Rylee Gattis (A), Clancy Bright (A), Pressley Slaton (A). 3B: Alyssa Jinright (H). HR: Ansley Armstrong (H), Becca Benson (H), Ashley Phillips (A).
Game 2
Alexandria (45-12)            000 000 0 – 0 6 0
Hayden (31-5)                     010 020 x – 3 2 0
WP: Aubrey Gunter. LP: Rylee Gattis. 2B: Christian Hess (A), Ansley Armstrong (H). HR: Becca Benton (A).